Movie Review
Martha Marcy May Marlene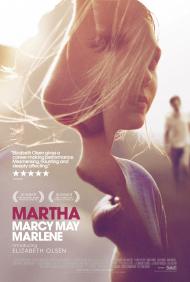 US Release Date: 10-21-2011
Directed by: Sean Durkin
Starring
▸
▾
Elizabeth Olsen

,

as

Martha
Sarah Paulson

,

as

Lucy
John Hawkes

,

as

Patrick
Hugh Dancy

,

as

Ted
Christopher Abbott

,

as

Max
Brady Corbet

,

as

Watts
Maria Dizzia

,

as

Katie
Julia Garner

,

as

Sarah
Louisa Krause

as

Zoe
Reviewed on:
October 23rd, 2011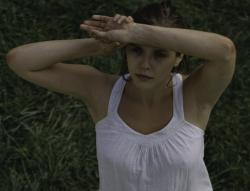 Elizabeth Olsen in Martha Marcy May Marlene.
First time writer/director Sean Durkin delivers a solid debut feature with this psychological drama/thriller alliteratively titled Martha Marcy May Marlene. It stars Elizabeth Olsen (younger sister to the famous twin moguls) as the title character. The movie begins with her fleeing the cult she's been living with for two years in the Catskills. She's taken in by her older sister and her sister's husband. The story then moves seamlessly between Martha's attempts to assimilate back into society and her former life with the cult.
Olsen proves just who the real star in her family is. She is as talented as she is beautiful and this performance deserves recognition. In the flashback scenes she evokes the insecurities and the desperate loneliness that cause Martha to seek solace in the arms of this Manson Family-like farm commune. We see her get in deeper and deeper until she is taking part in criminal acts that include drugging a new girl to prepare her to be raped by the cult's leader and even going along on home invasions.
In the scenes at her sister's house (on a lake) we see an outwardly normal woman behaving in behavior that grows more and more inappropriate. She casually strips to go swimming in full view of her brother-in-law and even gets in bed with them while they are having sex one night. As the days go by her acting-out grows more and more erratic. Her sister (played by Sarah Paulson), while showing concern, never guesses the reasons for Martha's bizarre actions. She buys Martha's story that she was living with some guy she broke up with and doesn't press her about her past. Her husband (Hugh Dancy) is at first supportive but eventually begins to lose patience with his unpredictable and often rude houseguest.
John Hawkes plays Patrick the cult's leader. He captures the character's creepiness but not his charisma. I never saw just why these people were so blindly loyal to him. Other than a few rituals, such as the men eating first before the women are allowed to, and some pseudo hippie comments on being self-sufficient, the cult's beliefs are never made clear. Like many fake messiahs before him Patrick uses the tried and true methods of sex and fear to control his family.
The ending of Martha Marcy May Marlene (Marcy May was the name Patrick gave her BTW and Marlene her real last name) is purposely ambiguous. Normally I hate it when a director or screenwriter leaves it up to the audience to finish the story for them. In this particular instance I actually kind of enjoyed the denouement (or rather lack thereof) and didn't get that usual feeling of dissatisfaction. The sublime editing and the escalating mental instability in Martha culminate nicely. Judging by this well-crafted and acted movie this won't be the last we hear from either Sean Durkin or Elizabeth Olsen.

Photos © Copyright Fox Searchlight Pictures (2011)