Movie Review
Marked Woman
US Release Date: 04-10-1937
Directed by: Lloyd Bacon
Starring
▸
▾
Bette Davis

,

as

Mary Dwight Strauber
Humphrey Bogart

,

as

David Graham
Lola Lane

,

as

Dorothy "Gabby" Marvin
Isabel Jewell

,

as

Emmy Lou Eagan
Mayo Methot

,

as

Estelle Porter
Eduardo Ciannelli

,

as

Johnny Vanning
Rosalind Marquis

,

as

Florrie Liggett
Jane Bryan

,

as

Betty Strauber
Allen Jenkins

,

as

Louie
Damian O'Flynn

,

as

Ralph Krawford
John Litel

,

as

Gordon
Ben Welden

,

as

Charlie Delaney
Henry O'Neill

,

as

District Attorney Arthur Sheldon
Raymond Hatton

,

as

Vanning's Lawyer
William B. Davidson

,

as

Bob Crandall
Kenneth Harlan

,

as

Eddie, a Sugar Daddy
Frank Faylen

as

2nd Cabbie
Reviewed on:
August 18th, 2014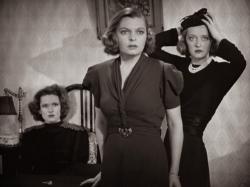 Lola Lane, Mayo Methot, and Bette Davis in Marked Woman.
In 1936 Bette Davis filed a lawsuit against her studio Warner Bros. One of her main complaints was the poor quality of the scripts she was being given. She lost the case, but it was well publicized and she won over the hearts of the public. The studio wisely cashed in on her new found popularity by giving her the better scripts she had been pleading for. For once everybody came out ahead, the star, the studio and the fans. Marked Woman was the first picture Davis made back at her home studio after the lawsuit had been settled.
The plot was "ripped from the headlines" as the trailers used to proclaim. It was loosely based on the trial and conviction of New York City mobster Lucky Luciano. Eduardo Ciannelli, the actor that plays the Luciano character, called Johnny Vanning, looked quite a bit like the real gangster. Humphrey Bogart plays a special prosecutor named David Graham, based on Thomas E. Dewey, the celebrated Manhattan DA. The story made sensational headlines during the summer of 1936, as several prostitutes bravely testified against the gangland kingpin. Bette Davis plays a fictionalized version of one of them.
This is the closest Bette Davis ever got to making a James Cagney type gangster picture. From the moment she utters her first line you know you're in for a fun ride. She wears fabulous Orry-Kelly creations throughout the picture and plays one tough dame. It begins with mobster Johnny Vanning arriving at his newest business venture. A nightclub he plans on turning into a gambling hall with all the illegal perks that go along with it. He gathers the staff, including the hostesses, together and tells them of his plans. Hostess Mary Dwight speaks up immediately, "In other words, a clip joint!" she pronounces with that distinctive Davis enunciation. With that first line she's off and running in one of her most purely entertaining roles.
The script is filled with quotable lines that Davis delivers in her inimitable (although many have tried) manner. Back at the boarding house on 45th street where the hostesses live, Mary boasts to the other girls about how she'll handle their new boss. "I know all the angles, and I think I'm smart enough to keep one step ahead of them. Till I get enough to pack it all in and live on easy street the rest of my life. I know how to beat this racket."
When Mary's innocent kid sister Betty (Jane Bryan) shows up unexpectedly things get complicated. Being a post-Code picture they can't come right out and call these women prostitutes but it is certainly implied. A murder happens that implicates Mary. The kid sister learns the truth about her older sister and they argue. Betty reacts by going out to a party. When the kid sister comes up missing Mary confronts Vanning. She tells him, "And get this straight. If I find out that you or anybody else has laid a finger on her..." "You'll what?" "I'll get you. Even if I have to crawl back from my grave to do it."
Bogart gives a solid turn in a good guy role. He looks about as handsome as he ever did here and exhibits some solid dramatic talent in a few scenes with Davis. Ciannelli's slimy, sadistic gangster makes a memorable villain but the real stars of the picture are its female cast. Besides Davis, Lola Lane (of the singing Lane Sisters), Mayo Methot, and Isabel Jewell all contribute greatly to the film's success. Lane plays a wisecracking singer, Methot plays a dame who's getting too old for the business (in real life she and Bogie met and fell in love during production), and Jewell plays her usual white trash southern belle. She gives a particularly impressive performance in a key role.
Lloyd Bacon directs with flare and keeps the plot rattling along (an uncredited Michael Curtiz filled in for him while Bacon was on his honeymoon). I don't want to spoil the story but I will say that it contains a few surprises along the way, and that Marked Woman is about as hard-boiled as any Woman's Picture Hollywood ever made. The final shot sums up the unsparing plot perfectly. The male prosecutor gets all the glory while the women who risked their lives testifying walk off into the fog forgotten.
Marked Woman is one Bette Davis film that even non-Bette Davis fans can enjoy.
Photos © Copyright Warner Bros. (1937)