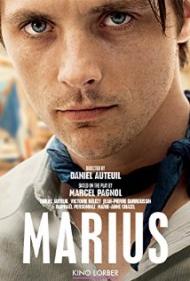 France Release Date: 07-10-2013
Directed by: Daniel Auteuil
Starring
▸
▾
Daniel Auteuil

,

as

Cesar
Raphael Personnaz

,

as

Marius
Jean-Pierre Darroussin

,

as

Panisse
Victoire Belezy

,

as

Fanny
Marie-Anne Chazel

as

Honorine

Reviewed on:
January 24th, 2015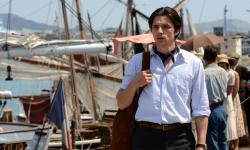 Raphael Personnaz in Marius
Marcel Pagnol was a French playwright, novelist, screenwriter and director. Some of his most famous work is a trilogy of plays titled "Marius," "Fanny" and "Cesar." All three were originally turned into movies between 1931 and 1936. There have been many different film and television versions of them made since. The most famous one being in 1961, when Joshua Logan turned all three plays into a single movie. It starred Horst Buchholz, Leslie Caron and Charles Boyer as Marius, Fanny and Cesar.
In 2013, French actor, director and writer Daniel Auteuil made it into a two film project, with the first movie being called Marius and the second one Fanny. Auteuil, adapted the screenplay, directed both films, and even cast himself as Cesar. Even more unique is that he released both films at the same time in France even though Fanny is the sequel to Marius.
In Marseilles' Old Port there is the La Marine Bar, owned by César, who runs it with his 20 year old son Marius. The film never states an actual date but it likely takes place when the plays were written sometime in the 1920s. As the La marine Bar looks out over the harbor, Marius has spent his life watching ships and sailors with stories of faraway lands, come and go.
Marius has long secretly dreamt of leaving on one of the passing ships. As his father, Cesar, is a widower and he has no siblings, Marius feels obligated to stay put. Also causing him to pause is the very sweet 18 year old Fanny, a girl he has known since childhood. She clearly has eyes for him while he only acknowledges her as a friend he has grown up with. That is until he sees the wealthy old Panisse flirting with her and suddenly his affections are announced.
One day, Marius is offered a chance to work on a ship. Fanny however, throws a wrench in his plans when she confesses her love for him. Marius now finds himself caught between his love for Fanny and his love for his old mistress, the sea. Fanny discovers just how much Marius wants to leave and it becomes a case of who will sacrifice for the other. Then things get even more complicated when the two love birds get caught having sex. Considering the time this movie takes place, the couple is expected to get married.
The love between Marius and Fanny is naturally beautiful. It develops organically without some stupid montage or sexual tension filled argument. They grew up together and have always loved each other on some level but it was not until they became a certain age that it blossomed into romance. They love each other dearly and are both willing to sacrifice to make the other happy. I love the honesty in the script that love itself, does not solve every problem. (spoiler) It is Fanny who puts up a brave front and grants Marius his wish to travel. The movie ends on an emotional note of Fanny distracting Cesar while Marius runs to catch his ship.
The cast is wonderful. You can see on Victoire Bélézy's face just how tortured she is knowing Marius is leaving and also what it will do to Cesar when he finds out. Raphaël Personnaz likewise sheds tears when he voices his frustration with Fanny but my favorite scene of his is when he and his father talk and Marius lies about having a mistress. It is not a showy scene but Personnaz is doing quite a bit with the dialogue. He is telling a lie about having an actual mistress but he is telling the truth in that he has a mistress, the ocean. Personnaz and Auteuil share several scenes where you must watch how the actors react to tell just how much is being understood by each of them.
Marius ends on a dramatic note but it is only the end of an important chapter, not the whole story. Next up, Fanny.
Photos © Copyright Les Films Alain Sarde (2013)
Related Reviews