Movie Review
Mandela: Long Walk to Freedom
It is an ideal for which I am prepared to die.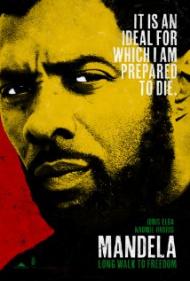 US Release Date: 12-25-2013
Directed by: Justin Chadwick
Starring
▸
▾
Idris Elba

,

as

Nelson Mandela
Naomie Harris

,

as

Winnie Madikizela
Tony Kgoroge

,

as

Walter Sisulu
Riaad Moosa

,

as

Ahmed Kathrada
Zolani Mkiva

,

as

Raymond Mhlaba
Simo Mogwaza

,

as

Andrew Mlangeni
Fana Mokoena

,

as

Govan Mbeki
Thapelo Mokoena

,

as

Elias Motsoaledi
Jamie Bartlett

,

as

James Gregory
Deon Lotz

,

as

Kobie Coetzee
Terry Pheto

,

as

Evelyn Mase
Zikhona Sodlaka

,

as

Nosekeni
S'Thandiwe Kgoroge

,

as

Albertina Sisulu
Tshallo Sputla Chokwe

,

as

Oliver Tambo
Sello Maake

,

as

Albert Luthuli
Gys de Villiers

as

President De Klerk

Reviewed on:
January 28th, 2014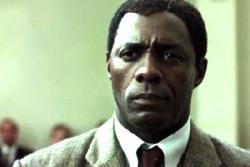 Idris Elba as Nelson Mandela in Mandela: Long Walk to Freedom.
Mandela: Long Walk to Freedom is based on Nelson Mandela's autobiography of the same name that was first published in 1995. We are shown his childhood in rural South Africa, his years as a young lawyer in Johannesburg fighting for the civil rights of South Africa's black majority, his first marriage that ended badly, his joining the ANC, his courtship and marriage to his second wife Winnie, his acts of sabotage, his long years of imprisonment, his growing international fame as a symbol of oppression, his eventual freedom, and finally, to his election as South Africa's first black president.
Yes, it checks all the boxes but somehow it never really gets under its subject's skin. It is all a bit dry and -although it shows him cheating on his first wife and freely taking part in acts of domestic terrorism- it nevertheless remains so respectful of the man that the audience is kept at arm's length.
Historically it is worth noting that Mandela was born in 1918, some 11 years before Martin Luther King Jr. There are certainly many obvious parallels between black South Africans' struggle against Apartheid and the American Civil Rights Movement. One major difference lies in the numbers. Whereas blacks are a minority in this country they represent an overwhelming majority of South Africa's population. A small group of European descendants controlled the lives of 30 million blacks. And Apartheid lasted decades after the institutional segregation of the American South had been dismantled.
I remember my shock as a somewhat sheltered Midwestern adolescent when I first learned of the horrors of Apartheid back in the 1980s. It seemed unthinkable in that enlightened day and age that such injustices -based solely on skin color- could still exist. Yes I was that naïve.
Mandela: Long Walk to Freedom provides a decent history lesson. Nelson Mandela touched the lives of countless millions of people over the course of his 95 years on the planet. Ironically, his death was announced during this movie's world premier in London on December 5, 2013.
Idris Elba does some astonishing acting as Mandela. Without doing merely an impersonation he captures Mandela's walk and speaking voice. He rises above the script and makes the man a real human being. His performance nearly overcomes the reverential tone the movie stubbornly insists on maintaining.
Naomie Harris is equally good as Winnie Madikizela-Mandela. Their relationship is perhaps the most fascinating aspect of the story. Like her husband she was imprisoned. At one point she spent 16 months in solitary confinement before her release in 1970. While her husband became a social bridge-builder, she grew more angry and militant as the years went by. She was also known to keep the company of other men and their differences eventually led to a separation not long after Mandela was finally released from prison in 1990.
Mandela: Long Walk to Freedom paints an honest, historically accurate portrait of the life of one of the most famous and influential human beings of the 20th Century. As a history lesson it succeeds, as a character study of the man himself it feels incomplete.
Reviewed on:
February 17th, 2014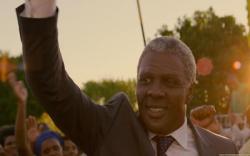 Idris Elba in Mandela: Long Walk to Freedom.
Mandela has been called the Father of his Country, which put me in mind of the Father of my Country, George Washington. Both men were revolutionaries who became symbols to their causes to the point that it's difficult to see them as just men, which is of course all they were. Whenever they are spoken of, it is done in respectful tones, and aspects of their lives have reached the level of legend. This is perhaps good for a country, but without human foibles and flaws, it's difficult to make a good movie about them.
The film does a good job of telling the details of Mandela's life, but it lacks emotional impact. This is partly due to the way it skims through whole decades so that it can tell the full story of Mandela's life. There's never enough time to delve into the emotions of a given moment. Only once, when Mandela learns of the death of his son, does the film approach any kind of human moment. Apart from this one scene, Mandela is so stoic that, as Patrick wrote, we never get below his surface. During his decades of prison for instance, we see cruel and racist guards, but Mandela seems unfazed by it. Even the decades long imprisonment never seems to get to him. There's a moment where he's allowed to touch his wife for the first time in 21 years that lacks the resonance that it needed. In its quest to portray Mandela as the symbol he became, it deprives him of much of his humanity.
The story of Mandela's life is still a compelling one. There are so many aspects to it that you could make several movies about it, which is another problem with this film. It overreaches itself. Perhaps it should have picked a portion of Mandela's life and focused strictly on that. Either his early or late years could make interesting movies on their own.
Idris Elba does do a good job in the lead role, but physically he looks much more imposing than the real Mandela. Something that becomes more noticeable as he ages. Naomie Harris is also good as his second wife, Winnie. She is shown to be a firebrand, but the film only hints at her most extreme actions. She brings a spark to the story that it sorely needs.
The film is well made, and the time periods are faithfully recreated. Part of this is accomplished by mixing in archival footage from each decade. The clips from the 1980s even provided a moment of nostalgia as it showed the charity concerts and "Free Mandela" t-shirts.
I agree with Patrick. The filmmakers' overly reverential tone prevents them from producing a truly exciting film. It does a good job of telling Mandela's story, but fails to get inside the man.

Reviewed on:
February 20th, 2014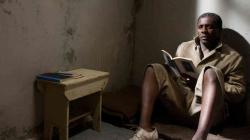 Idris Elba as Nelson Mandela
What is the greatest achievement of Nelson Mandela's life? He was a revolutionary who fought for freedom. His imprisonment is the most famous since Apostle Paul was imprisoned by the Romans. Nelson Mandela became the first president of South Africa in a fully representative democratic election. He has been given hundreds of awards, including the Nobel Peace Prize in 1993 for his fight against oppression in South Africa.
One of his most long lasting accomplishments may likely be that he helped in creating a multi-racial democracy in South Africa. This was explored in Invictus (2009) where President Mandela was shown calming the nerves of worried white South Africans as well as letting blacks know that they were not going to rule over whites as they had ruled over them. It is centered on a symbolic rugby match.
Although Invictus was not a perfect film, it did focus on a specific period of Mandela's life, creating a well framed true story. As my brothers wrote, Mandela: Long Walk to Freedom depicts his entire life, resulting in a film that runs the length of the pitch but never really scores. Mandela's life could easily be a trilogy; before prison, during prison and after prison. At least then we may have had a chance to get to know Mandela and other characters better.
This would have also allowed different actors to play Mandela at a different age. Idris Elba is not entirely convincing as an aging Nelson Mandela. He goes through the motions but again I refer to Morgan Freeman's performance that never seemed to be imitating Mandela as Elba too often does.
Like Paul and his famous letters, Mandela is the man he is remembered for because of his imprisonment. It was his imprisonment that inspired South Africans to rise up. It was his imprisonment that sent people all over the world in the 80's to tell the rest of the world about the horrors of apartheid. Patrick, I too recall some South Africans visiting our high school with stories we had not heard before. It was Mandela's imprisonment that inspired a pop culture response.
Nelson Mandela's imprisonment awoke the world. It gave the South African white men in power leverage to strike a deal with him. They saw the tide coming in and were concerned that the wave would wash them all away. They attempted to make nice with him in hopes that he would be the new leader and would take less reproach against them, than others would. There was anger and violence against whites after Mandela was elected, presenting Mandela with a unique problem. He now had to protect the social group who had him imprisoned.
We do not know what would have happened to Mandela if he had not been sent to prison. Maybe he would have died or led a violent revolt. We will never know but we do know that his prison sentence made an ironic difference. Mandela was first a symbol of hope and then a leader who understood diversity. This film explains such things but I agree with my brothers that less would have been so much more. This movie is like a history class with visuals. We can learn from it, but it generates little emotional response.
Photos © Copyright Videovision EntertainmentDistant HorizonOrigin Pictures (2013)
Related Review