Movie Review
The Man with the Golden Arm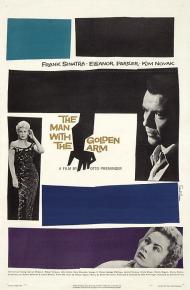 US Release Date: 12-14-1955
Directed by: Otto Preminger
Starring
▸
▾
Frank Sinatra

,

as

Frankie Machine
Eleanor Parker

,

as

Zosch Machine
Kim Novak

,

as

Molly
Arnold Stang

,

as

Sparrow
Darren McGavin

,

as

Louie
Robert Strauss

,

as

Schwiefka
John Conte

,

as

Drunky
Doro Merande

,

as

Vi
George E. Stone

,

as

Sam Markette
George Mathews

,

as

Williams
Leonid Kinskey

,

as

Dominiwski
Emile Meyer

as

Detective Bednar


Reviewed on:
March 2nd, 2006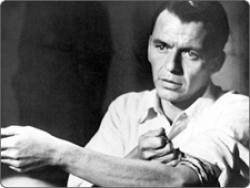 Frank Sinatra in The Man with the Golden Arm.
With From Here to Eternity, Frank Sinatra won the best supporting Oscar and proved that he was a serious actor. So inspired by his success playing the doomed Maggio that Sinatra went on to do many more dramatic movies. One of the most dramatically heavy roles he ever under took came two years later when he starred as the drug addict Frankie Machine in The Man with the Golden Arm.
As the movie opens Frankie has just returned to his rough neighborhood after getting out of drug rehab. Part of his rehabilitation was to keep himself busy by learning to play the drums. As we meet Frankie he is full of hope for his future clean of drugs. He has a connection from his doctor to meet someone who may lead to a job playing the drums.
Unfortunately, his old life is still waiting to drag him back into his old habits. His wheel chair bound wife uses the fact that he caused the accident that put her into the wheelchair to manipulate and emotionally blackmail him whenever she can. His old drug dealer attempts to get reacquainted but worse of all is his old employer whom Frankie use to deal illegal poker games for. He sent Frankie's wife money while Frankie was away and as such Frankie now owes him and must go back to dealing card games for him. Before you know it Frankie is back using and his future as a drummer seems very much in doubt.
Sinatra does a great job playing a junky looking for and wanting to get away from his drug fixes. He earned an Oscar nomination for this role. The fact that everyone in the movie has selfish interests makes for some realism. However, no one swears or has sex. It is as if the drugs were enough of an adult issue and no more could be allowed into the picture. Novak's character works at a strip club and Frankie hangs around gangsters. You would think that some more adult language and situations would be present. Granted this movie was made in the mid 1950's but it's subject matter deserved a more mature depiction.
The Man with the Golden Arm certainly demonstrates that the idealistic 1950's had a lot more going on than those simple episodes of Happy Days ever showed.
Reviewed on:
March 26th, 2012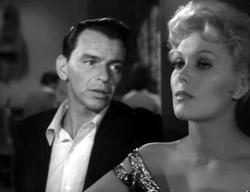 Frank Sinatra and Kim Novak in The Man with the Golden Arm.
This movie was quite controversial for its day due to its explicit depiction of drug addiction. The lack of adult language, as well as the overly dramatic score that seems to play nearly continuously throughout the movie, does give it a dated feel today but it remains an interesting watch with a fairly compelling story.
Marlon Brando was originally offered the lead but Sinatra snapped it up before his recent Guys and Dolls costar had the chance to accept the part. Sinatra was anxious to sink his teeth into the role of a strung out junkie. In a funny bit of irony Frank Sinatra - the star - was mentioned a few times in the 1949 novel on which this movie was based. The script also makes an inside joke on his former position as a teen heartthrob by having Frankie comment offhandedly to Kim Novak's character about his appealing to "the bobbysoxers".
Director Otto Preminger takes his time with the story. It definitely could have moved at a brisker pace. The second half is by far the more entertaining, beginning with the marathon poker game scene where Frankie is forced to play dealer. The director makes interesting use of his camera shots and angles, including several dramatic closeups.
I agree that Sinatra is good as the junkie struggling to get clean on the mean streets of Chicago. He really shines in the final 30 minutes or so. The title comes from a line Frankie says to his buddy about his stint in prison, "Guy teaches me drumming down there, says I'm a natural, arms made of pure gold." It actually has three meanings. Frankie Machine uses his "golden arm" not only to play the drums, but also to deal cards and, of course, to shoot heroin.
The supporting cast is filled with memorable faces.
Kim Novak wasn't the most talented actress in the world but she was stunning to look at. Eleanor Parker is good as Frankie's unhappy wheelchair bound wife, who is harboring a huge secret. She is just as unsympathetic here as she is in her most famous role as the Baroness in The Sound of Music. Arnold Stang plays Frankie's pathetic little sidekick. He was usually cast in comedies, like in It's a Mad, Mad, Mad, Mad World as one of the owners of the gas station Jonathan Winters destroys. Pop-eyed Robert Strauss plays Frankie's greedy boss. He is probably best remembered as Animal in Billy Wilder's Stalag 17. A young Darren McGavin plays the sleazy heroin dealer. He is, of course, most famous today for playing Ralphie's father in the holiday classic A Christmas Story. I had never before realized just how old he was at the time. He was in his 60s when he made that movie in 1983, although he seemed much younger.
The Man with the Golden Arm is a quintessential 1950s melodrama. It stars Frank Sinatra and Kim Novak, was produced and directed by Otto Preminger, has a jazz score by Elmer Bernstein and the titles were designed by Saul Bass. Not surprisingly, its script seems horribly dated now but the powerful central performance by Frank Sinatra still keeps your interest.
Reviewed on:
November 21st, 2012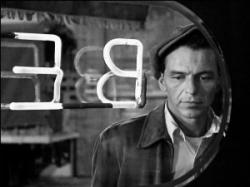 Frank Sinatra in The Man with the Golden Arm.
Sinatra's dramatic performance is definitely the best thing this movie has going for it. Frank's career as a popular entertainer was a long and successful one, but he was still willing to push himself occasionally with darker and edgier roles. Perhaps it was because he was coming off of the high of his Oscar win that he wanted to continue playing dramatic parts, but whatever the reason he does deliver a very solid performance as the junkie trying to go clean.
Showing illicit drug use in the way it is shown in this movie went against the Hayes Production Code, which was still in effect at the time. The MPAA refused to certify the film, so Preminger just released it without their approval. He did the same thing two years earlier with The Moon is Blue. He would continue to push the envelope and hasten the demise of the Code with Anatomy of a Murder, which dealt with rape, and Advise and Consent, which had a homosexual subtext. No stranger to controversy, Preminger would later openly hire blacklisted screenwriter Dalton Trumbo.
The movie's weakness is the one described by my brothers and that is the pacing. It is painfully slow at times and its depressing storyline makes it feel slower. The first half is a bit of a slog to get through. Things do pick up in the third act, with the poker game and the murder, but it should have got there quicker.
Like Patrick, I was struck by Darren McGavin's appearance. He doesn't look that different here than would almost 30 years later when he would appear in A Christmas Story. I couldn't help but be shocked at seeing Ralphie's father dealing drugs. So that's how he paid for the Red Ryder BB gun!
As good as the supporting cast is though, this is Frank's movie. Although his best remembered movies are usually lighter fare, he did prove in this and a number of other films that he wasn't just a star, he was also very much an actor.
Photos © Copyright United Artists (1955)