Movie Review
Man of a Thousand Faces
James Cagney brings Lon Chaney to vivid life in the year's most powerful biopic!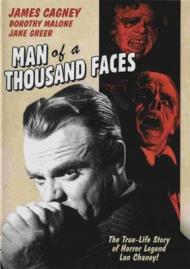 US Release Date: 08-13-1957
Directed by: Joseph Pevney
Starring
▸
▾
James Cagney

,

as

Lon Chaney
Dorothy Malone

,

as

Cleva Creighton Chaney
Jane Greer

,

as

Hazel Bennett Chaney
Marjorie Rambeau

,

as

Gert a movie extra
Jim Backus

,

as

Clarence Locan
Robert Evans

,

as

Irving Thalberg
Celia Lovsky

,

as

Mrs. Chaney
Jeanne Cagney

,

as

Carrie Chaney
Jack Albertson

,

as

Dr. J. Wilson Shields
Roger Smith

as

Creighton (Lon jr.) Chaney at 21
Reviewed on:
August 13th, 2001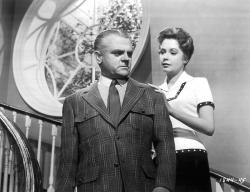 James Cagney in Man of a Thousand Faces.
Released in 1957, Man of a Thousand Faces stars James Cagney as silent film legend Lon Chaney. Movie biographies were popular at the time and this is one of the better entries in the genre. It focuses more on Chaney's semi-tragic personal life than it does on his success as a movie star. And while it is true that Cagney was a bit long in the tooth for the role he brings his usual powerful personality to the part and proves his considerable dramatic skills as well.
The story opens with Chaney as a young boy. He has just gotten into a fight with some neighborhood kids who had been making fun of his deaf and dumb parents. Much is made out of the fact that being raised by them and feeling 'different' allowed Chaney to relate to the grotesque gallery of characters he would later become world famous for. Cagney does a good job recreating several of Chaney's most famous screen moments including Quasimodo's public flogging and the scene in Phantom of the Opera when the young girl rips off the phantom's mask. Still, as I said, most of the story deals with Chaney's personal struggles with his mentally unstable first wife and his battles to gain custody of their young son, who would grow up to become Lon Chaney jr. a famous horror film star like his father (he created the original Wolf Man). There is a particularly good scene near the beginning of the movie where Chaney's pregnant young wife first meets his parents. She is horrified by their disability and goes into hysterics in fear that her unborn child will inherit their handicap.
The movie is a tour de force acting opportunity for Cagney. He gets to dance, clown, pantomime, play a deformed beggar and has a few moments of high drama. The man was energy personified.
Robert -The Kid Stays in the Picture- Evans plays legendary producer Irving Thalberg, the man responsible for giving Chaney his big break as a movie actor.
By 1957 the majority of big-budget Hollywood movies were being filmed in color. The exceptions were mostly dramas, like Man of a Thousand Faces. According to the movie this nick-name for Chaney was coined by Thalberg after hearing Lon jr.'s offhanded remark that his father had a thousand different disguises. So famous was Lon Chaney for his transformative make-up skills that a popular joke at the time went, 'Don't step on that spider, it might be Lon Chaney.'
Photos © Copyright Universal International Pictures (1957)
Related Reviews