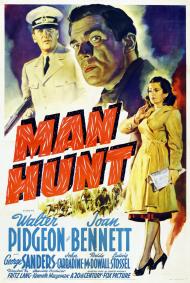 US Release Date: 06-13-1941
Directed by: Fritz Lang
Starring
▸
▾
Walter Pidgeon

,

as

Captain Alan Thorndike
Joan Bennett

,

as

Jerry Stokes
George Sanders

,

as

Major Quive-Smith
John Carradine

,

as

Mr. Jones
Roddy McDowall

,

as

Vaner
Ludwig Stossel

,

as

Doctor
Heather Thatcher

,

as

Lady Alice Risborough
Frederick Worlock

,

as

Lord Gerald Risborough
Roger Imhof

,

as

Captain Jensen
Egon Brecher

,

as

Pawnbroker
Lester Matthews

,

as

Major
Holmes Herbert

,

as

Saul Farnsworthy
Eily Malyon

,

as

Lyme Regis Postmistress
Arno Frey

,

as

Police Lieutenant
Frederick Vogeding

as

Ambassador


Reviewed on:
April 5th, 2014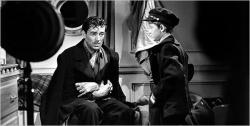 Walter Pidgeon and Roddy McDowall in Man Hunt
Between 1939 and 1941, Hollywood made several pro war intervention films, such as Man Hunt. Fritz Lang was Austrian born and fought for Austria in World War I. He fled Europe when Nazi's took power. He was born a Jew but converted to Catholicism when he was a child. This film, no doubt, had some personal connections to him and his past.
Man Hunt takes place before the United States or England was at war with Germany. While hunting in the Bavarian Alps, British citizen Alan Thorndike comes across Adolf Hitler's personal residence. Yeah, it is the film's weakest plot device. He uses his gun sight to spy on Hitler. He even decides to load his gun and thinks of firing, until a Nazi guard stops him.
He is captured, beaten and interrogated by a Nazi Major, played with relish by George Sanders. Thorndike claims he was in the Alps just to see if he could get that close to Hitler. The Major tries to force Thorndyke into signing a confession, but he refuses. The Major decides to have him thrown off a cliff, as if he died accidentally. Thorndyke ends up surviving the fall and crawls away.
With the help of a young cabin boy, played by Roddy McDowall, Thorndyke stows away on a ship and makes his way back to England. The Nazi Major, along with other agents, pursues Thorndyke back to England. The entire film plays out as a game of cat and mouse. Along the way we get lectures on the evils of Hitler and how he needs to be stopped.
Man Hunt is well paced and the atmosphere, with its trench coats and foggy nights, is dramatically fitting. The film is entertaining enough for what it is but it has some obvious flaws. The plot is a tad far-fetched and the cast is uneven.
I do not find Walter Pidgeon to be a very distinctive actor. He does a decent enough job but any number of actors could have filled the bill as well or better. Joan Bennett's horrendous cockney accent is a torture to all who have the misfortune to hear it. George Sanders is the standout. His voice is one of the truly great voices of classic Hollywood. It makes his every line all the more menacing.
The final message of Man Hunt is to decide where you stand and what you can commit to. Like Thorndyke and his rifle, is America just going to watch Hitler decimate Europe through a spy glass or will they pull the trigger. Of course we know what happened, but in 1941 the world was on the edge of their seats.
Reviewed on:
February 25th, 2015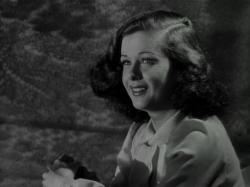 Joan Bennett in Man Hunt.
My only real point of contention with Eric concerns Joan Bennett. I thought her's was the standout performance in the picture – Cockney accent and all. I'm no expert but it sounded authentic enough to my ear – as well as to the ear of the critic for the Hollywood Reporter who singled Bennett out for praise. The reviewer for Variety agreed with my brother however. Scott, you'll have to break the tie I guess. Bennett spent a good deal of time preparing for the part. She rehearsed extensively with the English music hall performer Queenie Leonard to get the dialect right. But whatever your take on it, her performance is much more than an accent.
Bennett landed the part only after Ida Lupino, Gene Tierney, Anne Baxter and Greer Garson had all been considered. This would be the first of four movies Bennett would make with Fritz Lang. Man Hunt proved to be a pivotal film in both of their careers. She brings such a vivacious spirit to Jerry, the lightly veiled role of a prostitute (which was just one of several problems the Breen office had with Man Hunt). She's tough yet tender, while bringing some levity to the overly somber tone of the piece. She's particularly funny in the scene where she accompanies Thorndike to the home of his brother, Lord Risborough. Jerry's a crass tart and her presence mortifies the Lady of the Manor. Jerry gamely takes it all in stride. If I had to sum up Miss Bennett's performance in a word, I would choose appealing.
Walter Pidgeon lacked leading man charisma. He possessed a handsome face, cut a decent figure, and had a deeply resonate speaking voice, but for all that he lacked that ineffable star quality possessed by the rare few. I would have enjoyed seeing Cary Grant in the role (but that goes for almost any movie) or Errol Flynn. Pidgeon certainly doesn't ruin the picture by any means, but there's nothing special about his performance that I'll remember.
This was 12-year-old Roddy McDowall's first Hollywood movie. the story would have resonated with him as much as it did for Lang, since McDowall's family had fled London for America to escape the Blitz. His part is small but he makes the most of it. He would follow this up with John Ford's Oscar winning How Green Was My Valley. Not a bad start. I'm as big a fan of George Sanders as my brother is. He epitomized civilized menace. The other major villain in the picture is played by the undertaker-like John Carradine, whom Roddy McDowall's character describes as looking like a corpse. He speaks very few words but exudes a completely sinister air. The scene in the subway tunnel is taut and effectively staged.
As Eric mentioned, at the time this movie was made America had not yet joined the Allies in their fight against Hitler. The cowardly Breen Office deemed the original script unacceptable for its negative portrayal of Nazis, in particular the scene near the beginning where Thorndike is tortured. It also found fault with anything implying that Jerry was a lady of the evening. In a halfhearted attempt at toeing the line, Lang added a sewing machine to her apartment set, suggesting that Jerry was actually a seamstress.
The ending of Man Hunt is pure propaganda but the story it tells is fast paced and suspenseful.
Photos © Copyright Twentieth Century Fox Film Corporation (1941)