Movie Review
The Man from Snowy River
The story of a boy suddenly alone in the world. The men who challenge him. And the girl who helps him become a man.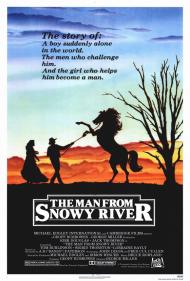 Australia Release Date: 03-25-1982
Directed by: George Miller
Starring
▸
▾
Tom Burlinson

,

as

Jim Craig
Terence Donovan

,

as

Henry Craig
Kirk Douglas

,

as

Mr Harrison / Spur
Sigrid Thornton

,

as

Jessica Harrison
Jack Thompson

,

as

Clancy
Tony Bonner

as

Kane

Reviewed on:
January 29th, 2015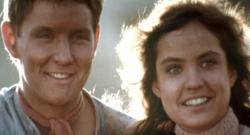 Tom Burlinson and Sigrid Thornton in The Man from Snowy River
The Man from Snowy River was originally a lengthy poem written by A.B. Patterson, first published in 1890. Patterson is also famous for having written the song "Waltzing Matilda." It became so famous that it has been referred to as, "the unofficial national anthem of Australia." The songs melody can be heard at the end of the film.
Tom Burlinson, making his film debut, plays Jim Craig, a young man living alone with his father in the rugged hills of Australia, known as snowy river country. It takes place in the 1880s, when men were men and women were expected to know their place. After a brumby, wild horse, causes an accident that results in Jim's father's death, he seeks employment to earn money to maintain his inherited ranch.
He finds a job as a ranch hand working for an American expatriate, Harrison. Jim also finds himself attracted to Harrison's daughter, Jessica. She is an educated, stubborn young feminist. All that she and Jim have in common is a passion for horses but it is enough. After Jim is left behind by the other ranch hands, he and Jessica spend time together and fall in love.
Throughout the movie is an elusive wild stallion. We see it in the first scene and he shows up occasionally to cause havoc. At one point Jim sees him passing by Harrison's ranch only to get hurt trying to pursue him. It does however; give Jessica the opportunity to play Jim's nurse maid. The movie is very sweet as these two young people come to realize their affection for each other. As Jim grew up in such an isolated place, Jessica is probably the first girl he has ever had feelings for. After she runs away from her father, she ends up trapped on the side of a cliff. Jim finds and rescues her. It provides a moment of clarity for her as she soon confesses to Jim, "All I wanted was to see you again. To be with you, nothing else, so I hung on." It leads to their first kiss.
Kirk Douglas plays dual roles as two very different brothers. One is Jessica's less than pleasant father while the other is a gold miner who lives in the hills near Jim's ranch. The brothers do not speak and eventually we learn that it was because of a woman, what else. Douglas is clean shaven and distinguished as Jessica's father but has a peg leg and beard as the gold miner. Douglas seems to be having a great time playing both men.
The Man from Snowy River is a film for romantics and horse lovers. Barely minutes go by without a horse appearing on screen. Tom Burlinson performed all of his own horse riding stunts even though he had little riding experience. The hardest scene was when he rides his horse down a steep hill to go after the brumbies. He did it in one take.
This movie was a huge hit and even spawned a sequel. Burlinson is very likable here as Jim but the role did not lead to as big of a career as he may have hoped. He continued to act in Australian movies and television but his fame never crossed the ocean like so many other Australian movie stars. In 1986 he starred in Windrider with Nicole Kidman, who he reportedly had an affair with during production. After the 1988 Return to Snowy River, Burlinson's acting career began to slow down. He has however, pursued his passion for singing. He has done two major Australian shows where he sings from the Frank Sinatra and Rat Pack songbooks.
Photos © Copyright Cambridge Productions (1982)