Movie Review
Mamma Mia!
The only missing from Sophie's wedding is the father of the bride...whichever one he is.
US Release Date: 07-18-2008
Directed by: Phyllida Lloyd
Starring
▸
▾
Meryl Streep

,

as

Donna
Amanda Seyfried

,

as

Sophie
Pierce Brosnan

,

as

Sam Carmichael
Colin Firth

,

as

Harry Bright
Stellan Skarsgard

,

as

Bill
Julie Walters

,

as

Rosie
Christine Baranski

,

as

Tanya
Dominic Cooper

as

Sky


Reviewed on:
August 1st, 2008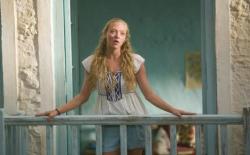 Amanda Seyfried in Mamma Mia.
A synopsis of the movie Gypsy, described it as being about the life of the famous stripper, Gypsy Rose Lee. The movie however, is actually all about the mother's trials and tribulations. Mamma Mia! Has been mis-marketed much the same way. The movie poster for the film prominently features the relatively unknown actress Amanda Seyfried. Who up till now has only been known for guest appearances on television shows and some straight to DVD films.
Mamma Mia! is actually about a mother, Donna, played by Oscars's favorite actress Meryl Streep, whose slutty past comes back to haunt her. Twenty years ago she was a tour guide on some Greek islands and apparently slept with any single man she showed around. I wonder if that was part of the original price, or did they have to pay extra? Any way, she got pregnant and never told any of her customers about her daughter, Sophie, or Sophie about her many potential fathers.
Now twenty years later, Sophie has read her mother's diary, discovered her sordid past and has invited all three of her possible fathers to her wedding on a very scenic Greek island. She does not tell her mother about the invites and Donna freaks out when the three men show up.
The entire movie is filled with the cast breaking into ABBA songs every few minutes. Even though I recognized most of the songs, they came and went in the movie without much notice. The only three that are worth remembering are sung by Streep. She sings the title song. She leads a huge cast of women through town to Dancing Queen. She stops the show, to use a Broadway expression, when she belts out The Winner Takes it All. It is the best scene in the movie. The only other song of any interest is when Baranski sings Does Your Mother Know to a young suitor. It has nothing at all to do with the plot, but it's worth a chuckle watching Baranski dance and sing.
The plot is Mamma Mia!'s weakest aspect. The three men show up for the wedding early on in the movie and everyone dances around the paternity subject for the next hour and a half without advancing the plot in the least. Maury Povich deals with paternity tests of loser fathers and slutty mothers in a matter of minutes. Most importantly, Povich never requires anyone to sing Voulez-Vous before the show's over.
Reviewed on:
December 26th, 2008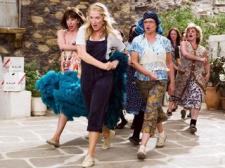 Remember when musicals starred actors that could really sing and dance?
Geez, Eric could you be any more judgmental? The point of your review seems to be that Streep's character is a slut. What century is this again? I thought it was possible for an adult woman to enjoy sex as much as a man if she so chooses. I guess if you view sex as dirty and shameful then a woman who sleeps around is a slut.
Anyway, other than that I agree with your review. The songs begin to run together after a while and none of the cast has a great singing voice. Remember when musicals starred actors that could really sing and dance? Not anymore. Instead they edit, edit, edit and hope the novelty of the star singing is enough. Meryl Streep has a pleasant voice and she brings verve and enthusiasm to the role, but I was never blown away by her musical gifts.
Fortunately the movie is fast-paced and features some truly gorgeous scenery in the Greek island locale. It is frothy bubble-gum entertainment, a shimmering moonlit pool; just don't dive in because the water is shallow.
Reviewed on:
December 27th, 2008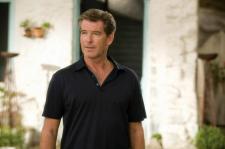 OMG, is that James Bond singing?
Yep, I have no problem with referring to Donna as a slut in her younger years. C'mon, it's not just a matter of her sleeping around with three different men in a matter of weeks, it's the fact that she had unprotected sex with all three of them. Was she trying to get pregnant and didn't care who impregnated her?
You asked the key question in your review though Patrick when you asked, "Remember when musicals starred actors that could really sing and dance?" Because apart from Amanda Seyfried as Sophie, none of these actors can sing. Meryl Streep is horribly miscast. One gets the feeling she looked at her resume and thought, "Oh, I haven't done a musical yet. I'll do one of those." And fucking Christ, I think I became delusional at one point because I swear I think I saw James Bond trying to sing!
The fact is that this movie is almost entirely singing with a very thin plot. There's nothing more important in this movie than the songs and they didn't think it important enough to hire real singers to sing them. At the very least they could have hired singers to do the singing voices and lip-synced them like they used to do in musicals when the actors couldn't sing.
About the only good thing I can think of about this movie is the locale. Yes, it's beautiful. Yes, I wouldn't say no to a vacation there, but only if I don't have to listen to Meryl Streep sing while I'm there.
Photos © Copyright Universal Pictures (2008)
Related Review