Movie Review
The Maltese Falcon
It's thrilling . . . it's chilling . . . it's the most baffling mystery story in years!
US Release Date: 10-03-1941
Directed by: John Huston
Starring
▸
▾
Humphrey Bogart

,

as

Sam Spade
Mary Astor

,

as

Brigid OShaughnessy
Gladys George

,

as

Iva Archer
Peter Lorre

,

as

Joel Cairo
Barton MacLane

,

as

Det. Lt. Dundy
Lee Patrick

,

as

Effie Perine
Sydney Greenstreet

,

as

Kasper Gutman
Ward Bond

,

as

Det. Tom Polhaus
Jerome Cowan

,

as

Miles Archer
Elisha Cook Jr.

,

as

Wilmer Cook
James Burke

,

as

Luke
Walter Huston

as

Captain Jacoby


Reviewed on:
February 23rd, 2007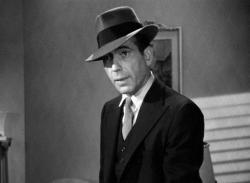 Humphrey Bogart in The Maltese Falcon.
The Maltese Falcon is the very pinnacle of detective film noir. It stars the greatest of the foggy atmosphere leading men, Humphrey Bogart, and it gives him the chance to delivers such great lines as, "When you're slapped you'll take it and like it." and "You know, that's good, because if you actually were as innocent as you pretend to be, we'd never get anywhere."
Bogie stars as Sam Spade. He and his partner, Miles Archer, run a detective agency in San Francisco. One day a woman, Astor, walks in with a story about a missing sister. She asks if they can shadow a man who is supposedly with her sister. Archer, horny for her, eagerly takes the assignment. That night he, as well as the guy Astor wanted followed, get murdered. The police soon discover that Spade was having an affair with Archer's wife and assume he is guilty.
Keeping Astor a secret from the police, Spade goes about trying to make heads or tails out of what is going on before the cops pin the murder on him. He visits Astor, who has lied about everything, and soon Lorre, flaming it up big time, and Greenstreet show up to add more complications. It seems that everyone is after a very rare and valuable statue of a falcon, and they are all willing to lie, bribe, steal and murder to get it.
The thrill of the movie is watching Bogie play cat and mouse with everyone. Sometimes he's the cat and sometimes he is the mouse. This is definitely a movie you cannot miss even a few minutes of. Everyone, including Spade, lie so much in the movie that missing a scene or two could cause plenty of confusion.
An interesting aspect to Bogart's character is that, although he is the hero of the movie, he is not a typical good guy. Spade had an affair with his partner's wife and shows absolutely no remorse when he dies. He has his secretary change the name of their agency almost immediately after Archer's death. All of that is for a reason. If Spade had been a cut and dry hero you would know exactly how he would treat Astor at the end of the movie. But considering that he is a bit shady, you are not sure if Spade will let her off the hook or not. Or as Spade says, "I don't mind a reasonable amount of trouble."
Reviewed on:
March 2nd, 2007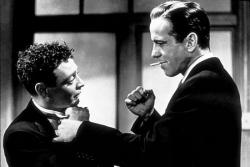 Peter Lorre and Humphrey Bogart in The Maltese Falcon.
With its taut plot, spare dialogue, superb cast and inspired direction The Maltese Falcon is a nearly flawless movie. 1941 was a great year for directorial debuts. John Huston had never directed a movie when he made this champion film noir and Orson Welles likewise hit one out of the ballpark with his first movie Citizen Kane. Both movies have a secret. Kane's is the meaning of "Rosebud" and this one's is of course the title bird. On the surface both secrets are a bit of a letdown. No one other than the audience learns what Rosebud means and the statue of the falcon turns out to be a fake. In both cases the fun is watching the game being played and not the outcome.
1941 was the year Bogart finally came into his own. He had spent the 1930's playing supporting roles to Warner Brothers' reigning stars James Cagney and Bette Davis. He usually played a gangster. He got killed by Cagney in both Angels With Dirty Faces and The Roaring Twenties. His most memorable role of the period was as Duke Mantee opposite Davis in The Petrified Forest. Although he had also played a few cop roles he didn't connect with audiences until he created his morally ambiguous hero. First as notorious thief Roy Earle in High Sierra, then as gumshoe Sam Spade in this movie, Bogart finally became Bogie.
Peter Lorre and Sydney Greenstreet appear in both this movie and Casablanca. They each had a unique way of making their characters seem interesting. They are men with pasts that you automatically want to learn more about. Mary Astor creates the consummate femme fatale. She is rotten to the core but somehow projects a vulnerability that many men, less wised-up than Sam Spade, obviously fell for. In him, however, she has met her match.
The camera angles and highly contrasted black and white lighting became hallmarks of film noir. This is one of the first and best examples ever committed to film. And the last line is legendary as well. When the detective played by Ward Bond asks Bogie what the statue is, comes this terse reply, "The stuff that dreams are made of." So is this movie.
Reviewed on:
April 18th, 2009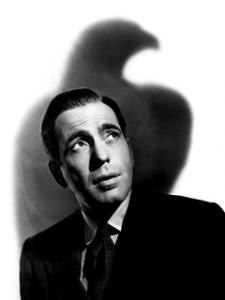 Bogart takes the fall for nobody!

With its plot of a femme fatale walking into a private detective's office and leading him into a web of intrigue and lies, this is one of those movies that while watching it for the first time, I felt as though I'd seen it before. It really set the standard for hard-boiled detective movies and has been imitated, referenced and spoofed countless times. One thing it has never been done though, is equaled.
Could anyone have played this part besides Bogie? This role suits him down to the ground. He's tough, very cold and pretty unlikable, and yet you root for him the whole time. I for one never doubted for a second that he would turn the dame in at the end. Bogie plays the sap for nobody. He's the kind of actor and this is the kind of part that you immediately want to start imitating. I love the way he keeps riding Gutman's little gunman.
Patrick you mentioned Casablanca and I thought about that while watching. If Ingrid Bergman had played Astor's part you would nearly have had the entire cast of that movie in this one. Lorre plays slimey little villains well, but I love Greenstreet in both of those movies. He has this great villain's voice. It's deep and serious sounding and he can say the most dramatic lines and make them sound sincere. He would have made a great Bond villain. I swear Ian Fleming based some of the villains in the Bond books on him.
I don't see how you can say the ending is a disappointment though Patrick. Sure the characters are disappointed, but c'mon the ending helps the movie. It's very symbolic. Bogie's last line would have been meaningless if the bird had turned out to be real. Instead it's a classic, just like this movie.
Photos © Copyright Warner Bros. Pictures (1941)
Related Reviews