Movie Review
Malibu's Most Wanted
Ever feel like you dont belong?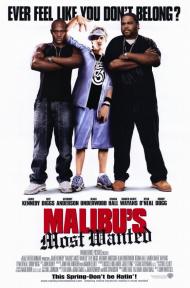 US Release Date: 04-18-2003
Directed by: John Whitesell
Starring
▸
▾
Jamie Kennedy

,

as

B-Rad
Taye Diggs

,

as

Sean
Anthony Anderson

,

as

PJ
Regina Hall

,

as

Shondra
Blair Underwood

,

as

Tom Gibbsons
Damien Dante Wayans

,

as

Tec
Ryan O Neal

,

as

Bill Gluckman
Bo Derek

,

as

Bess Gluckman
Jeffrey Tambor

,

as

Dr. Feldman
Kal Penn

,

as

Hadji
Snoop Dogg

,

as

Ronnie Rizzat (voice)
Terry Crews

,

as

8 Ball
Nick Swardson

as

Mocha

Reviewed on:
July 17th, 2009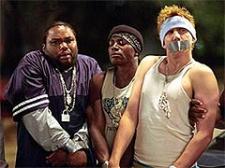 Anderson, Diggs and Kennedy are just being themselves.
Some movies make a point to be socially offensive. They make fun of different ethnicities and social statuses. They try for laughs by pointing out stereotypes that are perpetuated within these collection of people, whether it be religious, sexual preference, ethnic background or skin color. On the surface, that is exactly what Malibus Most Wanted seems to be doing, but if you can stomach the entire film, you will find a movie that has a little more to say.
Senator Gluckman is running for re-election and has grown tired of his "wanna be black" white son, B-Rad, embarrassing him. At first he has B-Rad work with him on his campaign, but that goes south when he reveals a poster that he made for his dad during a speech in front of a woman's group, "Bill Gluckman is down with the bitches and the hoes." With a suggestion from one of his advisers, he arranges for his son to be abducted by a couple of black actors, pretending to be gangbangers, to try and scare him out of wanting to be a black rapper.
B-Rad talks with slang and prides himself on his rapping."My name is B-rad. Not Robbie van Winkle. I like my lattes non-fat and don't fo-get the sprinkles." He has a demo cd, "Malibu-tay," that he tries to push onto everyone. The kidnappers give him the ultimate test to see just how black he really is. They take him to a scary movie to see if he cannot talk during it. "RUN, BITCH! HE GONNA KIIILLLLL YOU!"
The two actors hired, as well as Bill Gluckman's adviser, are educated, articulate black men. Watching Anderson and Diggs try to act tough is almost as funny as watching Kennedy act like a black gangster. They contrast well with what Kennedy is doing, as well as show that it is really not a white/black issue, but a cultural/educational one. When a real gang member sees Senator Gluckman he says, "Damn! He's the one that's down with the bitches and hoes! What? you think we ignint just cuz we live in tha hood?"
Although this film could easily offend many people, it actually is saying that people are who they are. A black man can talk without slang and is still true to himself, and if a white guy wants to talk with slang then so be it. B-Rad's parents were never around when he was young and so was raised by his black maid. The lesson is simple. If you want your child to become a certain type of person you have to be the influence in their life, not someone else.
Photos © Copyright Warner Bros. Pictures (2003)