Movie Review
Malena
A world at war. A young man coming of age. And the woman who changed his life forever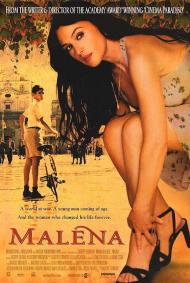 Italy Release Date: 10-27-2000
Directed by: Giuseppe Tornatore
Starring
▸
▾
Monica Bellucci

,

as

Malena Scordia
Giuseppe Sulfaro

,

as

Renato Amoroso
Luciano Federico

,

as

Renato's Father
Matilde Piana

,

as

Renato's Mother
Pietro Notarianni

,

as

Professor Bonsignore
Gaetano Aronica

,

as

Nino Scordia
Gilberto Idonea

as

Avvocato Centorbi

Reviewed on:
June 9th, 2011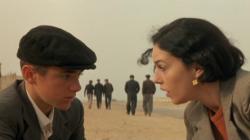 Giuseppe Sulfaro and Monica Bellucci in Malena.
Malena was written and directed by Giuseppe Tornatore, who also wrote and directed one of my favorite Italian films, Cinema Paradiso. This one likewise takes place in Sicily, the place of Tornatore's birth. It also is about a young man's first discovery of love.
The story starts on an important day for Italy in 1941. Benito Mussolini (Il Duce) is making a radio address of his declaration of war on France. Meanwhile, twelve and half year old Renato gets his first bicycle and his first erection.
After his father buys him the bike he races to a group of teenage boys who gather to watch a woman, Malena, who recently moved there with her husband, who is off fighting in the war. As soon as Malena walks by, Renato is struck with admiration. As all the boys moan in sexual frustration, and Renato's pants tighten, he is hopelessly and instantly in love with her. She is however, twice his age.
He becomes obsessed with her, following her around on his bike and spying on her in her house. He makes a silent pledge, "From now on, I'll be at your side. Forever, I promise. Just give me time to grow up." His new found lust leads him to family problems as he starts masturbating at record pace. After his bed springs make too much noise his dad yells, "You are going to go blind!" Some of the funniest scene involve his masturbation.
Tornatore's love for cinema shows is Renato's fantasies. Often he imagines that he and Malena are in a movie scene together. One time he is a gladiator about to kill a rival, if Malena gives a thumbs down. Another dream is of him and Malena having sex in a stage coach while he shoots at bad guys through the window.
Malena's life has no levity at all. At first, every man in town openly leers at her while making not so quiet sexual comments, causing the women to sneer in jealously. Things get worse when news arrives that Malena's husband has died. Suddenly all the men become much more outspoken about her sexually and the women of the town upgrade her to whore. The only thing Malena has done to earn this reaction is to look like Monica Bellucci. If ever looks were a curse, this is it.
She even gets into legal trouble when a married dentist visits her home in hopes of sex. Malena is charged with trying to be a home wrecker. Her lawyer gets her off, but she has no money to pay him. He forces himself on her, and her reputation is now cemented. She is no better then a prostitute in the eyes of the town's population, except of course in the eyes of Renato, who sees everything that happens to her, yet does nothing to actually help. He writes her many letters that he never sends her, "Signora Malena, a more capable person than me... wrote that the only true love is unrequited love. Now I understand why. It's been so long since you last came out of your house. But the longer we are apart, the stronger my love becomes."
The entire movie is shown through the eyes of Renato. Thus we never get inside Malena's head. We only know that she is a gorgeous lonely woman, who dreads stepping out of her house. Every time she goes to market or to visit her father she keeps her head down and speaks to no one. Although we know she is not what the town thinks of her, she still remains an enigma.
By the end of the war, both Malena's and Renato's lives have changed. Malena becomes a branded woman while Renato's father takes him to a whore house to lose his virginity. The film has a last minute bittersweet twist. You may or may not find it satisfying, but like Cinema Paradiso, it is sentimentally romantic.
Photos © Copyright Miramax Films (2000)