Movie Review
Magic Mike
Work All Day. Work It All Night.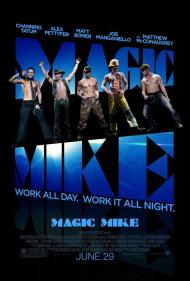 US Release Date: 06-29-2012
Directed by: Steven Soderbergh
Starring
▸
▾
Channing Tatum

,

as

Magic Mike
Alex Pettyfer

,

as

Adam
Cody Horn

,

as

Brooke
Matthew McConaughey

,

as

Dallas
Olivia Munn

,

as

Joanna
Joe Manganiello

,

as

Big Dick Richie
Matt Bomer

,

as

Ken
Adam Rodriguez

,

as

Tito
Kevin Nash

,

as

Tarzan
Gabriel Iglesias

,

as

Tobias
Mircea Monroe

,

as

Ken's Wife
Riley Keough

as

Nora

Reviewed on:
July 1st, 2012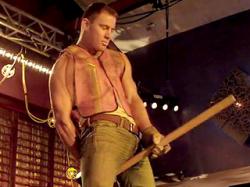 Channing Tatum in Magic Mike.
Not being a fan of Channing Tatum and having no desire to see men take their clothes off makes me the opposite of this movie's target audience. Despite that, I was still expecting something different than what Magic Mike turned out to be. The previews have been playing up the lighter, partying, stripping moments of the film rather than the more dramatic, downer ones.
Rather than glamorizing stripping, it portrays it as a rather depressing situation where the party lifestyle leads to a dead end. It's not a suggestion I disagree with, but simply a case where the marketing of a film seems to be at odds with the finished product.
Tatum plays Mike, the lead dancer at a male strip club owned by Dallas (McConaughey). The other dancers are played by recognizable faces who aren't given much characterization beyond being beefcakes. The only exception to that is Adam, the new guy who Mike brings into the dance troupe after meeting him at his day job tiling roofs.
As Mike and Adam become friends, Mike starts to get a crush on Brooke, Adam's sister. Meanwhile, Adam starts to enjoy the stripper's life, partying hard and sleeping with lots of women. Things take a darker turn when he starts dealing drugs. This leads to a rift between Mike and Brooke because she blames Mike for leading her brother into that lifestyle.
Although I clearly wasn't getting the enjoyment out of the scenes of the men on stage as many of the women in the theater were, I will still admit that these are the best scenes in the movie. They are not only well filmed, but they and the scenes backstage are the lightest and most energetic moments in the whole movie.
Everything that happens outside the club is pure soap opera. The relationship between Brooke and Mike seems to drag on forever. Tatum and Horn are both attractive people, but neither one of them is likely to win any acting awards. Some of their longer dialogue scenes feel very wooden. The movie has a running time of nearly 2 hours, but feels even longer.
People who actively want to see this movie, unlike me who just sees everything, obviously want to see it for one reason and that's to see a bunch of hot guys get their kit off. Women don't go to strip clubs because they want to hear about what a bad day the stripper had and I don't think that's why women or gay men want to see this movie. If they want to see Tatum in a romantic movie they can go rent The Vow.
If you do want to watch this movie as a chance to see Tatum strip, you might as well wait for it on DVD. That way you can just fast forward through all of the scenes where he isn't on stage.
Reviewed on:
July 3rd, 2012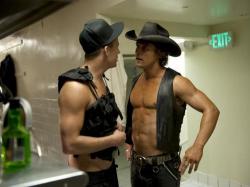 Channing Tatum and Matthew McConaughey in Magic Mike.
I am likewise not a fan of Channing Tatum but I do enjoy male strippers, therefore it should come as no surprise that I liked this movie more than Scott did. I agree, though, that Tatum and Horn both lack the acting chops to pull off the more dramatic scenes. During one big confrontation between them near the end of the movie it almost seems as if Tatum can't get his lines right but that Soderbergh left the scene in anyway because the character Magic Mike would likely get confused while trying to form simple sentences anyway.
Like my brother I wish they had focused more on the strip club performances and backstage goings on. These scenes are definitely the movie's highpoint. Tatum may not be a great actor but his body is sick (in a good way) and he shows off some respectable dance moves. The fact that he spent time stripping in real life before making it big, shows. The other strippers (even the eye-popping Joe Manganiello as the aptly named Big Dick Richie) all pale in comparison to Magic Mike. Clearly he's the star of the show.
I get Scott's point that the movie could have been more fun and the trailer did make it look a bit more lighthearted. The scene where they dress as cops and strip at a sorority house party is a good example. The preview showed it as a joke but the actual scene is much darker.
Matthew McConaughey is great as the sleazy, aging strip club owner Dallas. It's a part he was born to play. His eternally chiseled abs and world weary face are perfect for the role. His overdone bravado and male cheerleader attitude serve the character well. He is outwardly gregarious but a selfish bastard just beneath the surface. Alex Pettyfer is also good as Adam, the young man who gets in over his head in the hedonistic lifestyle of the male stripper. The story soon reveals that he was never as innocent as he at first seemed. Pettyfer and McConaughey both act circles around the two leads.
The fact that this movie turns the tables on the sexes is refreshing. There have been dozens of movies featuring female strippers but rarely has the male physique been treated as pure eye candy like it is here. Sure the script could have been sharper and the story more compelling but Magic Mike is still a good time at the movies.

Reviewed on:
December 15th, 2012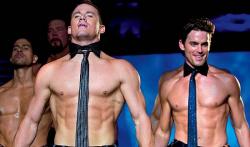 Adam Rodriguez, Kevin Nash, Channing Tatum and Matt Bomer showing their talents.
Actors can spend years perfecting their craft. They take classes and audition. If lucky, they work with different directors and play different roles, stretching their potential and expanding their range. All of this can possibly pay off with a big salary or even an acting award. If acting sounds like too much work, just be good looking and you will never have to worry about having any actual talent. Clearly People Magazine's sexiest man of the year does not have to worry about acting.
Tatum's acting is not this film's only weak link. Cody Horn is utterly pathetic as the object of his affection. She has an attractive look, but her smile is odd and she too often mistakes staring for acting. I kept thinking she was about to glance off to one side and ask, "What's my line again?"
The cast in general is an interesting mix of guys. Besides Tatum, we have the British Pettyfer, White Collar's Mike Bomer and Joe Manganiello, who made me laugh the hardest when he hurt his back. The most unique cast member is WWE's Kevin Nash. He cannot dance to save his life and during most group dances does little more than move his arms. He does get to do a couple of wrestling moves when pretending to be Tarzan on stage.
I once worked with a guy who used to be a stripper. One day on a beach he was approached and offered a job stripping. He told me stories of backroom sex acts with customers, but like this movie, he never gave me the impression he enjoyed the actual job and for what-ever reason did not stay in it very long. Either way, his stories were more fascinating than this film.
Clearly more thought went into the dance routines than an actual plot. For the record, Tatum did all his own flips and dance moves. The script meanders around with Mike wanting unconvincingly to do other things, while Adam gets into drugs and trouble. Neither is all that likable. Mike is full of shit. He says he wants to achieve certain things but continues to party like he has no goals. Adam is a lazy piece of shit. He strips because, as Mike says, "It's easy." He is stupid enough to get into drugs and hurts those closest to him.
The highlight of the film is Matthew McConaughey as the gay MC, pimping his boys for all they are worth. Alright, it never comes out and states that he is a homosexual, but come on! The shorts he wears in the gym alone give it away. If that is not a big enough clue, was it just me or did he and Tarzan seem to have a particularly close relationship? Neither are ever shown off stage with a woman. He reminded me of Joel Grey as the ambiguous MC in Cabaret. You never know what is really going on in his head.
If some male butt cheeks and abs do it for you, this film may be your thing. If you want a film with an actual story line, look absolutely any where else. There is little story arc and the ending is utterly unconvincing. As bad as this movie is, Tatum's career will not be negatively affected. Just so long as he stays in shape and his hair never falls out, he will continue to get work in film, as this movie shows, who needs talent when all you're getting paid for is your looks.
Photos © Copyright Warner Bros. (2012)
Related Review