Movie Review
Made for Each Other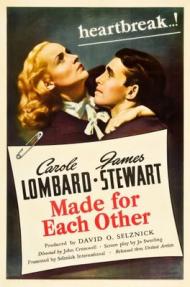 US Release Date: 02-10-1939
Directed by: John Cromwell
Starring
▸
▾
Carole Lombard

,

as

Jane Mason
James Stewart

,

as

John Horace Mason
Charles Coburn

,

as

Judge Joseph M. Doolittle
Lucile Watson

,

as

Mrs. Harriet Mason
Donald Briggs

,

as

Mr. Carter
Harry Davenport

,

as

Dr. Healy
Ward Bond

,

as

Jim Hatton
Eddie Quillan

,

as

Conway
Louise Beavers

,

as

Lily - Cook #3
Raymond Bailey

,

as

Salt Lake City Hospital Chemist
Milburn Stone

as

Newark Official


Reviewed on:
May 14th, 2008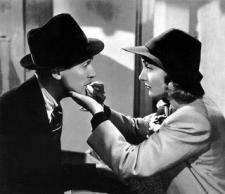 James Stewart and Carole Lombard are Made for Each Other.
Made for Each Other is a slice of America, circa 1939, in which a newlywed couple comes to grips with the realities of married life. In the capable hands of Stewart and Lombard, this routine drama comes to life, and watching it 70 years later shows that marital problems have really not changed all that much over the years.
The movie opens with Stewart, a lawyer at a law firm, and Lombard, after they just got married. They have honeymoon plans and are deliriously happy about it and their future together. They have an awkward scene where they tell Stewart's mother that they have just married. Before they do, his mother tells them that although she likes Lombard, she would not want them to be married. Ooooops!
Before wedded bliss can completely set in, their honeymoon is interrupted by an important case that Stewart cannot get out of. The case may lead to him getting a raise and partnership at the firm. It is a case of Higgins versus Higgins, to which a frustrated Lombard says, "Oh, I hope Higgins beats Higgins!"
Before long, they are blessed with a baby boy, and their New York apartment suddenly seems small, as Stewart's mother lives with them as well. Upon Lombard's insistence, Stewart goes into his boss's office to ask for a raise. Staying true to the time this movie was made, Stewart does not only not get a raise, he is told that he will take a pay cut because times are hard. Notice though, that as a disheartened Stewart leaves the office, his boss is on the phone inquiring about buying some Park Ave property.
With bills piling up, Lombard is forced to, gasp, fire the maid. The stress also causes the couple to argue, but the worst is yet to come when their baby gets pneumonia. He is rushed to the hospital on New Years Eve. This movie was made before Hollywood became anti-Christian and as such, Lombard has a scene where she goes into a chapel to pray for her child.
Although Lombard was more known for comedies, Stewart played these "every man" type roles better than anyone. He did not have the charm of Cary Grant, the toughness of James Cagney or roguish attitude of Clark Gable. He was far more relatable to the movie going public. His easy going way allows any married father to empathize with his character.
Made for Each Other is a bit soap opera-ish, and the end of the movie has an overly dramatic scene of a pilot trying to get medicine to New York. Today, this movie holds little originality. However, the movie going audience at the time, did not have television family dramas to watch every week, so a film like this was probably quite well received. It also contains a great little piece of philosophy, as dished out by the fired maid, "Never let the seeds stop you from enjoying the watermelon."
Reviewed on:
May 22nd, 2012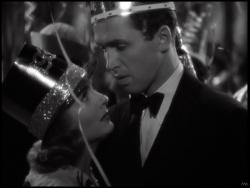 Carole Lombard and James Stewart are Made for Each Other.
Eric, I think you are too hard on this solid little melodrama. Sure it's a low key slice of Americana but it features two very strong central performances and a host of solid supporting ones. The pilot flying in the emergency medicine is presented in quite a dramatic fashion but it works well as an exclamation point to the story. It was actually based on a real life incident. Producer David O. Selznick had a similar experience in attempting to procure some life-saving serum that needed to be flown in for his brother. OK so maybe the details of the pilot's adventure seem hokey today. It still manages to pack an emotional wallop if you have at all invested in this young couple's struggles.
Up until now I only knew Carole Lombard as a comedienne, but she proves her range was much broader than just screwball comedy here. She still manages to include her infectious laugh and demonstrates a bit of her exquisite comic timing. She also conveys genuine emotion. The entire New Year's Eve sequence is particularly impressive. James Stewart was so damn likable and sincere. In Made for Each Other he is slightly more timid than in most of his films. He and Lombard make a believable newlywed couple.
The supporting cast boasts several standout performances. Lucile Watson is perfect as the disapproving mother-in-law. She isn't an over-the-top harridan but makes her displeasure known in subtle little digs at her daughter-in-law. A slightly less rotund Charles Coburn is also good as the hard-of-hearing boss. Ubiquitous character actor Ward Bond shows up as one of the pilots. Incredibly this was just one of the twenty-one movies he made in 1939. Harry Davenport is his usual comforting presence as the doctor that cares for their baby. And the wonderfully comic Louise Beavers shows up as Lily the 3rd cook hired by the Masons. She speaks the line Eric quoted in his review.
A real life tragedy occurred during the filming of this movie. Technician Edmund E. Fellegi perished from a forty foot fall off a catwalk while releasing balloons during the New Year's Eve party scene. A reminder that making movies can be a dangerous endeavor, even on a seemingly harmless shoot like this one.
Made for Each Other is a heartfelt family drama from Hollywood's most golden year, 1939. It stars two of the brightest lights ever to shine in the celluloid firmament. Carole Lombard and James Stewart made so many other, more famous, pictures that this little gem has been all but forgotten. That's a shame because Made for Each Other deserves to be seen.
Reviewed on:
May 26th, 2012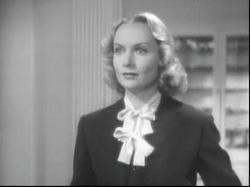 Carole Lombard in Made For Each Other.
Actually Patrick, I think you're a little too soft on this movie. I found it to be a mixed bag. The lighter moments, which mostly take place at the start of the story, are fun and entertaining, but the latter half where the drama takes center stage is quite dull and very much pure soap opera.
There's certainly nothing wrong with the cast. Carole Lombard is one of my favorite female stars of the 1930s. She was undeniably beautiful and talented and she handles the comedy and the drama with equal aplomb. Stewart, of course, is Stewart. He had that unusual combination of star quality and everyman persona that has never been equaled. They share a nice chemistry and I agree with Patrick that the two of them make a very believable couple.
Although the melodrama ends up overshadowing the rest of the story, there are some quite lighthearted moments at the beginning and scattered throughout. Quite a few of the funniest scenes involve John's mother, including the moment Eric mentioned when they first reveal to her that they're married. Her ability to constantly stick her nose in everywhere is worth some laughs, especially with the maid who keeps threatening to quit during the dinner party.
The whole rushing to get the medicine through a snowstorm seems like a cheap tactic to elicit some tears from the audience. It's pure soap opera and highly melodramatic. These scenes also feel at odds with the earlier romantic comedy moments, almost like two different movies stuck together.
Despite a talented couple of stars and a few nice moments, I have to admit that the thing I felt most while watching this movie was simple boredom.
Photos © Copyright United Artists (1939)