Movie Review
Mabel's Dramatic Career
US Release Date: 09-08-1913
Directed by: Mack Sennett
Starring
▸
▾
Mabel Normand

,

as

Mabel, the Kitchen Maid
Mack Sennett

,

as

Mack - Mabel's Sweetheart
Ford Sterling

,

as

Actor / Onscreen Villain
Roscoe (Fatty) Arbuckle

,

as

Man in Audience
Alice Davenport

,

as

Mack's Mother
Virginia Kirtley

as

City Girl - Mabel's Rival

Reviewed on:
October 9th, 2010
Mack Sennett and Fatty Arbuckle in the audience while Mabel Normand is on the big screen.
Mabel Normand was the greatest female comedienne of the silent era. She had a long lasting relationship with Mack Sennett, the founder and head of Keystone Studios. They never married. She wrote gags and even directed several shorts and quite often her name was used in the titles of her pictures. She often teamed with Roscoe 'Fatty' Arbuckle. Like Arbuckle her career was ruined by scandal in the early 1920's. Her health was ruined by years of cocaine addiction and she died in a tuberculosis sanitarium in 1930 at the age of 34.
Mabel's Dramatic Career packs in plenty of plot in just 14 minutes. It begins with Mack, a country bumpkin, courting Mabel, his mother's maid. His mother disapproves and sends Mabel back to work. Just then a city girl arrives and steals Mack's attentions away. Mabel causes a scene and is sent away.
She goes to the city and becomes a motion picture actress.
Several years later Mack comes to the city and sees Mabel's picture on a movie poster. He goes inside to watch the movie and reacts to the action on the screen as if it is real; much to the consternation of his fellow audience members. During the scene where the villain pulls a gun on Mabel, Mack pulls out a gun of his own and begins shooting up the theater.
He then races outside and decides to kill the villain. He finds him at home, (just how the movie doesn't explain) and then looks in the window only to discover the villain and Mabel are married and have 4 young children. A man on a floor above then throws a bucket of water out a window onto Mack forcing him to walk away. The End.
Mabel Normand was great at making funny faces and doing pratfalls. She falls down continuously throughout the movie. She is the best thing this moving picture has going for it. Mack Sennett plays the hapless Mack and does some pretty bad overacting and mugging. Clearly his talents were behind the camera. Ford Sterling plays the quintessential silent movie villain in the movie within the movie. Fatty Arbuckle has only one scene as the most prominent audience member. He does nothing except react to Mack's behavior but he just looked funny.
This is not a great movie by any means but it is entertaining and it features a memorable cast for a two-reeler from 1913.

Reviewed on:
November 30th, 2012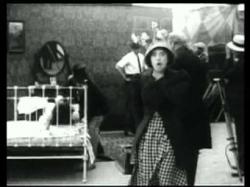 Mabel Normand in Mabel's Dramatic Career.
There's something rather endearing about Mabel Normand in this short. She's thrown over by her lover, but finds success as an actress, stumbling and bumbling her way into stardom. She was no great beauty, but she could certainly take a fall.
Unfortunately, too much of this short is taken up by Mack Sennett's character. As Patrick said, he was no actor. Even by silent film standards he's a major ham. He gesticulates and over emotes to a ridiculous degree. He's not playing to the back row, he's playing to the back row in another theater.
Sennett was known more as a director, but he doesn't impress with this short. There are problems with the story. Who's the city girl who shows up out of nowhere? Mabel becomes a star just by wandering into the movie studio. And as Patrick said, it's never explained how Mack finds out where the "villain" lives. His editing skills also leave something to be desired. During the scene in the movie theater, the scene cuts between showing the front of the audience and the rear of the audience and the cuts are very rough. For example, when the audience is shown from the rear Arbuckle and Sennett are arguing wildly, but when shown from the front, Arbuckle is sitting placidly and Sennett is waving at the screen.
It wasn't until Patrick commented that Normand was the greatest female comedian of the silent era that I ever really thought about it. Chaplin, Keaton and Lloyd were the kings of silent comedy, but where were the queens? Swanson and Pickford both did comedy, but they weren't really comediennes. Perhaps without her drug addiction and the scandal of two murders that were linked to her name, perhaps Normand's career would have continued to flourish. We'll never know.

Reviewed on:
December 1st, 2012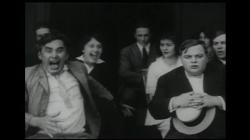 Mack Sennett and Roscoe (Fatty) Arbuckle in Mabel's Dramatic Career
Mabel's Dramatic Career seemed like it was made by a group of twelve year olds. The writing is ridiculously simple. A spurned woman wanders onto a movie set and becomes a star, causing her former boyfriend grief. Everyone overacts but Mack Sennett plays it so big as to make his character seem retarded. Perhaps that is what he was going for or maybe he was simply a really bad actor.
The dialogue cards are ridiculously obvious. Watch the scene where the mother shoos Mabel away and slaps her son. We know this obviously means she does not want her son to be with Mabel, but we then have a dialogue card tell us just the same. An even more obvious one is when Mabel walks through the country and then stands at the edge of a large city. We then get a title card that tells us that it is in fact a city. I am guessing that Mack Sennett assumed his movie audience had the intellect of twelve year olds as well. Old enough to read but not mature enough to grasp the obvious.
Photos © Copyright Keystone Film Company (1913)
Related Reviews