Movie Review
Love, Wedding, Marriage
Here comes the ride.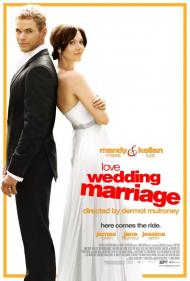 US Release Date: 06-11-2011
Directed by: Dermot Mulroney
Starring
▸
▾
Mandy Moore

,

as

Ava
Kellan Lutz

,

as

Charlie
Jane Seymour

,

as

Mom
James Brolin

,

as

Dad
Jessica Szohr

,

as

Shelby
Alyson Hannigan

,

as

Courtney
Christopher Lloyd

,

as

Dr. George
Alexis Denisof

,

as

Lloyd
Michael Weston

,

as

Gerber
Julia Roberts

as

Ava's Therapist (voice)

Reviewed on:
October 2nd, 2011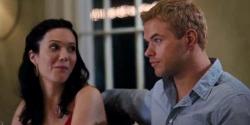 Mandy Moore and Kellan Lutz in Love, Wedding, Marriage
Love, Wedding, Marriage breaks absolutely no new ground in the romantic comedy genre. A hopeless romantic or Lifetime television channel fan may find this entertaining. Although lacking originality, the stars try their hardest to be as charming as possible. That is to say, Moore smiles sweetly and Lutz goes without a shirt as often as he can.
Moore is completely unconvincing as a marriage therapist. She looks far too young and acts far too immature to give anyone marriage advice. Lutz playing the part of a vineyard executive (owner?) has the body of an athlete or model, but is of course never shown exercising, even once. Together they are a cute couple, nice to look at. To no extent of my imagination do I believe though, that Moore could muster an original piece of marriage advice when she is so horrible at it herself.
The movie starts with their wedding and all seems well with this good looking upper middle class couple. Then Moore finds out that her parents are divorcing. She immediately starts butting in and makes every annoying attempt she can to save their marriage. In the mean time she starts to neglect her husband, causing her marriage to suffer.
So distracted by her efforts to keep her parents married, she claims to not have time to have sex with her husband. Why is sex the first thing women cut out of their schedule when they are "busy"? Why not cut out all the bitching and complaining. That would leave time for sex and a movie. At the end of the film when Moore and Lutz make up, he asks her to promise to, "Swear to have sex with me twice a week and sometimes twice a day when the mood strikes." Take note ladies, give your man plenty of sex and he will be much more forgiving when you act nuts. Seriously, it is the most honest and wise moment in the film.
In more capable hands, there could have been some laughs. Lutz and Brolin go out for drinks and stumble home drunk to a disgusted Seymour and Moore. Neither the guys acting drunk or the women acting indignant cause the slightest laughter. In another scene, people race to the hospital. It is intended to be a dramatic scene, but I have watched heavier drama on Nickelodeon.
Brolin has a sub plot about wanting to find his Jewish faith. He goes on and on about it, although he is never shown going to synagogue or reading the Torah. A huge family secret is revealed, causing very little excitement.
Although they have limited acting talent, Lutz and Moore may, at the very least, distract you with their youthful looks. The older members of the cast are not as fortunate and just as vapid. James Brolin has never been much of an actor and his performance here only cemented that opinion. Seymour has pretty much just given up. She appears to only half try to maintain her American accent.
I blame this disaster not on the cast though, but the director. As an actor himself, you would think that Dermont Mulroney could coax better performances from his actors. Then again, he was never much of actor himself so I guess he did what he could. His biggest accomplishment is that he talked his former co-star from My Best Friend's Wedding into doing a voice cameo.
Photos © Copyright Chydzik Media Group (2011)