Movie Review
Love the Coopers
Be thankful the holidays only come around once a year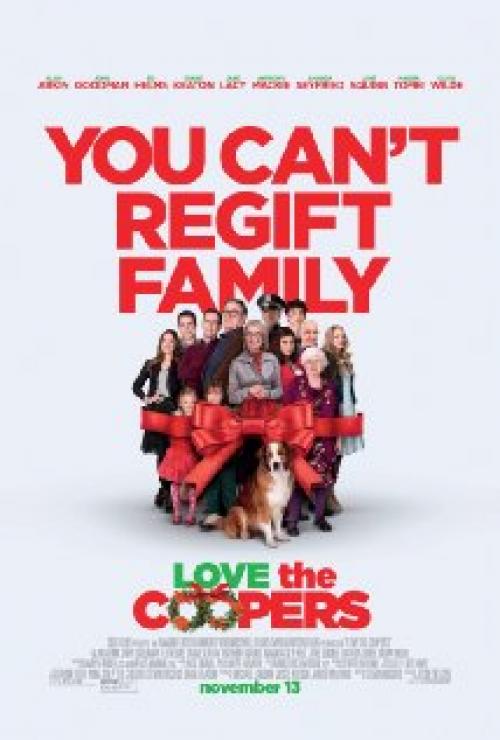 US Release Date: 11-13-2015
Directed by: Jessie Nelson
Starring
▸
▾
Diane Keaton

,

as

Charlotte
John Goodman

,

as

Sam
Ed Helms

,

as

Hank
Alex Borstein

,

as

Angie
Timothee Chalamet

,

as

Charlie
Maxwell Simkins

,

as

Bo
Blake Baumgartner

,

as

Madison
Amanda Seyfried

,

as

Ruby
Alan Arkin

,

as

Bucky
Marisa Tomei

,

as

Emma
Olivia Wilde

,

as

Eleanor
Jake Lacy

,

as

Joe
June Squibb

,

as

Aunt Fishy
Anthony Mackie

,

as

Officer Williams
Jon Tenney

as

Dr. Morrissey

Reviewed on:
November 27th, 2015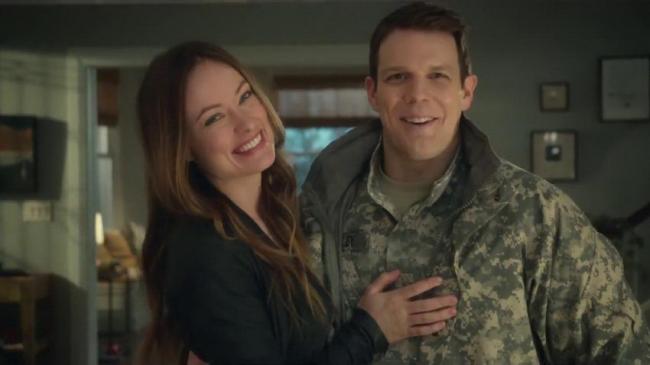 Olivia Wilde and Jake Lacy in Love the Coopers
Family/romance Holiday films are a dime a dozen. Look at the Lifetime and Hallmark Channels through November and December. They seem to come up with a new one almost every week. Love the Coopers fits right in with most of those forgettable movies, with only the famous cast to distinguish it.
The first three quarters of the film are several different story lines of one or more members of the same family on Christmas Eve. All will be gathering at Charlotte and Sam's home for dinner. What none of them know is that this long time married couple has grown apart and have decided to divorce. Charlotte and Sam do not want any of their grown children or grandchildren to find out until after the holidays.
What Charlotte and Sam have not considered is that the other members of their family are all experiencing a crisis of their own. Not only is their son Hank divorced but he has recently lost his job and is struggling to find another. His pimple faced teenage son is meanwhile feeling some of his first stirrings of attraction for a girl. His story line provides some laughs, such as when he visits the girl at the mall and repeats to himself, "Don't look at her boob. Don't look at her boobs." Their kissing scene brought the most laughter from the audience I saw this with but the joke gets repeated and loses its punch.
Charlotte and Sam's daughter Eleanor is for some reason a mess, having an affair with a married man. She flies in for dinner but puts off going home by visiting the airport bar where she meets a soldier, who is stranded at the airport. They immediately make a connection as they share a similar sense of humor, even though he is a conservative Christian and she a liberal agnostic. She eventually asks him to pretend to be her boyfriend and come home with her to her parent's house instead of spending the night in the airport. My favorite line is when Eleanor says to him, "All we have to figure out is how long we've been together and...what your name is." Their storyline provides the film with the most spark, no matter how predictable it is.
Charlotte's father, played by 80 year old Alan Arkin, is spending his pre-Christmas Eve dinner at a diner where he has made friends with a waitress played by 30 year old Amanda Seyfried. He has a crush on her, even though he does not actually expect to do anything about it. He loans her movies to watch and they later discuss them when he comes in to eat. When we first meet them, she is giving him back a DVD copy of Charlie Chaplin's classic, City Lights, about a man who loves a woman he sees often but is scared to death that she may not return his affection.
The last major storyline belongs to Emma, Charlotte's younger sister. We meet her at a store where we hear her thoughts about her jealousy issues with her sister. She shoplifts something and gets arrested. She pleads with the stoic police officer, who is taking her in, to let her go but instead ends up becoming his therapist from the back seat. It is the weakest plot of the film and should have been jettisoned altogether. The officer is the only character in the film who does not end up at Charlotte and Sam's house for dinner and we never see if his time with Emma was of any benefit.
Love the Coopers has some humor and romance but the switching of storylines is more frustrating than an episode of Life in Pieces. Some storylines are entertaining while others not-so-much. Few of these characters get enough screen time for us to truly understand them, let alone sympathize with. Worst yet is that most of the storylines never come to a satisfactory conclusion. I am not asking for a sequel but a little clip at the end of this movie showing where some of these storylines ended would have helped.
Almost every scene is drowning in Christmas decor or romantic goo. I saw this with my family on Thanksgiving night so you would think that we would be an easy sell. We were in a holiday mood, stuffed with turkey but this mostly inconsequential film left us feeling empty.
Photos © Copyright CBS Films (2015)