Movie Review
The Love of Sunya
A Drama of Invincible Destiny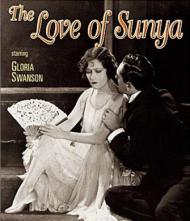 US Release Date: 03-11-1927
Directed by: Albert Parker
Starring
▸
▾
Gloria Swanson

,

as

Sunya Ashling
John Boles

,

as

Paul Judson
Pauline Garon

,

as

Anna Hagan
Ian Keith

,

as

Louis Anthony
Andres de Segurola

,

as

Paolo De Salvo
Anders Randolf

,

as

Robert Goring
Hugh Miller

,

as

The Outcast
Robert Schable

,

as

Henri Picard
Ivan Lebedeff

,

as

Ted Morgan
John Miltern

,

as

Asa Ashling
Raymond Hackett

,

as

Kenneth Ashling
Florence Fair

as

Rita Ashling


Reviewed on:
December 12th, 2012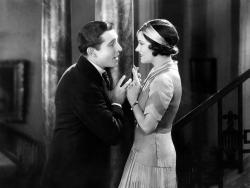 John Boles and Gloria Swanson in The Love of Sunya
Like so many of her male silent film counterparts, Gloria Swanson took more and more control of her career as time passed. Although she never became a screen writer or director, she did start her own production company, Gloria Swanson Productions Inc. The Love of Sunya was the first of the three movies she made with herself as acting producer. This was a good choice for her as she appears in almost every scene and gets to act all over the place.
The film starts in ancient Egypt and features a sorcerer and Swanson over acting in a time period costume. The film then switches to 1927 where Gloria is a young lady engaged to John Boles. She learns three things in one day. First is that her intended is being sent to South America for his job and wants her to go with him. The second is that her Dad has financial problems and she may be able to help with a personal arrangement. The third is that after singing at that night's party, an agent offers her the chance to go to Paris to sing professionally.
The reincarnation of the Egyptian sorcerer shows up with a crystal ball that allows Gloria to look into the possible future of each option and see how each would play out. Each scenario allows Swanson to showcase her dramatic flair, whether in a romantic situation, acting drunk or playing the tormented diva. (Holy shades of Norma Desmond) Her choice is never in doubt, but the story has to play out none-the-less.
A couple of scenes stood out for me. At one point there is a close up of a teary eyed Swanson. It showed that she was quite a good actress as well as beautiful. The second is a nude scene from the back. It is supposed to be Swanson being bathed but all the camera allows us to see are the shoulders down to the curve of her hips, without a stitch of cloth in sight. It could have been a stand in, but showing so much skin was still a rare scene for a silent film.
Having watched more and more of Swanson's silent films, I have come to appreciate her later feature length silent films more than her earlier work with De Mille. With him she seemed to play mature roles in heavy fisted films, while later she made movies with a lighter touch, even if they were dramas. For example, had De Mille directed The Love of Sunya, the opening sequence in Egypt would have likely featured a larger cast, a more detailed set and lasted four times as long, even though it plays very little into the actual story.
In fact, the entire gimmick of the sorcerer and the crystal ball are moot. The story would have lost nothing if Gloria would have just walked into the garden, looked into a pond and imagined her three futures. It would have made more sense and we would have been spared Hugh Miller's over-acting. The film runs a mere 78 minutes but cutting him out would have still helped. Swanson was a great actress but clearly needed to work on her producer skills.
This was the film that made John Boles a star. This was the only film he appeared in 1927 but would be seen in eight the following year. He is not remembered much today but he went on to co-star in such 1930's classics as Frankenstein (1931), Curly Top (1935) and Stella Dallas (1937). Also in the cast, playing Gloria's sister Rita, is Douglas Fairbanks' niece. I guess Hollywood was still a small town in 1927.
The Love of Sunya was a showcase for Swanson but it should have been made a couple of years later as a talky. Swanson was a trained opera singer and the script called for her to sing but as this is a silent film, her vocal talents go unheard. Swanson's next two films would be her last silent films and like most of her contemporaries, she would soon give way to a new crop of movie stars. Her silent career was a unique body of work, from short slapsticks to feature length dramas and comedies. Gloria Swanson was, in my opinion, the greatest silent film female movie star.
Reviewed on:
March 22nd, 2014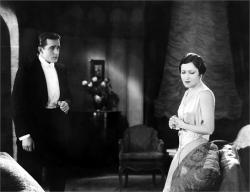 John Boles and Gloria Swanson in The Love of Sunya.
It's easy to see why Gloria Swanson was attracted to the role of Sunya Ashling. Not only did it reflect her burgeoning interest in reincarnation but she got to run the gamut of emotions from blissful to forlorn to defiant to teary-eyed, and even doing a comically inebriated scene, in this melodramatic story of a young woman gifted with the chance to peer into her possible futures with three different suitors. And on top of all that the legendary clotheshorse wears enough fabulous creations to satisfy a busload of drag queens.
The Love of Sunya had originated as a 1917 play titled The Eyes of Youth, which had made a star of Marjorie Rambeau. In 1919 it had been made into a film of the same name starring Clara Kimbell Young and featuring an unknown Rudolph Valentino in a small role. Swanson purchased the rights in July of 1926 just a month before Valentino's untimely death at the age of 31.
Swanson wrote extensively about this production in her 1980 autobiography Swanson on Swanson. Going against advice she decided to film the movie, not in Hollywood, but on the East Coast at William Randolph Hearst's Cosmopolitan Studios in Harlem. She hired Albert Parker to direct as he had likewise directed the 1919 version and she figured his familiarity with the story would prove a time and money saving asset.
She was soon proven wrong however as the shoot quickly ran over budget and behind schedule. This was mainly due to the many trick photography issues involving double exposures that served as transitional devices to the scenes of Sunya's possible futures. According to Swanson, Dudley Murphy, the man in charge of the film's special effects, was inexperienced in this department. She ended up getting help from a Russian refugee, engineer and inventor George de Bothezat. Although he had never worked in pictures before, Swanson wrote that he came up with many brilliant ideas that proved invaluable to the completion of the movie.
The Loves of Sunya opened the brand new Roxy Theater in New York City on March 11, 1927. First night tickets went for a then astounding 11 bucks a pop and, again according to Swanson, scalpers were asking -and getting- five times that amount. The audience that night included both Charlie Chaplin and Harold Lloyd among many other luminaries. Legend has it that the audience gave the movie a sustained standing ovation at its conclusion.
Ultimately however, The Love of Sunya failed to generate much interest throughout the rest of the country, and that glamorous evening in Manhattan marked the final hurrah of Gloria Swanson's reign as a silent movie queen. Seen today it remains a visually interesting film, with Swanson giving her all as the titular character in a story that seems hopelessly old fashioned.
Reviewed on:
September 23rd, 2014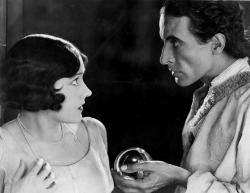 Gloria Swanson and Hugh Miller in The Love of Sunya.
I disagree with Eric. The crystal ball and the reincarnated Egyptian priest are the only interesting things about this movie. Remove them and all you have left is typical melodrama. And by seeing the future, we know that she's seeing what will happen and not simply what she imagines would happen.
I do agree that Swanson is quite good. As she said in Sunset Boulevard, they had faces then and her's was one of the most expressive of the era. You can always tell exactly what she's feeling without her ever uttering a word. Her hands, her mouth, and most of all her eyes convey her inner feelings and thoughts. She was a true star.
It's easy to see why she chose this vehicle for her first independent production as it revolves entirely around her and she carries the story easily as the only character with any depth. The supporting players are all fairly flat and two-dimensional. Her father puts his financial troubles ahead of her feelings. Her true love is loyal but dull. The opera master is a lech. And the suitor her father approves of is the stereotypical rich man who rides roughshod over anyone in his way.
More interesting than the soap opera plot is the story of that opening night Patrick mentioned. The Roxy theater (whose fame was noted in Cole Porter's "You're the Tops" in the line, "You're the pants, on a Roxy usher") was a 6,000 seat movie palace that cost over $10 million to build. Its opening night was a gala celebration of unbelievable proportions. This wasn't just the showing of a film, but an evening of events. It opened with the 110 piece orchestra playing "The Star Spangled Banner". This lead to a ballet dance featuring more than 100 dancers and was followed by several songs. Following this, the entire Orchestra pit was lowered below the stage on an elevator platform while letters from President Coolidge, New York City Mayor Jimmy Walker, and a telegram from New York Governor Alfred E. Smith were shown on the screen. This was followed by a scene from the opera Carmen being played on the screen, complete with sound, which caused the New York Times to write, "Signor Martinelli's voice burst from the screen with splendid synchronization with the movements of his lips. It rang through the great theatre as if he had himself been on the stage." Then finally, the main feature was shown.
The official list of invitees, which the Times noted "did not by any means include all of the well-known New Yorkers who were present" included not only Chaplin and Lloyd, but three Generals, two Governors, four Senators, two Judges, the Mayor, the Police Commissioner, the British, Italian and Austrian Consuls General, Irving Berlin, Will Hays (of the Hays Office), Joseph M. Schenck, and of course the cast of this film, along with many, many, many other luminaries of the age. It's no wonder scalpers were able to command such a high price for their tickets. They knew how to do glamour in those days and with such a crowd, in such a theater, how could the movie fail to be a hit that night.
As Patrick noted however, when seen without the benefit of all that reflected glamour this movie fares rather worse. Swanson gives it her all, but the material doesn't live up to her talents.
Photos © Copyright Gloria Swanson Pictures (1927)