Movie Review
Love Laughs at Andy Hardy
it's NEW and TERRIFIC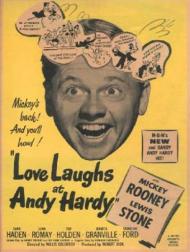 US Release Date: 12-25-1946
Directed by: Willis Goldbeck
Starring
▸
▾
Mickey Rooney

,

as

Andy Hardy
Lewis Stone

,

as

Judge Hardy
Sara Haden

,

as

Aunt Milly
Bonita Granville

,

as

Kay Wilson
Lina Romay

,

as

Isobel Gonzales
Fay Holden

,

as

Mrs. Hardy
Dorothy Ford

,

as

Coffy Smith
Hal Hackett

,

as

Duke Johnson
Dick Simmons

as

Dane Kittridge


Reviewed on:
September 17th, 2014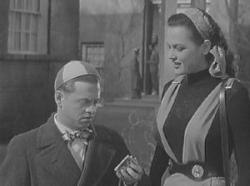 Mickey Rooney and Dorothy Ford in Love Laughs at Andy Hardy
Love Laughs at Andy Hardy was the 15th of the 16 films in the Hardy family movie series. The films followed the adventures of young Andy Hardy and his ever wise father, Judge Hardy. Other than Andy having minor financial problems and girl troubles, the upper middle class Hardy family skated through the great depression unscathed. No doubt audiences enjoyed seeing a family unencumbered by issues they themselves were enduring.
Mickey Rooney as Andy Hardy represented what has since been dubbed the greatest generation. Made in 1946, the depression was over and so was World War II. Love Laughs at Andy Hardy opens with a scene that much of the nation could relate to in a very personal way. Andy Hardy, in military uniform arrives home from the war. Well, since this is Andy Hardy, he actually falls off a truck in front of his parents.
Mr. and Mrs. Hardy are thrilled to have him home but Andy cannot stop thinking about Kay Wilson, a girl he met in college, in Andy Hardy's Blonde Trouble (1944). Mrs. Hardy tries to set her son up with a girl but soon realizes that Andy is distracted and discovers it is because Andy plans to return to college as soon as possible and propose marriage to Kay. As usual, things do not go easy for him.
Andy Hardy having girl trouble is standard operating procedure. Upon arriving at Wainwright University, Andy discovers that Kay cannot attend a dance with him. A classmate sets him up on a platonic blind date with Coffy, a beautiful girl who is a foot taller than the 5' 2" Mickey Rooney. Another staple of the series is Judge Hardy having a heart to heart with Andy. At one point, when Andy is feeling down, his mother tells his father, "Talk to him. He'll listen to you. He always has."
Love Laughs at Andy Hardy is evenly paced and has some funny moments. Andy getting locked outside his home, dressed only in his mother's bathrobe is worth a chuckle. The funniest bit is when Andy takes Coffy to the dance. Tiny Andy trying to spin the statuesque Coffy around had me laughing out loud. The end of the film is, however, a letdown.
A generation of moviegoers grew up with Andy Hardy and a nugget is thrown in at the end of the film for the fans. Andy puts a picture on a table that features his previous girlfriends. You can clearly see Judy Garland's and Lana Turner's photo right up front. There would only be one more Andy Hardy film made, Andy Hardy Comes Home (1958). It unfortunately does not feature Lewis Stone as he died in 1953.
Reviewed on:
September 24th, 2014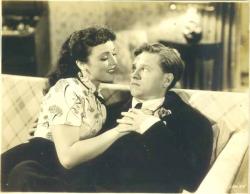 Lina Romay and Mickey Rooney in Love Laughs at Andy Hardy.
While still a moneymaker for MGM, the Andy Hardy series had run its course by the time Love Laughs at Andy Hardy arrived in theaters on Christmas Day, 1946. Audiences had seen the Hardy family from the Great Depression safely to the end of WWII and it was time to put the series to bed. Rooney was an aging 25 at the time still trying to play 20. In the first movie -which came out in 1937- Andy was supposed to be 15. So in nine years time the character was allowed to age just five years.
Several characters from the series are absent here. Ann Rutherford had ended her run as Polly Benedict after 12 movies in Andy Hardy's Double Life (1942), and Andy's big sister Marian (Cecilia Parker) had likewise departed the series after that same installment. Parker would return for the 1958 reunion movie Andy Hardy Comes Home, equaling Rutherford's 12 appearances in the franchise. (For the record Mickey Rooney was the only actor to appear in all 16 Hardy films. Fay Holden played Mrs. Emily Hardy in 15, missing only the very first movie, and Lewis Stone missed the first and last entries as Judge Hardy. Sara Haden as Aunt Milly was also in 14. Betty Ross Clarke replaced her in the role twice in 1938, in Judge Hardy's Children and Love Finds Andy Hardy.)
The plot is even thinner than usual this time around. The gag with Andy rushing home to get that telegram and then locking himself out of the house in a bathrobe gets milked dry. It just seems to go on and on before his parents finally show up to let him inside. Rooney gives his all as usual but he was getting a bit too old for this shtick. I agree that the funniest scene is where Andy dances with Coffy Smith played by the 6' 2" Dorothy Ford. It's exuberant and silly and lots of fun to watch.
Yes there is still enjoyment to be had in revisiting these old friends. Lewis Stone and Fay Holden made a believable married couple. The love, respect, and courteousness exhibited among the Hardy family members seems both quaint and touching – and sadly missing in today's world. Andy graciously dances his first dance home with his mother before the Judge cuts in to dance with his wife. But despite the fact that Andy has spent the past two years fighting in the war (although no details are given) he seems too old to be a college freshman.
Eric mentioned the scene at the end where all the photographs of Andy's many girlfriends are displayed. It is a fitting tribute and a nice little way of waving goodbye to these familiar characters. Besides Garland and Turner these include Kathryn Grayson, Esther Williams, and Donna Reed, each of whom received their first major career boost visiting the fictional small town of Carvel. Judy Garland is the only one of these soon-to-be-stars to appear in more than one entry. Judy played the talented girl next door Betsy Booth in three Andy Hardy pictures, Love finds Andy Hardy (1938), Andy Hardy Meets Debutante (1940), and Life Begins for Andy Hardy (1941).
The Andy Hardy film series was not only hugely popular with audiences of the day it was also the recipient of several prestigious accolades. A well-attended ceremony was held at Grauman's Chinese Theater in Hollywood on August 15, 1941. A plaque was presented to the cast that read, "I, Mayor Fletcher Bowron, on behalf of the citizens of this community, do hereby proclaim the family of Judge James K. Hardy, the first family of Hollywood." The series was even awarded a special Academy Award in 1943 for, "Its achievement in representing the American way of life in the production of the 'Andy Hardy' series of films." Mickey Rooney passed away earlier this year at the age of 93 but he will live forever on film as the epitome of small town America, Andy Hardy.
Photos © Copyright Metro-Goldwyn-Mayer (MGM) (1946)
Related Reviews