Movie Review
Love Is Better Than Ever
It's Liz in a whiz of a racy romance
US Release Date: 02-23-1952
Directed by: Stanley Donen
Starring
▸
▾
Larry Parks

,

as

Jud Parker
Elizabeth Taylor

,

as

Anastacia (Stacie) Macaboy
Josephine Hutchinson

,

as

Mrs. Macaboy
Tom Tully

,

as

Mr. Charles E. Macaboy
Ann Doran

,

as

Mrs. Levoy
Elinor Donahue

,

as

Pattie Marie Levoy
Kathleen Freeman

,

as

Mrs. Kahrney
Doreen McCann

,

as

Albertina Kahrney
Alex Gerry

,

as

Hamlet
Dick Wessel

,

as

Smitty
Gene Kelly

as

Himself
Reviewed on:
April 2nd, 2012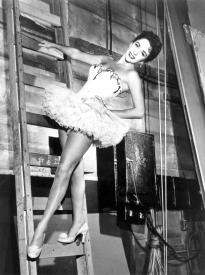 Elizabeth Taylor shows off her figure in Love Is Better Than Ever.
Love Is Better Than Ever is a romantic comedy trifle from MGM, released in 1952. It stars Elizabeth Taylor and Larry Parks, and was directed by Stanley Donen. It had been shot early in 1951 but had been shelved for a year after Larry Parks was blacklisted for alleged Communist leanings. His movie career, which at its peak had earned him a Best Actor Academy Award Nomination for his performance as Al Jolson in The Jolson Story back in 1946, never recovered. He died of a heart attack at the age of 60 in 1975 after years of obscurity.
Parks was 36 at the time he made this movie, while his leading lady, Elizabeth Taylor, was still in her teens. The age difference seems pretty glaring today, but wasn't as unusual at the time. In real life Taylor was already a divorcee from her marriage to Nicky Hilton. Reportedly during the filming of this movie she was virtually inseparable from the - also freshly divorced – director, Stanley Donen. Their affair was short-lived however. In fact by the time the movie was showing in theaters Taylor had become Mrs. Michael Wilding.
The silly plot involves Taylor as a small town dance instructor who meets a big-time NYC talent agent while in Manhattan for a convention. They spend a week together in the Big Apple during which he shows her the sights. When news of Taylor's behavior reaches home the ensuing scandal threatens her reputation and her business. What's this innocent lamb to do to restore her good name except try to lure her big-city wolf down the aisle of matrimony.
Taylor spends much of the movie in dance tights, which show off her still gorgeous figure (see photo). She photographs as exquisitely as usual. Every close-up of her face is a work of art. Parks doesn't fare as well. He lacks charm and comes across as a middle-aged curmudgeon. Even without being blacklisted, I can't imagine his career lasting much longer anyway.
Director Donen never lets the audience forget they are watching an MGM production. His pal Gene Kelly even makes a cameo playing himself at the swanky restaurant 21, and in one scene Taylor's dance class performs a routine to "On The Atchinson Topeka And The Santa Fe" a hugely popular song first introduced by Judy Garland in MGM's The Harvey Girls.
Fans of the classic 1952 MGM musical Singin' in the Rain will recognize Kathleen Freeman as Elizabeth Taylor's dance school seamstress. In Rain she played the elocutionist that instructs Lina Lamont to use "round tones". Freeman would go on to a long and successful career on television. Younger people that may not have ever seen any of her old movies may recognize her from the many guest appearances she made on famous TV series such as The Dick Van Dyke Show, Batman, I Dream of Jeannie, Bonanza, The Beverly Hillbillies, Hogan's Heroes, CHiPs, The Facts of Life, The Golden Girls, Murphy Brown, Roseanne, Married with Children, Beverly Hills 90210, ER and many others. Her final big screen work came as the voice of the Old Woman in 2001's Shrek.
Kathleen Freeman wasn't the only castmember of this movie to go on to enjoy a long and prolific career on television. Ann Doran's list of credits rivals Freeman's. She appeared on episodes of Leave It to Beaver, Lassie, My Three Sons, Bewitched, The Odd Couple, Barnaby Jones, Little House on the Prairie, M*A*S*H, Fantasy Island, Knots Landing and The A-Team among many others.
Love may be better than ever but this movie certainly hasn't aged well. Not that it was very good to begin with. Without the presence of the alluring and stunningly beautiful Elizabeth Taylor it would have long since been forgotten.
Photos © Copyright Metro-Goldwyn-Mayer (MGM) (1952)