Movie Review
Love Actually
The ultimate romantic comedy.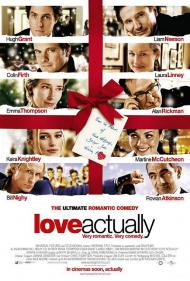 US Release Date: 11-07-2003
Directed by: Richard Curtis
Starring
▸
▾
Hugh Grant

,

as

The Prime Minister
Emma Thompson

,

as

Karen
Liam Neeson

,

as

Daniel
Colin Firth

,

as

Jamie
Alan Rickman

,

as

Harry
Keira Knightley

,

as

Juliet
Laura Linney

,

as

Sarah
Lucia Moniz

,

as

Aurelia
Billy Bob Thornton

,

as

The US President
Elisha Cuthbert

,

as

Carol-Anne
Kris Marshall

,

as

Colin Frissell
Bill Nighy

,

as

Billy Mack
Rodrigo Santoro

,

as

Karl
Thomas Brodie-Sangster

as

Sam

Reviewed on:
November 9th, 2003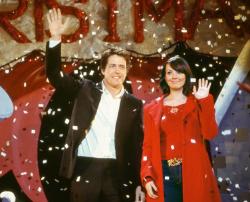 Hugh Grant plays the Prime Minister in Love Actually.
First time director Richard Curtis presents this gift-wrapped, densely populated, holiday movie. Curtis, the successful screenwriter of previous box office hits like Four Weddings and a Funeral and Bridget Jones's Diary, proves himself adept at witty dialogue and funny situations, but is clearly in over his head trying to juggle – Altman like – so many different characters and story lines.
The tone of Love Actually is all over the place, actually. It starts off with a schmaltzy montage of 'real people' greeting each other at Heathrow Airport, while Hugh Grant voice-overs something about this being his favorite place. Most of the movie is played at this level, definitely going for the heartstrings but with a gentler humor than most British based comedy. But for a movie that is being marketed as a family friendly holiday experience – even the movie poster looks like a Christmas present – there is an enormous amount of nudity and sexual activity going on.
Most of it revolves around one couple, a young man and woman who act as stand-ins for the stars during sex scenes. They are completely nonchalant about their work, carrying on casual conversations while reenacting various sexual positions for the camera. Later after their first date, the would-be Romeo gets shy about giving his Juliet a goodnight kiss. I'll concede it makes a rather hilarious and relevant statement about where our culture is in terms of sexuality, but it seems way out of place in the context.
With at least fifteen major characters and half a dozen story lines to piece together it is fair to say that Richard Curtis doesn't lack in the ambition department. But too much of the time is spent with unimportant characters whose only purpose is a cheap laugh. The entire section dealing with the horny-guy-who-goes-to-America-to-meet-babes could, for my money, have been eliminated altogether. I would have preferred more of the Colin Firth - Lúcia Moniz romance instead. At any rate these two story lines don't belong in the same movie.
The movie covers – and in some cases uncovers - all these assorted characters lives in the five weeks leading up to Christmas. Fortunately the cast is superb. But then how can you go wrong with Emma Thompson, Liam Neeson and Alan Rickman. Thompson and Rickman are married; Thompson's brother is The Prime Minister (Grant, playing his stock character); and Neeson is bonding with his stepson after the death of his wife. The rest of the characters, for the most part, extend out from this center.
The uneven tone and awkward editing don't stop Love Actually from entertaining. It is at times truly touching and funny, but at the same time smacks of a desperate effort to please the widest possible demographic.
Reviewed on:
November 12th, 2003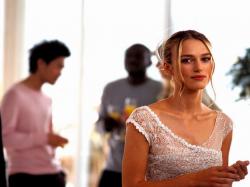 Keira Knightley in Love Actually.
While Patrick is right in saying that at times this movie varies greatly in tone and mood, he's wrong in criticizing it because of that. Love actually varies in tone depending upon the person and the relationship, so why shouldn't Love Actually, the movie, vary in tone as well? Patrick is spot on however, when he points to "the entire section dealing with the horny-guy-who-goes-to-America-to-meet-babes" as being one of the weakest sections. (If only he'd woken up on the plane to discover it had all been a dream!) The humor in this scene is too inconsistent with the rest of the movie, and also continues Richard Curtis' theme that all American girls are sluts. Apart from this one moment though, the movie is warm, funny, sad, and emotional. If you can't feel some happy emotion at the end of this movie, you must be dead inside.
When you have a movie with this many characters the entire film hangs upon the actors who play them. Not enough time is given to any of the stories to develop a fully fleshed plot, and instead it is a string of short stories woven together to form one larger theme, the theme here being that love actually is all around us. It therefore falls upon the actors to make us care about them in a very short space of time.
Fortunately, as Patrick pointed out, the casting here is superb. If Gosford Park highlighted the cream of the previous generation of British actors, Love Actually highlights the cream of the current generation. Hugh Grant does, as Patrick mentioned, play his normal character, as if his character from Four Weddings had suddenly been elected Prime Minister, but since he does it so well, why not? Emma Thompson gets the best dramatic moments as the wife who begins to suspect her husband (Rickman) of having an affair with his secretary. And Liam Neeson, whom I'm normally not a big fan of, has an enjoyable storyline during which he encourages his stepson in his first love. Fans of the BBC series The Office, will recognize (and see much more of than ever before) Martin Freeman as the stand-in for a star during a sex scene. There's not one bad performance in the entire movie. Patrick also failed to mention Bill Nighy as the aging rocker who, in a movie filled with scene-stealers, almost steals the movie.
One worrisome thing in this movie is that, as in other Richard Curtis written movies, American women are stereotyped as women who sleep around. Andie MacDowell in Four Weddings and a Funeral recounts the number of men she's slept with and ends up with her past conquests numbering in the thirties. In Notting Hill Julia Roberts plays an actress who's posed for nude photos and who sleeps with Hugh Grant's character while still dating Alec Baldwin. And of course, here in Love Actually, a group of extremely ditzy American girls immediately jump into bed with one of the British characters the moment he opens his mouth. Although American men are also not left unscathed as Billy Bob Thornton portrays the American President in this movie, seeming to combine the worst qualities of Bush and Clinton into a tough talking womanizer.
Unlike Patrick, I found the uneven tone evened out the movie, and I found no problems with the editing. Is this a case of my anglophilia getting in the way of fairly judging a movie? I don't think so. A movie featuring a cast this good, and a script this smart, it doesn't matter in what country it originated.

Reviewed on:
May 1st, 2004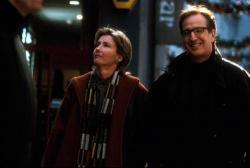 Emma Thompson and Alan Rickman in Love Actually.
Love Actually is by no means a "family holiday movie". Patrick calls it one, then later points out that it is not. No, this is not a family holiday film. This is an adult look at relationships, that just happens to take place during the holidays.
The tone is varied and a bit disconcerting. You start to get into one relationship, and then the film switches moods all too quickly, so as to progress another storyline. It is necessary for the sake of this kind of film, but a few less storylines may have helped.
Politically, this film is blunt. Americans, via the Prime Minister's attack on the President, are accused of acting like bullies to a submissive country. Two different male characters are casually asked if they are attracted to another man. One is the child by his own father. Two biracial couples are shown but never made issue of.
This film definitely stuffs the message down your throat that love, or at least lust, can happen to anyone at any time. One man is in love with his best friend's wife. Another man is tempted by a horny co-worker. Colin Firth's storyline, about falling in love with someone who doesn't even speak the same language, was one of my favorites.
Although Scott wrote this film has a happy ending, it is only partially true. I was fascinated by the unrequited love story of the office couple. They almost have sex. They almost connect. It is a sad story line that has an almost incomplete feel to it.
Photos © Copyright Universal Pictures (2003)
Related Review