Movie Review
Love & Mercy
The Life, Love and Genius of Brian Wilson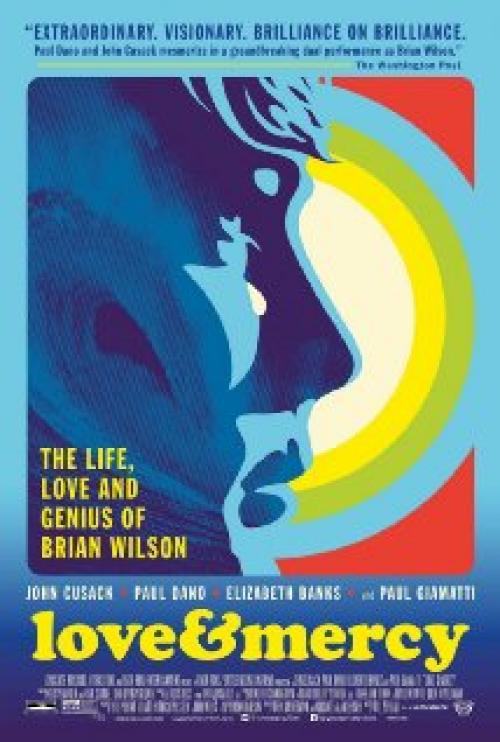 US Release Date: 06-05-2015
Directed by: Bill Pohlad
Starring
▸
▾
Elizabeth Banks

,

as

Melinda Ledbetter
John Cusack

,

as

Brian Future
Paul Dano

,

as

Brian Past
Paul Giamatti

,

as

Dr. Eugene Landy
Dee Wallace

,

as

Rosemary
Jake Abel

,

as

Mike Love
Kenny Wormald

,

as

Dennis Wilson
Joanna Going

,

as

Audree Wilson
Max Schneider

,

as

Van Dyke Parks
Brett Davern

,

as

Carl Wilson
Erin Darke

as

Marilyn Wilson

Reviewed on:
July 4th, 2015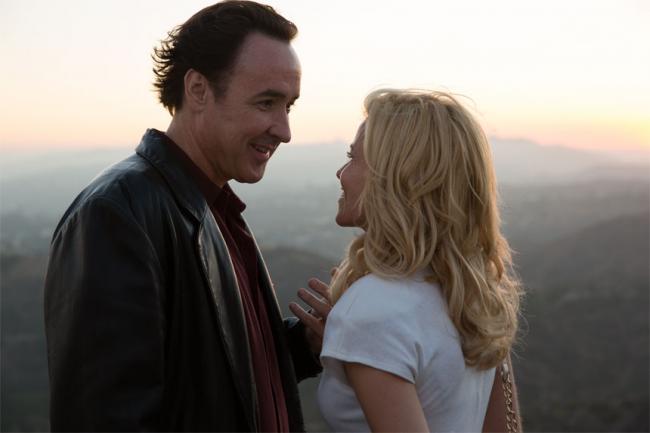 John Cusack and Elizabeth Banks in Love & Mercy
Love and Mercy tells dual stories of key points in Brian Wilson's life. Paul Dano plays Brian in the 1960s, mostly during the recording sessions of the Beach Boys "Pet Sounds" album. John Cusack plays Brian later in the 1980s and 90s. Although I have appreciated some of his music I had very little knowledge of Wilson sitting down to watch this.
As a biopic, I have no idea how accurate this film is or how realistic the performances. I will leave that opinion to the source himself. In an interview with John Wenzel for heyreverb.com, Brian Wilson stated, "I wasn't (directly) involved in the production, but I got to know Paul and John, and then for about a week they learned my mannerisms. So they portrayed me very well. They did it perfect, letter-perfect, and it makes me very proud."
I will concede to his statement on the performances as I do not know otherwise. However convincing the performances may be, the film in its entirety is not a satisfying experience. The movie begins with Brian having a panic attack, which led him to stop touring with the Beach Boys, leaving them to bring on another singer for concerts. While the Beach Boys go on tour, Brian brings other musicians into a studio and records "Pet Sounds". The Beach Boys later added their backing vocals. We sit in on some of the recording sessions and get a few peeks into his personal life. Interspersed with those scenes is the story of Brian Wilson meeting his second wife and dealing with a doctor who practically made Brian a prisoner in his own home, drugging him and invading his personal life.
A film about someone with mental issues or a drug user is a hard sell. How do you make someone sympathetic when you never know what is going on in their mind? Brian is shown having daddy issues but does that explain his irrational behavior? In one scene Brian stands in a recording studio while the musicians and technicians wait for him to decide if they will work today. One person states that they have waited for hours for him to decide. Brian feels a wall and says something about not liking the room's vibrations and so finally dismisses everyone.
Bill Pohlad chose to convey Brian's inner turmoil by constantly filming Dano or Cusack staring into oblivion. More often than I could count, we are merely shown Brian alone looking pensive. I had no idea what the hell was going on in his mind. Was he tripping on some drug or was he pondering his own sanity? We are briefly shown Brian lying in his bed, reportedly where he spent much of the 1970s.
Paul Giamatti plays the film's villain, manipulating Brian every chance he can, but Brian's true opponent was himself. After watching Love and Mercy, I now know some facts about Brian Wilson but I will not pretend to know the man any better. He fathered seven children but we are only briefly shown one. If this film accomplished anything, it is that it inspired me to down load a couple of his songs. We may never know exactly what made this man tick but we will always have his music.
Photos © Copyright River Road Entertainment (2015)