Movie Review
A Lot Like Love
There's nothing better than a great romance... to ruin a perfectly good friendship.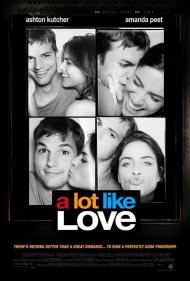 US Release Date: 04-22-2005
Directed by: Nigel Cole
Starring
▸
▾
Ashton Kutcher

,

as

Oliver Geary
Amanda Peet

,

as

Emily Friehl
Kathryn Hahn

,

as

Michelle
Kal Penn

,

as

Jeeter
Ali Larter

,

as

Gina
Taryn Manning

,

as

Ellen Geary
Gabriel Mann

,

as

Peter
Jeremy Sisto

as

Ben

Reviewed on:
April 18th, 2005
Ashton Kutcher and Amanda Peet in A Lot Like Love.
A Lot Like Love is a lot like many love stories that we've seen before. It's reminiscent of When Harry Met Sally and Serendipity, just to name two, but the overall feel to it is definitely one of recycled material. It's a credit to its two leads, Ashton Kutcher and Amanda Peet, that despite this, it still carries a certain charm which will undoubtedly play well as a date movie, particularly to the under thirty-set that it seems to be aiming for with its 90s nostalgia.
Oliver (Kutcher) and Emily (Peet) first meet on a plane flight from L.A. to New York when they are both in their early twenties. Emily is a bit wild, having just broken up with her musician boyfriend, while Oliver is more of a doofus with plans to make it big with that new invention; the internet. With almost no preamble, the two of them are having sex in the plane bathroom, but afterwards Emily just wants them to go their separate ways. But, as always happens in a city of 9 million, wouldn't you know it, the two of them run into each other on the street the very next day. They spend one day together and Oliver scribbles his phone number on a piece of paper, expecting to never see or hear from her again.
Years pass and their lives change, with relationships coming and going, but every few years the two of them run into each other and it's as if they've never been apart. Oliver starts his internet company, diaperrush.com, and Emily tries her hand at acting and then photography. But damn it, just what's it going to take to get these two kids together?
I joke because it's so easy to, given the number of romantic clichés present in this story, but watching their courtship is fairly entertaining. Although the story isn't deep enough for you to ever be caught completely up in the outcome, partly because it's so obvious how it will turn out, but there are enough light-hearted moments to make up for the inevitability of the ending.
Peet and Kutcher have enough chemistry that while theirs isn't a Kathy and Heathcliff romance, you can at least see why they enjoy spending time together. In fact, if we the audience had as much fun with this movie as they do together, it would have been a much better film. Still, both of them play their parts admirably well. Peet, who has a harder time pulling off someone in her early-twenties, manages to age her character well, going from flighty young girl to a more mature woman, while Ashton, who plays the young part well, is less believable as a grown-up. The young doofus just seems to fit his personality better.
For one brief moment near the end of the film, I thought it was going to avoid the obvious ending and show that while all young loves loom large with the possibility of a happy ending, not all adult romances end that way, but it was only a false alarm. The movie soon puts itself right back on the track of predictability.
A Lot Like Love is, when all is said and done, a lot like a decent love story, where no one embarrasses themself, but we've seen it done before and better.

Reviewed on:
May 5th, 2005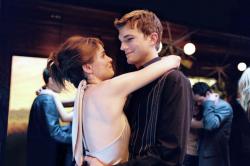 Amanda Peet and Ashton Kutcher in A Lot Like Love.
Kutcher and Peet are a damn cute couple. They play together very well, especially when they are the only ones on screen. When his deaf brother or her best friend is on screen the movie looks too rehearsed and the charm slips out of the movie.
As Scott wrote, the movie is riddled with cliches. But then all romantic comedies, by design, are. Cute couple meet, cute couple have a problem, cute couple get together. Truth be told, I would have liked this movie less if I had seen it by myself, but it is a good couple movie and my wife loved it. Sometimes it's infectious to watch a movie with someone who loves the movie. Their joy raises your level of enjoyment.
If that sounded romantic or stupid, then take some advice from A Lot Like Love when Peet says to Kutcher, "Honestly, if you're not willing to sound stupid you don't deserve to be in love."
Photos © Copyright Buena Vista Pictures (2005)