Movie Review
The Longest Ride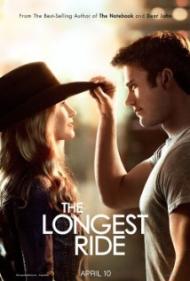 US Release Date: 04-10-2015
Directed by: George Tillman Jr.
Starring
▸
▾
Britt Robertson

,

as

Sophia Danko
Scott Eastwood

,

as

Luke Collins
Alan Alda

,

as

Ira Levinson
Jack Huston

,

as

Young Ira
Oona Chaplin

,

as

Young Ruth
Melissa Benoist

,

as

Marcia
Lolita Davidovich

,

as

Kate Collins
Tiago Riani

,

as

Luiz
Tracey Bonner

as

Nurse Wilson

Reviewed on:
April 19th, 2015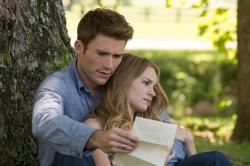 Scott Eastwood and Britt Robertson in The Longest Ride
Do you remember when John Grisham books were being turned into successful films? After about six of them it dawned on everyone that most shared similar plot devices. A lawyer has to help someone who knows something that could take down a powerful bad guy. Some variation of that is in many of his novels. Nicholas Sparks' novels turned movies have now reached that point. Which of his books contain the plot of a masculine and honorable man who lives in the Carolinas falls for a girl who has other things going on in her life that may threaten their future together? Yep, all of them.
Sophia is an art major with plans to spend the upcoming summer in Manhattan as an intern at an art gallery. One night her sorority sisters talk her into going to a bull riding contest to see the hot cowboys. Luke is one such cowboy, who seems to have his very own cheering section of attractive girls. After being chased by a bull to the side of the arena where Sophia is, he gives her his cowboy hat. They meet afterwards and decide to go on a date. Luke plans a picnic by a lake where they talk well into the evening. They have an immediate connection but Sophia throws cold water on any developing passion with the news of her going away in a couple of months.
On the way home from the picnic they come across an automobile crash where they pull an old man, Ira, and a box he asks for, from the wreckage and take him to a hospital. Sophia starts visiting Ira regularly where she reads him letters that he kept in the box. The letters tell of his and his wife's love story that started just before World War II.
As is common in many of Spark's stories, we have two love stories being told at once. We see in flashback how the older couple dealt with hardships in their lives while we also see the contemporary couple struggle to deal with theirs. Luke comes to give Ira a photo that fell from the box when in his truck. Of course Sophia is there and she introduces Luke to Ira as her "friend." Ira responds with a knowing smile, "Friend?"
A year prior to meeting Sophia, Luke was put in a coma for ten days after a bull riding accident. He feels he still has something to prove. His determination to continue the dangerous sport, after his mother and Sophia suggest otherwise, seems to be working just as hard to keep him away from Sophia as her internship is. I guess an old man who has already had to deal with such issues may have to step in and help.
Britt Robertson is adorable as Sophia. She will make you fall in love with her one moment and break your heart the next. At one point she becomes emotional when she receives a phone call while visiting in the hospital. Much of the mostly female audience was crying along with her.
Scott Eastwood was almost not cast as he was considered nearly too old for the part at 28. He is an adequate enough actor, but it hardly matters. He is simply on the screen as eye candy. A couple of girls sitting behind my wife and I even stated they were there just to see him. There is one mildly steamy shower sex scene but the only skin shown is some of her side boob and some of his butt. Sparks' stories are romantic not erotic.
Although it runs longer than other Sparks movies, The Longest Ride is a sweetly emotional journey that I found myself caught up in. These characters, however Hollywood good looking, are real enough and their problems relatable enough for audiences with a sensitivity to such romantic notions to enjoy and get lost in. The ending is interesting but also slightly vague. I liked this movie but not enough to want to read the novel and have it cleared up. And one last thing…there is, of course, a scene where the love birds are in water. It has almost become a joke that Sparks put his leads on a small boat or swim in a body of water at some point.
Photos © Copyright Fox 2000 Pictures (2015)
Related Reviews