Movie Review
The Long Walk Home
Their forbidden friendship changed a nation.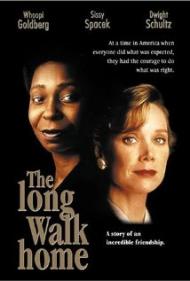 US Release Date: 11-21-1990
Directed by: Richard Pearce
Starring
▸
▾
Sissy Spacek

,

as

Miriam Thompson
Whoopi Goldberg

,

as

Odessa Cotter
Dwight Schultz

,

as

Norman Thompson
Ving Rhames

,

as

Herbert Cotter
Dylan Baker

,

as

Tunker Thompson
Erika Alexander

,

as

Selma Cotter
Lexi Randall

,

as

Mary Catherine
Richard Habersham

,

as

Theodore Cotter
Jason Weaver

,

as

Franklin Cotter
Crystal Robbins

,

as

Sara Thompson
Cherene Snow

,

as

Claudia
Chelcie Ross

,

as

Martin
Dan Butler

,

as

Charlie
Mary Steenburgen

as

Narrator (voice)
Reviewed on:
March 25th, 2014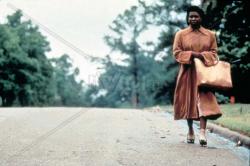 Whoopi Goldberg takes The Long Walk Home.
More than 20 years before the similarly themed The Help became a surprise hit, The Long Walk Home told the story of the famous bus boycott in the city of Montgomery, Alabama in 1955. This struggle touched off the Civil Rights Movement that led to the end of deplorable Jim Crow laws (that somehow still existed in the American South at that time) and made a household name of a young Baptist preacher named Martin Luther King Jr. It was based on a short film made by students at the University of Southern California in 1988, and a screenplay by John Cork.
The story is narrated by Mary Steenburgen as the now grown-up Mary Catherine Thompson. She recalls her family's experiences during that pivotal time. Her mother Miriam is played by Sissy Spacek. Whoopi Goldberg plays Odessa Cotter, their maid/nanny who, once the boycott begins, must walk the long miles to and from her job. Miriam soon finds herself caught between her conscience and her husband who sides with the majority of the white community in condemning the boycott.
The story is kept intimate and the entire movie runs less than 90 minutes. Sure you can quibble that some of the white male characters are a bit one dimensional but then those weren't exactly subtle times. You were either on the right side or the wrong side of history, morally speaking.
Actual excerpts of sermons preached by Martin Luther King are heard, which adds to the authenticity of the piece. They even used the very same bus that Rosa Parks had refused to give up her seat on. Although by 1990 it no longer ran and had to be pulled along for its few scenes here. Today this historic vehicle is on permanent display at the Henry Ford Museum in Dearborn, Michigan.
Both Spacek and Goldberg do fine work. Spacek is a wealthy southern lady and she wears some stylish gowns from the 50s. Goldberg plays Odessa with a quiet dignity that proves quite effective. Neither woman has any overly dramatic scenes which compliments the movie's sense of realism. The Long Walk Home tells a simple story in a straightforward manner. It has a much more serious tone than The Help and it's also more realistic. It is the type of film that should be shown to young people to give them a sense of perspective about history. The story ends with this simple yet moving line, "50,000 boycotted the buses in Montgomery. I knew one. Her name was Odessa Cotter."
Photos © Copyright Dave Bell AssociatesNew Visions Pictures (1990)
Related Review