Movie Review
The Loft
One Loft...and a secret that will change their lives forever!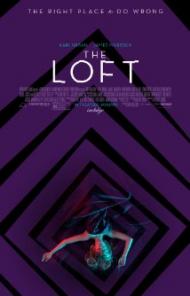 US Release Date: 01-30-2015
Directed by: Erik Van Looy
Starring
▸
▾
Karl Urban

,

as

Vincent Stevens
James Marsden

,

as

Chris Vanowen
Wentworth Miller

,

as

Luke Seacord
Eric Stonestreet

,

as

Marty Landry
Matthias Schoenaerts

,

as

Philip Trauner
Isabel Lucas

,

as

Sarah Deakins
Rachael Taylor

,

as

Anne Morris
Rhona Mitra

,

as

Allison Vanowen
Valerie Cruz

,

as

Barbara Stevens
Kali Rocha

,

as

Mimi Landry
Elaine Cassidy

,

as

Ellie Seacord
Margarita Levieva

,

as

Vicky Fry
Kristin Lehman

,

as

Detective Huggins
Robert Wisdom

,

as

Detective Cohagan
Ric Reitz

as

Joel Kotkin

Reviewed on:
February 4th, 2015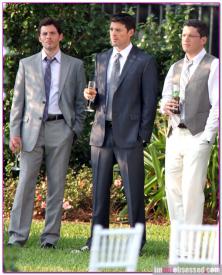 James Marsden, Karl Urban and Wentworth Miller in The Loft
The Loft is a remake of the 2008 Belgium film Loft, written by Bart De Pauw. In 2010, a Dutch version was made based on his script but directed by a woman, Antoinette Beumer. I mention her sex simply because the plot is very much guy oriented and I wonder what her take on it was. Now we have the American version also based on De Pauw's script but with some changes made by New York born Wesley Strick. It does however, have the same director, Erik Van Looy, as the 2008 version. The Loft not only brought back the director but also actor Matthias Schoenaerts.
If that were not enough background, I get the feeling De Pauw may have seen Boys' Night Out (1962), in which Kim Novak plays a college student who agrees to live in an apartment provided by four men in exchange for individual sexual visits from each of the men. They do not know that she is a sociology student researching, and writing a report on, the sexual lives of the middle-class male. Although the arrangement starts out just as sexually suggestive as The Loft, it plays out very innocently.
The Loft is very blatant in its sexuality. Five well off married men decide to share a loft apartment as a place for them to bring girlfriends and whores for discreet sex. As the movie starts one of the men finds a dead girl in their high rise love shack. We then see them individually interrogated by police and through their Q and A, see in flashback how everything led up to that morning.
The only people with a key to the loft are the five men and they instantly start to suspect each other. Then the list of suspects grows. The more we learn about these guys and their history, the larger the list of potential murderers becomes. I will admit that I did not guess who did it until it was explained but I did guess a twist.
What we also learn is that none of these guys are at all worth rooting for. They all lack in character and all deserve nothing good to happen to them. Okay, some of the guys are worse than others and one of the men is intended to be the good guy/hero but even he has an affair on his wife. Perhaps in Belgium adultery does not lower a man's honor but this American did not like any of these guys except when in comparison to each other.
The Loft more accurately depicts male sexuality than Boys' Night Out. The men in this film treat sex like recreation or an emotional expression. In Boys' Night Out, the men end up not even having sex with Novak as she constantly distracts them, the lesson being that men just want to feel needed. I know, what BS. Novak ends up marrying the only single man in the group, played by James Garner. How sweet, but hardly a realistic depiction of male sexuality.
The Loft is a fascinating mature murder mystery but it lacks audience commitment without their being a single likable person on screen.
Photos © Copyright Anonymous Content (2015)