Movie Review
The Lobster
An unconventional love story by Yorgos Lanthimos.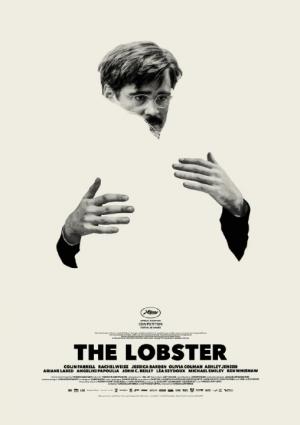 US Release Date: 05-13-2016
Directed by: Yorgos Lanthimos
Starring
▸
▾
Colin Farrell

,

as

David
Rachel Weisz

,

as

Short Sighted Woman
Jessica Barden

,

as

Nosebleed Woman
Olivia Colman

,

as

Hotel Manager
Ashley Jensen

,

as

Hotel Manager
Ariane Labed

,

as

The Maid
Angeliki Papoulia

,

as

The Heartless Woman
John C. Reilly

,

as

Lisping Man
Léa Seydoux

,

as

Loner Leader
Michael Smiley

,

as

Loner Swimmer
Ben Whishaw

,

as

Limping Man
Roger Ashton-Griffiths

,

as

Doctor
Ewen MacIntosh

as

Hotel Guard
Reviewed on:
August 19th, 2016
Colin Farrell in The Lobster.
The Lobster is a darkly comical allegory of the couples obsessed modern world. It's offbeat and strange and it starts intriguingly, but is unable to sustain its central theme for the entire length of the film. It feels like a short story stretched to novel length. The second half of the film staggers on until its unsatisfactory and very abrupt ending.
In the strange, alternate world of this film everyone is required to be a part of a couple. When your partner dies, you are sent to a hotel with other singles where you have 45 days to find a new mate or you are surgically turned into the animal of your choice. You can also gain more time by shooting those who flout societies rules by living as Loners in the woods near the Hotel during one of the Hotel's hunting trips. The more Loners you shoot, the more time you gain at the hotel.
Colin Farrell stars as David. When the film begins, his wife has left him for another man and he is sent to the Hotel. He informs the Hotel Manager that should he not find a mate that he would like to be turned into a lobster, hence the film's title. Farrell gained 40 lbs for the part and is out of shape and frumpy, playing very much against his normal type. Rachel Wiesz narrates and plays David's love interest in the second and more bizarre half of the film. The rest of the cast is made up of recognizable faces, including John C. Reilly, Ben Whishaw, and Olivia Colman.
The film makes little literal sense and questions are left unanswered, such as, are people really turned into animals or is it an elaborate lie and they're simply killed? For the first half at least, it's an intriguing enough premise to keep a viewer interested. It also contains some moments of genuine humor, but you'll need to appreciate dark humor to find it truly funny. It has fun with the idea of couples and the way our society idealizes that living arrangement. It also exaggerates the extremes people will use to find something in common with a potential mate. Ben Whishaw's character, for example, continually beats his own nose against surfaces to cause nosebleeds since the woman he is interested in also suffers from frequent nosebleeds. The Hotel guests are forced to watch propaganda about how much better being in a couple is and while masturbation is forbidden, arousal by the Hotel maids is mandatory.
While the first half is almost akin to a lengthy Twilight Zone episode, the second half just feels odd for oddness sake. To be a full length movie, something more had to happen than just the initial premise demonstrated in the first half, but since the movie really can't be taken literally, since so little of it makes literal sense, it's hard to tack a story onto it and even harder to come up with a decent ending. The one chosen in the script, which I won't reveal, is about as unsatisfying as it's possible to get.
If you're looking for something different and out there, this could be the movie for you. It's so far out there that it's almost worth a watch just to see how odd it can get. If nothing else, it's nice to see something besides yet another formulaic superhero movie. However, as artistic and intriguing as this movie might be, it fails almost completely as an entertaining story.

Photos © Copyright Film4 (2016)