Movie Review
Little Women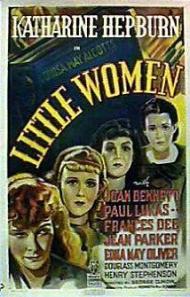 US Release Date: 11-24-1933
Directed by: George Cukor
Starring
▸
▾
Katharine Hepburn

,

as

Jo
Joan Bennett

,

as

Amy
Paul Lukas

,

as

Prof. Bhaer
Edna May Oliver

,

as

Aunt March
Jean Parker

,

as

Beth
Frances Dee

,

as

Meg
Henry Stephenson

,

as

Mr. Laurence
Douglass Montgomery

,

as

Laurie
John Lodge

,

as

Brooke
Spring Byington

,

as

Marmee
Samuel S. Hinds

,

as

Mr. March
Mabel Colcord

,

as

Hannah
Marion Ballou

,

as

Mrs. Kirke
Nydia Westman

,

as

Mamie
Harry Beresford

,

as

Doctor Bangs
Bonita Granville

as

Amy's Classmate

Reviewed on:
February 6th, 2014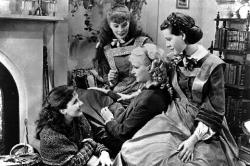 Jean Parker, Katharine Hepburn, Joan Bennett, and Frances Dee in Little Women.
This 1933 adaptation of Louisa May Alcott's classic novel is probably the most beloved version of the oft-filmed story. Directed by George Cukor, and starring Katharine Hepburn as Jo (in her fourth movie role), its homespun tale of a simpler era appealed to American audiences then enduring the depths of the Great Depression. It also provided a wholesome alternative to what many people viewed as sinful (what we call pre-code) motion pictures then proliferating in movie houses around the country.
It is a fairly faithful depiction of Alcott's book that tells the story of the March family, living in Massachusetts during and after the Civil War. While their father is off fighting for the Union Army, the four March sisters, Meg, Jo, Beth, and Amy endure the trials of growing up and the changes that life brings. Their story is told in a series of vignettes with the focus never straying from main character Jo for long. In fact this Little Women has been faulted as being too much a vehicle for Hepburn whereas the 1949 and 1994 versions are more of ensemble productions.
Be that as it may, this was the role that Katharine Hepburn was born to play. She was born in New England in 1907 and was raised in a society closer to the March world than any other actresses who have subsequently played the role onscreen. Jo's combination of tomboyish mannerisms, intelligence, sensitivity and quick temper all come naturally to Hepburn. One could argue that she overacts on occasion but it suits the character's enthusiastic approach to life. Jo is a sentimental fool who dislikes change. She wishes her family could stay the same way forever. She fears growing up and apart from the people she loves most.
Amy, the second most important sister, was played by Joan Bennett. Bennett was 23 and she is far too old for the early scenes where Amy is a rather flighty schoolgirl. She was also pregnant in real life, a condition that Walter Plunkett's dresses had to be redesigned to hide. Regardless of her age she does the part justice. Jean Parker is a picture of loveliness as the gentle, tragically fated, Beth, and Frances Dee gets a few good moments as oldest sister Meg. Spring Byington is underused as the mother and Edna May Oliver steals a few scenes as the wealthy, eccentric Aunt March.
The men in the story get less screen time but they all make the most of it. Douglass Montgomery makes a great Laurie as he goes from longingly observing the March family from a distance, to becoming intimate friends with Jo, to eventually marrying into the family. Henry Stephenson plays his grandfather, outwardly gruff, but kindhearted and with an ever present twinkle in his eye. His relationship with Beth is particularly affecting. And then there is Paul Lukas as Professor Bhaer, the impoverished German linguist who falls for Jo. He brings a quiet dignity to the role without seeming stuffy. Finally, Samuel S. Hinds has one brief scene as the March patriarch, home from the war.
Goerge Cukor directs with an unabashedly sentimental eye, while David O. Selznick personally oversaw the production, although he received no screen credit. The black and white cinematography is splendid. Little Women was nominated for three Academy Awards including Best Picture and Best Director. It took home the award for Best Adapted Screenplay. It's worth noting that this movie is now closer in time to the period in which it is set than it is to today. More than 80 years after its initial release it remains a beloved movie treasure.

Reviewed on:
August 11th, 2014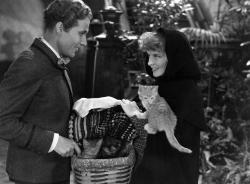 Douglass Montgomery and Katharine Hepburn in Little Women
This version of Little Women may have been faulted for being too much of a vehicle for Hepburn but as she is playing Jo, the main character, so I do not see the problem. Jo is in most scenes and dominates the story. For her part, Hepburn plays Jo with an abundance of energy, constantly moving about as if she is a child who has eaten too much sugar. Your eyes are drawn to her whenever she is on screen. Granted, she is helped by George Cukor often putting her center stage. This was the second collaboration of a life time of movie making between Cukor and Hepburn.
Little Women was based on Louisa May Alcott's own experiences growing up with her three sisters. It is not a direct autobiography but some details in the novel, such as one sister dying while another gets married happened to Alcott's sisters and caused her much heartache, much as it does Jo. Alcott received encouragement and education from such writers as Henry David Thoreau, Ralph Waldo Emerson and Nathaniel Hawthorne. Professor Bhaer critiquing her work is clearly based on one or more of those literary luminaries.
The character of Jo is based on Alcott and thus by extension, Hepburn is playing Alcott. Not only were she and Alcott both born and raised in New England but both were also raised in socially progressive families. Alcott never married or had children and is thought by some, based on her own words and writing, to have been a lesbian, a rumor that followed Hepburn much of her life. I agree with Patrick that this was a role that Katharine Hepburn was born to play.
One can easily see how a film about the strength of a family and charity would be comfort food during the depression. The scene of the girls taking their Christmas breakfast to a poor family likely touched many hearts in 1933 even more than it does watching it today. Charity was something Alcott was familiar with as her socialist father often paid his bills from the generosity of his wealthier friends. Little Women is a heart warming, heaping helping of Americana from a very innocent time and place. The pace is a bit slow but Jo is a character that transcends time. One could say that Alcott was to America what Jane Austen was to England.
Photos © Copyright RKO Radio Pictures (1933)