Movie Review
The Little Vampire
They're Not Just Best Friends. They're Blood Brothers.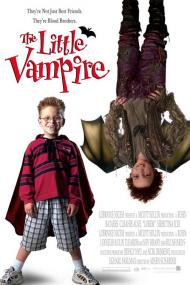 US Release Date: 10-27-2000
Directed by: Ulrich Edel
Starring
▸
▾
Jonathan Lipnicki

,

as

Tony Thompson
Richard E. Grant

,

as

Frederick Sackville-Bagg
Alice Krige

,

as

Freda Sackville-Bagg
Jim Carter

,

as

Rookery
Pamela Gidley

,

as

Dottie Thompson
Tommy Hinkley

,

as

Bob Thompson
Anna Popplewell

,

as

Anna Sackville-Bagg
Rollo Weeks

,

as

Rudolph Sackville-Bagg
Dean Cook

,

as

Gregory Sackville-Bagg
John Wood

,

as

Lord McAshton
Jonothan Meres

,

as

Teacher
Georgie Glen

,

as

Party Guest
Ed Stoppard

,

as

Von Sackville-Bagg
Elizabeth Berrington

as

Elizabeth McAshton


Reviewed on:
October 29th, 2000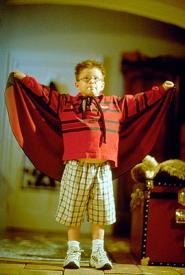 Jonathan Lipnicki in The Little Vampire.
The Little Vampire is a delightful romp for anyone whose age is still in single digits. What child wouldn't enjoy flying through the sky, outwitting adults, staying up late, and saving the day. This is a nice, light adventure for children.
An American boy named Tony, that kid from Jerry Maguire, is living in Scotland with his Mom and Dad who has a job building a golf course.
Tony has no friends, and is picked on by a couple of local bullies. Soon he befriends a vampire close to his own age, give or take 300 years. Together they get back at the bullies, dodge a vampire killer, and search for an amulet that will save all the vampires from a curse.
One of the best aspects this film offers is the way it works around the whole vampire drinking blood routine. It is briefly mentioned that they could drink human blood but they prefer to drink from cows in the field as to not attract attention to themselves. This is definitely not Interview With A Vampire. Your children will not have any nightmares from this movie.
For adults this is a 2 star movie but for kids I give it 3 stars. Hey, how bad can a movie be that has flying vampire cows?
Reviewed on:
July 29th, 2012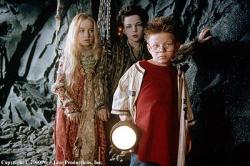 Anna Popplewell, Rollo Weeks and Jonathan Lipnicki in The Little Vampire
Eric's right about the target audience for this movie. There's not much here for anyone above the age of 9. I'd never heard of the series of children's books that it's based on, but apparently they were quite popular.
While little Jonathan Lipnicki's career has faded, two of his co-stars have become more well known. Anna Popplewell, the young blonde vampire who develops the odd crush on Tony, would grow up to play Susan in the Narnia films. And fans of Downton Abbey might be surprised to see Jim Carter, who plays the Butler, Mr. Carson, on that show, here playing the uncouth vampire hunter complete with earring.
As I said, the crush that Anna develops on Tony seems odd. She's about 150 years older than him and he's just a little boy. Sure, she's still in the body of a young girl, but if you stop and think about it, it's kind of creepy, albeit in a completely innocent way.
Like Eric I found the flying vampire cows to be funny. The movie needed more moments of extreme lunacy like that one, although I could have done without the cow manure on the windscreen. Despite the oftentimes silly premise the story remains fairly low key.
The scenery is quite beautiful. Little Tony might be disappointed to be living there, but Scotland certainly comes across as very green and appealing.
Definitely not for grown-ups, but if you have small children they might be entertained by the vampiric shenanigans. Hell, it's a better vampire movie than any of the Twilight films.

Reviewed on:
February 26th, 2015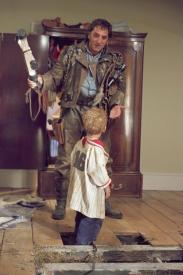 Jim Carter and Jonathan Lipnicki in The Little Vampire.
The first book in the series this movie was based on by German author Angela Sommer-Bodenburg was originally published in 1979 but she had begun writing short story versions in 1976, the same year Anne Rice published Interview with a Vampire. You might say that America's Bicentennial was the year that the undead were finally brought into the modern age. Count Dracula had always been a bit of a tortured soul but he was never kid friendly.
And I'm quite sure he would scoff at the idea of drinking cow's blood. That said, however, I agree with Eric and Scott that the cows provide some of the movie's best sight gags. I didn't even mind the manure on the windshield.
I also agree with my brothers about the age of the target audience for The Little Vampire (the title says it all). Anyone who still believes in Santa Claus will probably love it. Watching this movie is a bit like eating a sugary breakfast cereal while playing with a plastic toy that came in the box. It's sweet and imaginative but not something that anyone over a certain age would ever want to do. Fortunately at least, it flies by, so that even for adults it's not too hard of a slog to get through.
I'm among those fans of Downton Abbey that Scott mentioned, and I was highly amused by the sight of the very uptight, oh so formally mannered Carson playing a vampire hunter, dressed all in leather and sporting an earring (see photo). His shenanigans are worth a chuckle or two.
The Little Vampire flopped at the box office. Children and horror movies usually don't go together so perhaps that's why it had trouble finding an audience. The book series was quite popular but apparently fans of the book didn't care for this cinematic adaptation. Or perhaps they waited too long and the fans of the book series had all grown up.
Photos © Copyright New Line Cinema (2000)