Movie Review
A Little Romance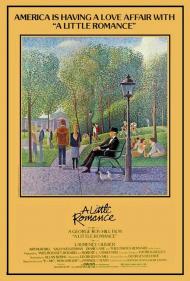 US Release Date: 04-27-1979
Directed by: George Roy Hill
Starring
▸
▾
Laurence Olivier

,

as

Julius
Diane Lane

,

as

Lauren King
Thelonious Bernard

,

as

Daniel Michon
Arthur Hill

,

as

Richard King
Sally Kellerman

,

as

Kay King
Broderick Crawford

,

as

Himself
David Dukes

,

as

George de Marco
Andrew Duncan

,

as

Bob Duryea
Claudette Sutherland

,

as

Janet Duryea
Graham Fletcher-Cook

,

as

Londet
Ashby Semple

,

as

Natalie Woodstein
Claude Brosset

,

as

Michel Michon
Anna Massey

as

Ms Siegel
Reviewed on:
April 19th, 2013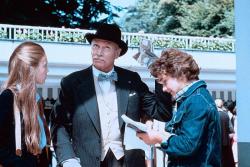 Diane Lane, Laurence Olivier and Thelonious Bernard in A Little Romance.
A Little Romance is a movie I loved as a kid but hadn't seen in more than 30 years. It stars a 71 year old Laurence Olivier, near the end of his long career, and a 14 year old Diane Lane making her movie debut. Set in Paris and Venice it is, as the title suggests, an enchanting little movie about first love.
Lane plays Lauren King, a very smart 13 year old American girl living in Paris with her mother and wealthy stepfather. She's a rather precocious child who reads Heidegger for fun. When she meets an equally intelligent French boy named Daniel (Thelonious Bernard) she is impressed with his knowledge of philosophy. Daniel is poor and he loves American movies, watching them and quoting them often. His favorite star being Robert Redford.
George Roy Hill includes a few scenes where Daniel and Lauren are at the movies watching Butch Cassidy and the Sundance Kid and The Sting, both of which Hill directed. There is also an amusing cameo by Broderick Crawford. He plays himself and there is a scene on a movie set where Daniel mentions an old movie in which Crawford hit Ward Bond, only to have Crawford act like he can't remember it. When Daniel first meets Lauren (on this same movie set - her mother is friends with the director) he tells her, "Call me Bogie." She asks why and he answers, "Because they belong together." With his love of old Hollywood movies Daniel was definitely a kid after my own heart.
After an altercation between Daniel and the director, Lauren's self-absorbed (and very 1970's mother, played by Sally Kellerman) prohibits her from seeing Daniel, whom she calls a "dirty French boy". Of course these teens continue to see each other on the sly and one day they meet an old pickpocket on the streets of Paris (Olivier hamming it up with a Maurice Chevalier accent). He tells the young couple about a romantic legend. It is said that if two lovers kiss on a gondola under the Bridge of Sighs in Venice at sunset while the bells of St Mark's Campanile toll, then they will love each other forever. When Lauren learns that she will be returning to the United States in a few weeks she convinces Daniel to take her to Venice to carry out the legend.
The best scenes in the movie are the ones with Olivier and the young couple. Lauren is enchanted by the old man and his romantic stories, while Daniel is somewhat annoyed by him and jealous of the attention Lauren pays him. In the movie's most famous scene they ride bicycles to avoid being caught by the authorities, who falsely believe the teens have been kidnapped by Julius, a man with a long rap sheet. Olivier insisted on doing his own bicycling even though he was recovering from thrombosis and pneumonia at the time.
Although Lauren and Daniel are the type of 13 year old kids that only exist in the movies, they do evoke genuine feelings of first love. Their innocent exuberance is a joy to behold. Their final scene together is bittersweet and overflowing with a sense of nostalgia for anyone who has ever been 13 and experienced puppy love. This is a charming little movie and I enjoyed it just as much at 46 as I did at 13 when I first discovered A Little Romance.
Photos © Copyright Orion Pictures (1979)