Movie Review
Little Nellie Kelly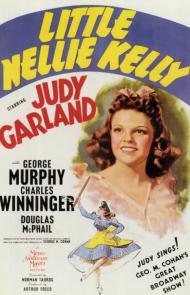 US Release Date: 11-22-1940
Directed by: Norman Taurog
Starring
▸
▾
Judy Garland

,

as

Nellie Kelly / Little Nellie Kelly
George Murphy

,

as

Jerry Kelly
Charles Winninger

,

as

Michael Noonan
Douglas McPhail

,

as

Dennis Fogarty
Arthur Shields

,

as

Timothy Fogarty
Rita Page

,

as

Mary Fogarty
Forrester Harvey

,

as

Moriarity
James Burke

,

as

Sergeant McGowan
George Watts

,

as

Keevan
Charles Halton

as

Second Judge
Reviewed on:
March 20th, 2014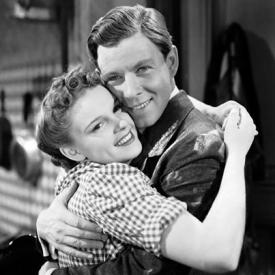 Judy Garland and George Murphy in Little Nellie Kelly.
Judy Garland turned 18 in the summer of 1940. Appropriately enough that was the year MGM gave her the chance to tackle her very first adult role in Little Nellie Kelly. Not only that she got to play two parts, a mother and her grown-up daughter. This is also the only movie in which Judy plays a character who dies onscreen. As the older Nellie Kelly she has a deathbed scene after the birth of the younger Nellie Kelly.
In 1940 George M. Cohan, who had been reluctant to sell his stage musicals to Hollywood, gave in and sold his 1922 hit (incidentally, the same year Judy was born) -and longest running Broadway musical- Little Nellie Kelly to MGM. Arthur Freed wanted it as a vehicle for the red hot Judy Garland, fresh off her successes in The Wizard of Oz and Babes in Arms. Although in the end they rewrote nearly the entire script and used only two of Cohan's original songs.
The plot is pure hokum but it makes for a nice St. Patrick's Day viewing. It even includes a scene where Garland belts out "It's A Great Day for the Irish" while marching up 5th Avenue in the St. Patrick's Day Parade. The story begins in Ireland where young Nellie Noonan (Garland) falls in love with the handsome Jerry Kelly (Murphy). He dreams of going to America to build a better life for himself and his bride. The only obstacle to their happiness is Nellie's shiftless, belligerent, drunk of a father (Winninger). He is against the idea of his daughter marrying but only for purely selfish reasons. Even after the wedding he refuses to shake his son-in-law's hand, although he does accompany them to the New World.
Once in New York City, Jerry becomes a police officer. Nellie dies in childbirth and in one of those passing of the years montages, Little Nellie Kelly grows from infancy to her 17th birthday. Judy now assumes the role of the daughter. When she falls in love with an eligible young man (McPhail, who shows off his rich baritone while demonstrating a lack of screen presence), her kindly father approves but, in a case of history repeating itself, her grandfather does not. All of this plays out to a predictably happy conclusion.
The simple, and rather mawkish, plot is made bearable by the winsome charms of Judy Garland. She's practically the only woman in sight and she effortlessly carries the movie on her young shoulders. She has rarely been more appealing and her incomparable singing voice was in fine fettle. She sings several versions of " A Pretty Girl Milking Her Cow", once partly in Irish-Gaelic and once with an uptempo swing beat. This is also the movie in which she performed her swing rendition of "Singin' in the Rain", a clip of which was used for MGM's 1974 nostalgia extravaganza, That's Entertainment!
Little Nellie Kelly is unabashedly sentimental and old fashioned. It definitely wears its proverbial heart on its sleeve. It also features one of the great talents of the 20th Century in peak form. A must see for Garland aficionados.
Photos © Copyright Metro-Goldwyn-Mayer (MGM) (1940)