Movie Review
Little Miss Sunshine
A family on the verge of a breakdown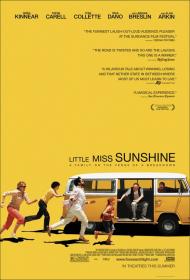 US Release Date: 07-26-2006
Directed by: Jonathan Dayton and Valerie Faris
Starring
▸
▾
Abigail Breslin

,

as

Olive
Greg Kinnear

,

as

Richard
Paul Dano

,

as

Dwayne
Alan Arkin

,

as

Grandpa
Toni Collette

,

as

Sheryl
Steve Carell

,

as

Frank
Bryan Cranston

as

Stan Grossman

Reviewed on:
July 29th, 2006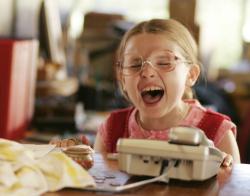 Abigail Breslin in Little Miss Sunshine.
Most of the time movie critics can't really affect the success or failure of a big Hollywood blockbuster. Superman Returns received critical praise but then failed to do the big business that was expected of it. Pirates of the Caribbean: Dead Man's Chest on the other hand, received decidedly mixed reviews and is still packing them into the seats. The one area where critics are able to influence the outcome of a movie is with smaller independent films. If enough positive reviews come out about a movie that has no or limited marketing behind it, they can generate a positive buzz that will eventually lead to a wider release and possible awards. With that in mind, I would like to contribute my positive review to the already swelling list of positive reviews for Little Miss Sunshine, a sad and very funny movie that deserves to be seen.
The movie is directed by Jonathan Dayton and Valerie Faris, both music video directors (but don't hold that against them). The script is by first time screenwriter Michael Arndt, whose wit more than makes up for any first time errors. Aiding these rookie filmmakers is a very talented group of actors who each bring their character to life with perfection.
While the plot is centered around that tried and true Hollywood formula of the "road picture", it is the extremely dysfunctional family that's on the trip that makes it worthwhile. The reason behind the trip is that the young daughter, Olive (played with break-your-heart sweetness by Abigal Breslin), discovers that she is a contestant in the Little Miss Sunshine pageant because the winner of her regional contest had to drop out at the last minute. With the family being in a little bit of a cash crisis, it's decided that they will drive Olive from their home in Arizona, to California where the contest is to be held.
At the head of the family is Richard (Kinnear), a failed motivational speaker on the verge of a deal that he hopes will bring him success at long last. His wife, and supporter of the family while Richard struggles, is Sheryl (Collette), who isn't exactly happy about Richard's recent financial difficulties. Olive, slightly overweight and with glasses almost as big as her face, is their daughter. Also along on the trip is Sheryl's gay brother Frank (Carell), the country's leading Proust scholar, who recently attempted suicide when his student/lover threw him over for the country's second leading Proust scholar. Richard's drug addicted, porn-aficionado father (Arkin), who lives with the family, tags along as well since he is Olive's coach. Rounding out the odd bunch is Sheryl's teenage son from a previous marriage, who has taken a vow of silence until he achieves his dream of joining the Air Force Academy.
Each of the characters brings along their own troubles, all of which are explored in a true and funny manner, and all of the actors bring something special to their roles. Someone once said that comedy is a tragedy that happens to someone else and this movie demonstrates that theory to perfection as most of the jokes arise from the dysfunction and sadness within this family.
The ending, when they actually arrive at the pageant, might be a bit over the top and the characters might be too distinctly drawn, but none of this matters when it comes to the entertainment value of this movie, because over the course of the story you will find that you both care and can laugh at them, often at the same time.
Do yourself a favor, if you have the opportunity to see this movie, take it.
Reviewed on:
August 5th, 2006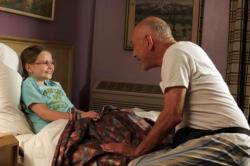 Abigail Breslin and Alan Arkin in Little Miss Sunshine.
I agree. This is a sad and funny movie, with the emphasis being slightly more on the sad side. The cast is great, especially Alan Arkin as Grandpa and the very young Abigail Breslin as Olive. Toni Collette continues to display not only her immense talent but also innate taste in choosing scripts. Greg Kinnear plays the least sympathetic family member but still manages to make you like the guy, flaws and all. Paul Dano gets the most intense dramatic moment and proves himself completely up to the task.
This is definitely a cast and script movie, one sorely needed at the height of the summer blockbuster season.
The ending is a bit much, at least in the sense that it takes away from the overall realism of the story. And the poignancy outshines the laughs at times. Those are minor flaws however and I second Scott's opinion. Everyone should see Little Miss Sunshine.

Reviewed on:
January 14th, 2007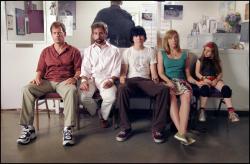 Greg Kinnear, Steve Carrell, Paul Dano, Toni Collette and Abigail Breslin in Little Miss Sunshine.
I liked the ending. Only after all of their recent disappointments could these people get on that stage and have such an outrageous family moment. They have lost many dreams recently, so losing their dignity in the name of defending a family member hardly seems, "a bit over the top." It is a very fitting ending. Their dancing is their therapy. Whereas I enjoyed the ending, I felt Dwayne's vow of silence was a weaker plot device. It never made much sense, nor was it milked for many jokes.
Little Miss Sunshine is like the first Vacation movie. Both comedies feature a family road trip where a relative's dead body causes some inconvenience. The big difference is that Vacation was simply a Chevy Chase vehicle where the supporting cast was nothing more than background. In Little Miss Sunshine, every family member has their moments.
In fact, the only time this family is funny is when they interact. Anyone of these characters alone is a sad bore. Put them all together and you have a hilarious family that struggles to communicate with each other. I would not even call them dysfunctional. These people function very well together. It's just done in their own odd way. Thus, Little Miss Sunshine celebrates the modern family unit.
Photos © Copyright Fox Searchlight Pictures (2006)