Movie Review
Little Fockers
Kids bring everyone closer, right?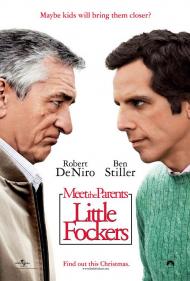 US Release Date: 12-22-2010
Directed by: Paul Weitz
Starring
▸
▾
Robert De Niro

,

as

Jack Byrnes
Ben Stiller

,

as

Greg Focker
Owen Wilson

,

as

Kevin Rawley
Blythe Danner

,

as

Dina Byrnes
Teri Polo

,

as

Pam Focker
Jessica Alba

,

as

Andi Garcia
Dustin Hoffman

,

as

Bernie Focker
Barbra Streisand

,

as

Roz Focker
Laura Dern

,

as

Prudence
Harvey Keitel

,

as

Randy Weir
Kevin Hart

,

as

Nurse Louis
Daisy Tahan

,

as

Samantha Focker
Colin Baiocchi

,

as

Henry Focker
Thomas McCarthy

,

as

Dr. Bob
Erika Jensen

as

Party Parent

Reviewed on:
December 23rd, 2010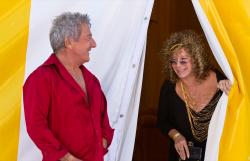 The considerable talents of Dustin Hoffman and Barbra Streisand are completely wasted.
Little Fockers provides the answer to the future trivia question, "What movie wasted more big name talent than any other?" Robert De Niro, Dustin Hoffman, Barbra Streisand, Harvey Keitel, Blythe Danner and Laura Dern have all now made the worst movie of any of their careers. This is truly a piece of celluloid trash and as a huge Barbra Streisand fan I am deeply disappointed with this movie. Not that I was expecting a comic masterpiece or anything but this movie is bad in just about every way. And it is truly NOT funny!
It is now 5 years after Meet the Fockers and Greg and Pam are planning a big 5th birthday bash for their twins. Jack suffers two mild heart attacks, Greg gets a job as a spokesman for an erectile dysfunction drug, Roz now has her own television talk show and Bernie is off in Spain learning the flamenco.
The script is terrible and incredibly lazy. They were apparently operating under the assumption that everything these characters do or say would be entertaining so why bother to write actual jokes. When Jack asks Greg if he is ready to be – wait for it – "The Godfocker" while music from The Godfather is played it is treated like one of the funniest lines ever written for a comedy. It ain't.
De Niro and Keitel have one scene together. They yell at each other for a few seconds. How entertaining! Jessica Alba has the hots for Ben Stiller. Seriously. The moment she strips down to bra and panties and leaps onto Greg laying at the bottom of the pit in his backyard the entire series jumps the shark.
The funniest parts of Meet the Fockers were the scenes with Hoffman and Streisand. It only makes sense that these characters would be featured prominently in the sequel right? Wrong! Streisand gets maybe 5 short scenes and Hoffman could practically have phoned in his part. Streisand has a few cute moments but not enough screen time to salvage this wreck. And wouldn't you expect that a movie titled Little Fockers would focus a bit more on the kids?
The Christmas scene at the end is cute and shows what the movie should have been with all the main characters in the same room. It ends with the possibility of another sequel. I only pray they don't make one. And please God let Barbra Streisand make another movie so that her screen career doesn't end with this crap.


Reviewed on:
December 24th, 2010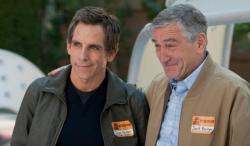 Ben Stiller and Robert De Niro
Patrick, you are far to harsh on this movie. Perhaps Streisand's lack of screen time bothered you, but it is not nearly as horrible as you wrote. In fact, I really liked how it all ended. Little Fockers returns to what the original was all about, the relationship between Greg and his father-in-law.
De Niro plays the domineering, politically incorrect alpha male, but he has weaknesses. He is still learning new things. He wants to do a checkup on someone, so he calls a secret government agency and asks for them to look her up. He is told that his clearance has expired, but he could probably find just as much info by merely Googling her name.
Greg is trying to be the dutiful husband and father, but he can never stand up to his father-in-law or for that matter, his own intrusive parents. Greg and Jack share the movies best moments. Greg is flattered when Jack asks him to be the Godfocker. Granted that joked is slightly dragged out. Later Jack thinks Greg is having an affair. The biggest moment in the film is when Greg helps Jack take care of his drug induced erection.
As Patrick wrote, the kids do not get much screen time. Considering that so much of the script refers to sex, it only makes sense to push them into the background. The little Fockers best moment is when they are being tested for an elite school. Their daughter is conniving while their son is confused.
The end of the film finally has the scene that has been three movies in the making. Jack and Greg get into a genuine fist fight at the little Fockers birthday party. Greg finally stands up to his father-in-law, and out shines the annoying Kevin. It is a great ending for this film series.
If anything, Streisand and Hoffman should have only been in the last scene, as they play no integral role to the plot. This is De Niro's and Stiller's movie and their characters and chemistry give this movie all the charm it needs.
Reviewed on:
February 12th, 2011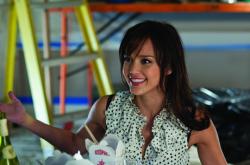 Jessica Alba in Little Fockers.
Patrick, don't knock the scene with Jessica Alba in her bra and panties, it's one of the very few scenes I enjoyed. The moment this movie actually jumps the shark is when Jack defibrillates himself after having a heart attack. Maybe the reason that Hoffman and Streisand are only in such a small amount is that they read the script and wisely decided to limit their participation in this very unfunny production.
Just what you found to enjoy about this mess Eric, is beyond me. Stiller and De Niro do have a chemistry together, but nothing good is ever done with it. Even the erection scene that you thought was one of their funnier moments, falls pretty flat.
The Godfocker joke is barely funny and definitely dragged out, only sadly it's one of the better ones. I mean, did someone get paid to write this stuff? Every joke is telegraphed way ahead of time so you always know what's coming. As far as dragging things out too long, how about this movie series in general?
I also have to agree with you Patrick about the wasted talent. Keitel and Dern's parts could both have been played by anyone at all as they have no distinguishing traits about them whatsoever. Keitel is a friend of De Niro's so you have to wonder, was Bob just throwing an old friend the easiest paycheck of his career?
Doesn't Greg stand up to Jack at the end of every movie? I only have the vaguest recollection of the first two movies anyway, but I seem to recall that they both ended with Greg and Jack reaching some kind of mutal agreement to get along and yet somehow they always have to reach that point again.
You say you like how this movie ended, Eric. Me, I was just glad it ended.
Photos © Copyright Paramount Pictures (2010)
Related Reviews