Movie Review
Little Boy
Believe the impossible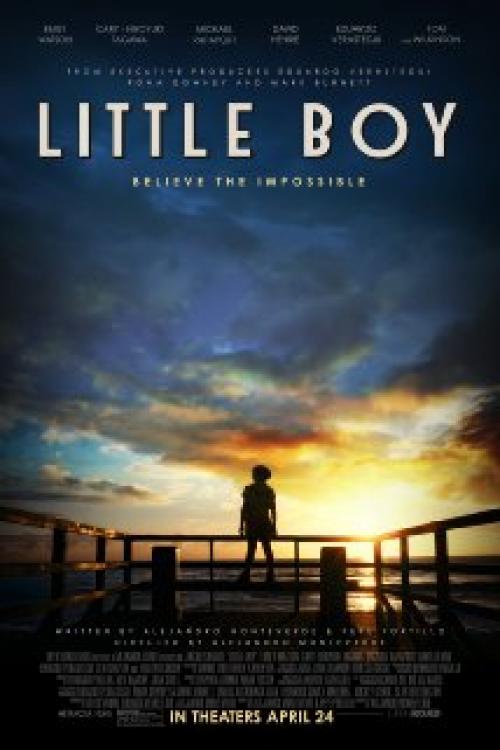 US Release Date: 04-24-2015
Directed by: Alejandro Monteverde
Starring
▸
▾
Michael Rapaport

,

as

James Busbee
Kevin James

,

as

Dr. Fox
Emily Watson

,

as

Emma Busbee
David Henrie

,

as

London Busbee
Ted Levine

,

as

Sam
Jakob Salvati

,

as

Pepper Flynt Busbee / Little Boy
Tom Wilkinson

,

as

Fr. Oliver
Cary-Hiroyuki Tagawa

,

as

Hashimoto
Ben Chaplin

,

as

Ben Eagle
Abraham Benrubi

,

as

Teacup
Eduardo Verastegui

,

as

Fr. Crispin
Toby Huss

,

as

Colonel Bob
Ali Landry

as

Ava

Reviewed on:
September 2nd, 2015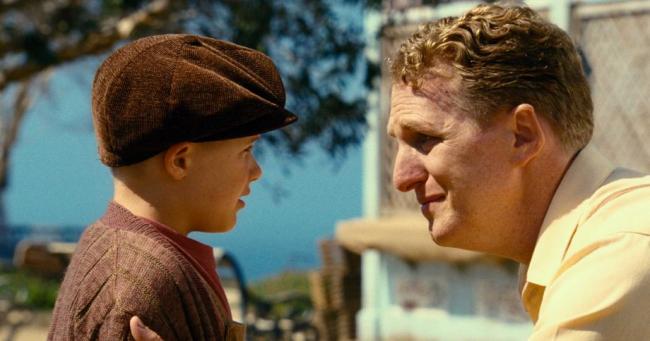 Jakob Salvati and Michael Rapaport in Little Boy.
Little Boy is a production of Metanoia Films, which is a film company committed to making inspirational projects. Some cynical critics have called this movie emotional manipulation but are movies not meant to make us feel? Although this film can be described as faith based it does not require that you believe in God or have any spiritual faith to enjoy it. You just have to accept that the people in the film do.
Pepper is small for his age, hence his nickname, "Little boy." He narrates that he is not liked by anyone in his small home town. The other boys all seem to enjoy picking on him. His best friend is his father whom he refers to as, "My only friend." They play make believe together and are practically inseparable. Their motto becomes, "Do you believe you can do this?" When Little Boy's older brother London is old enough, he signs up to fight in World War II but is found to be 4F, making his father feel obligated to join the military and serve his country.
After a tearful goodbye, Little Boy's father is shipped out, leaving him with his mother, brother and a priest. Soon afterwards, an Army officer shows up to inform the family that he is missing in action. Little Boy finds inspiration from his favorite comic book about a magician superhero, Ben Eagle, and from a church sermon that references Matthew 17:20 "If we have faith the size of a mustard seed we can move mountains."
A priest gives Little Boy a list of things to do that will supposedly improve his faith. The list includes making friends with a local Japanese man that was recently released from an internment camp. London and others in town have ostracized the Japanese man and even attacked him. Through it all, Little Boy maintains his belief that his father will come home. After a live appearance by the actor who plays Ben Eagle, in which Little Boy is called on stage to help do a magic trick involving moving a bottle across a table, he starts believing that he has the power to will his father's return. His undeterred faith annoys some, like his brother, while it inspires others. I was easily caught up in this child's belief that if he wants something bad enough it will come to pass. This little mustard seed has surprising power for its mere size. The story is full of symbolism, but there is one important moment that may make or break the film for you. The war in Japan ended after the dropping of Atomic bombs on the Japanese mainland, one had the code name "Little Boy."
Little Boy makes friends with an elderly Japanese man as he comes to see him for who he is and not simply his ethnic makeup. That lesson conflicts with the fact that Little Boy may get his father back with the war ending due to the death of a quarter of a million Japanese citizens. I am not questioning the dropping of the bombs but the implication that this child somehow feels responsible for them. At one point, a woman on the street holding a newspaper says to Little Boy as he rides by on his bike, "You did it." She means it in a positive way but the idea that so many other dads had to die to possibly bring one home is a bit disturbing.
The look of the film is historically splendid. According to David Henrie, it was inspired by Norman Rockwell's paintings. The California seaside town depicted here was built from the ground up, just for this film. The whole place looks nice and new but the real treat here are the performances. Nearly every role is performed by a recognizable actor, with the exception being Jakob Salvati, who is in nearly every scene and carries much of the film on his tiny shoulders. He made me smile when he tries to make friends with the Japanese man by ignorantly asking, "Hey Jap…you wanna soda?" He also made me cry but you will have to watch the film to find out why. David Henrie is best known for preteen television shows and Happy Madison productions but he does some very good dramatic work here. London could have easily become an unlikable character but he is such a well-rounded character that we understand his actions, even when they are misguided. The real scene stealer is Emily Watson, who once again proves that she is one of the greatest and under appreciated actresses of her time.
Although the sentiment is often spread pretty thick, Little Boy touched not only my heart but my soul.
Photos © Copyright Metanoia Films (2015)