Movie Review
Listen, Darling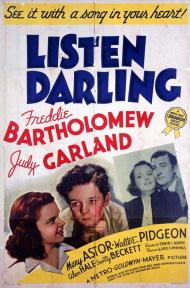 US Release Date: 10-21-1938
Directed by: Edwin L. Marin
Starring
▸
▾
Judy Garland

,

as

"Pinkie" Wingate
Freddie Bartholomew

,

as

Herbert "Buzz" Mitchell
Mary Astor

,

as

Dorothy "Dottie" Wingate
Walter Pidgeon

,

as

Richard Thurlow
Alan Hale

,

as

J.J. Slattery
Scotty Beckett

,

as

Billie Wingate
Barnett Parker

,

as

Abercrombie
Gene Lockhart

,

as

Arthur Drubbs
Charley Grapewin

as

Uncle Joe Higgins
Reviewed on:
August 24th, 2012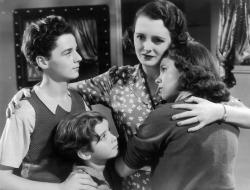 Freddie Bartholomew, Scotty Beckett, Mary Astor and Judy Garland in Listen, Darling.
Listen, Darling is a winsome little comedy (with music) from MGM in 1938. This was the movie Judy Garland made right before her legendary performance in The Wizard of Oz. She was 16 years old playing opposite two of the most successful child actors of the day, 14 year old Freddie Bartholomew and 8 year old Scotty Beckett. Mary Astor, Walter Pidgeon and Alan Hale are the adult stars of the movie.
The plot is simple. In a typical small town in America, Mary Astor is Dottie Wingate, the widowed mother of Pinkie (Garland) and Billie (Beckett). Dottie plans to wed the town banker, an older gentleman named Mr. Drubbs (Lockhart), a man she doesn't love but one who can provide for her family. After Pinkie hears her mother crying herself to sleep one night she concocts a plan to prevent Dottie from having to marry the banker. With her constant companion Buzz Mitchell (Bartholomew) taking the lead they "kidnap" Dottie (and Billie) in the family trailer and head for the open road in search of a more suitable husband for Pinkie's widowed mother.
What follows is lighthearted 1930's movie fun. On their journey they encounter the free-spirited and rather dashing Richard Thurlow (Pidgeon) who reminds Dottie of her deceased husband. With an assist from the wealthy J.J. Slattery (Hale) things come to a happy ending after 75 minutes of pleasant movie escapism.
My brother Eric often complains that Hollywood depicts rich people solely as villains but Listen, Darling is a gleeful exception to that rule. Alan Hale plays one of the kindest, most thoughtful wealthy characters from any movie. He's as jolly as Santa Claus and oh so eager to help out.
Judy Garland sings three songs. The most famous being, "Zing! Went the Strings of My Heart". There is also a bouncy little tune called "On the Bumpy Road to Love" in which Garland sings these lines in that unmistakable and powerful instrument of hers, "I've got you. You've got me. Who cares how rough the road may be? We'll go bumpty, bumpty, bumpty, bump. On the bumpy road to love!"
Several of Judy's costars here would appear with her in more famous movies. Charley Grapewin has a few scenes at the beginning of the movie as Buzz's Uncle Joe, one year before he would earn screen immortality as Uncle Henry in The Wizard of Oz. Mary Astor would play Judy Garland's mother again six years later in Meet Me in St. Louis.
Freddie Bartholomew was then nearing the end of his run as America's most successful boy star. Of all the child stars of the mid-1930s he had been second in popularity to only Shirley Temple. Judy Garland and Mickey Rooney were soon to eclipse them both as America's favorite teenagers. According to Hollywood legend, Freddie Bartholomew had a huge crush on Judy Garland during the making of this movie. He would write her elaborate love letters but to no avail. As anyone who's ever been a teenager knows, 16 year old girls are most definitely not interested in 14 year old boys.
Listen, Darling is a nice little movie find. It features a swell cast of talented actors in a sweet little story about family and love. It provides a few chuckles along the way and with Judy Garland belting out a few songs, what more could you ask for?
Photos © Copyright Metro-Goldwyn-Mayer (MGM) (1938)