Movie Review
A Lion Is in the Streets
THE ROARING STORY OF A GIVE-AND-TAKE GUY! He took plenty from the chiselers...the crooks...and the tin-horns...and gave 'em nothing in return!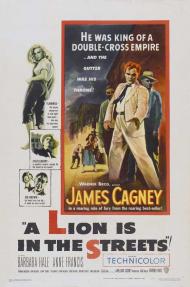 US Release Date: 09-23-1953
Directed by: Raoul Walsh
Starring
▸
▾
James Cagney

,

as

Hank Martin
Barbara Hale

,

as

Verity Wade Martin
Anne Francis

,

as

Flamingo McManamee
Warner Anderson

,

as

Jules Bolduc
John McIntire

,

as

Jeb Brown
Jeanne Cagney

,

as

Jennie Brown
Lon Chaney Jr.

,

as

Spurge McManamee
Frank McHugh

,

as

Frank Rector
Larry Keating

,

as

Robert L. Castleberry IV
Onslow Stevens

,

as

Guy Polli
James Millican

,

as

Samuel T. Beach
Mickey Simpson

,

as

Tim Beck
Sara Haden

,

as

Lula May McManamee
Ellen Corby

,

as

Singing Woman
Burt Mustin

as

Swift
Reviewed on:
October 19th, 2012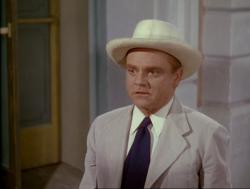 James Cagney in A Lion Is in the Streets.
The first impression this movie makes on the viewer is the incongruity of James Cagney's southern accent. If you can get past that, however, you will soon realize this is one of his finest performances. He brings his usual forceful dynamic energy to the role and, even though he was in his mid 50s and had long since developed a paunch, he still moved with the grace of the dancer he remained at heart.
He plays Hank Martin, a traveling peddler who works the swamps of Louisiana bayou country before tossing his hat into politics and eventually running for governor. It was based on Adria Locke Langley's 1945 book of the same name, which was loosely based on the life of Huey Long. It's theme of political corruption echoes the 1949 Best Picture Academy Award winning film All the President's Men.
The story begins with Cagney falling in love at first sight with a transplanted northern schoolteacher (Barbara Hale). They marry and move into a ramshackle sharecropper house. When Martin convinces many of his neighbors to fix up the place while he goes inside to read a law book, he gets a taste of manipulation and power that he enjoys a bit too much. This is how he explains it to his bride, "It's like learnin' to play a musical instrument by ear. All you gotta know is what place to push to get what note. Then pretty soon, everybody's dancin'...to your tune."
The plot involves plenty of backroom double-dealing and there is a murder or two along the way as Martin tries to prove the local cotton gin owner is cheating his clients. There is also a brief love triangle between Martin, his new bride, and a young woman, whom Martin nicknamed Flamingo when she was just a kid (Anne Francis). She's from the bayou and has loved Martin since she was a little girl. In the movie's most dated scene Flamingo, in a fit of jealousy, tries to feed Martin's bride to the alligators. Unfortunately the alligators look about as real as the ones in those old Johnny Weissmuller Tarzan movies. Martin eventually gives in to her temptation and begins an affair.
The outcome of the movie is never really in doubt. This is yet another Cagney villain (although one that never commits any acts of violence himself) who must receive his comeuppance in the end. He's particularly terrific in the final scene as his house of cards tumbles down around his head.
The supporting cast includes such familiar faces as Lon Chaney Jr., Ellen Corby, Cagney's sister Jeanne, and in their eleventh and final movie together, Frank McHugh. This was the fourth and final time Cagney worked with director Raoul Walsh. The previous three pictures they made together are all far better remembered. They are (in chronological order) The Roaring Twenties (1939), The Strawberry Blonde (1941), and White Heat (1949). The glorious Technicolor cinematography was by legendary lens-man Harry Stradling. This was a real family affair for Jimmy Cagney. Besides costarring his sister, it was produced by his brother William and the story editing was done by his brother Edward Cagney.
The message of the movie, to not place blind faith in your leaders, is not subtle. In fact the movie ends with those famous words often attributed to Abraham Lincoln about not being able to fool all of the people all of the time. It is a lesson worth learning and remembering. Unfortunately A Lion Is in the Streets is not well remembered today. It is certainly one of James Cagney's most interesting roles and he clearly seems to be enjoying himself on the screen. The storyline is a bit complicated what with all the backstabbing and lying going on but it does have a fairly powerful ending. It is definitely worth checking out for the many admirers of the man such as myself.
Photos © Copyright Warner Bros. Pictures (1953)