Movie Review
Limelight
The masterpiece of laughter and tears from the master of comedy!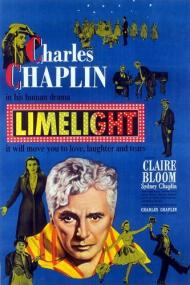 US Release Date: 10-29-1952
Directed by: Charles Chaplin
Starring
▸
▾
Charles Chaplin

,

as

Calvero
Claire Bloom

,

as

Thereza
Nigel Bruce

,

as

Postant
Buster Keaton

,

as

Calvero's Partner
Sydney Chaplin

,

as

Neville
Norman Lloyd

,

as

Bodalink
Andre Eglevsky

,

as

Dancer
Melissa Hayden

,

as

Dancer
Marjorie Bennett

,

as

Mrs. Alsop
Wheeler Dryden

,

as

Thereza's Doctor
Barry Bernard

,

as

John Redfern
Stapleton Kent

,

as

Claudius
Mollie Glessing

,

as

Maid
Leonard Mudie

,

as

Dr. Blake
Loyal Underwood

,

as

Street Musician
Geraldine Chaplin

,

as

Little Girl in Opening Scene
Edna Purviance

,

as

Mrs. Parker
Snub Pollard

,

as

Street Musician
Oona O'Neill

as

Extra


Reviewed on:
July 1st, 2013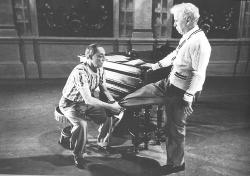 After decades in film, legendary stars Buster Keaton and Charles Chaplin still work to perfect their art during production of Limelight.
For a brief time in the late 1940s and into the 1950s, the subject of silent film was in vogue. This was most notable in such mega hits as Sunset Blvd (1950) and Singin' in the Rain (1952). Some silent film stars found themselves starring in films as well. Besides Gloria Swanson in Sunset Blvd, there was Harold Lloyd in The Sin of Harold Diddlebock (1947), Lillian Gish in The Night of the Hunter (1955) and Mae Marsh in a small role in The Searchers (1956).
Donald O'Connor, who played a supporting role in Singin' in the Rain, portrayed Buster Keaton in the completely inaccurate biopic The Buster Keaton Story (1957). Buster Keaton himself appeared in small roles in both Sunset Blvd and Limelight, starring the great Charles Chaplin.
Limelight was Chaplin's last American produced film. He wrote, directed, starred and composed the soundtrack for which he won his only Academy Award. It was to be his swan song. He would only star in one other film besides appearing in a cameo role in his final film A Countess from Hong Kong (1967). Limelight did not get the reception Chaplin hoped. At this point he was being black balled for supposedly being a communist sympathizer and it received more press than this film.
Well into his sixties, Chaplin plays an aging vaudevillian clown named Calvero. The film starts in 1914, which was the year Chaplin made his film debut. The film opens with him arriving home drunk as a skunk, much as Chaplin had in many silent films. The children on the street who briefly talk to him are Chaplin's real life children. He enters his apartment building and smells gas coming from an apartment rented by a ballet dancer, Thereza. He saves her and spends a great deal of time nursing her back to health as well as giving her motivational speeches. In between we have shots of Chaplin performing his clown act on stage.
Calvero has long seen his heyday pass. He is depressed and lonely. After a particularly bad performance in which the audience walks out on him, it becomes Thereza's turn to give him a pep talk. Despite their obvious age difference, they become a couple. Thereza returns to the stage and catches the eye of a young piano player whom she used to know.
Although a drama, Chaplin incorporates some humor. He does a pantomime flea circus act that is not as funny as he might think. With a touch of irony, the funniest moments this silent clown creates are due to his dialogue. At one point Chaplin recites an ode to worms, when a girl interrupts him and says, "A worm can't smile." Chaplin comes back with, "How do you know? Did you ever appeal to its sense of humor?" One song that Chaplin sings has an interesting line. "While searching through my underwear, a thought occurred to me. I'm tired of training elephants so why not train a flea?" The question is, does the content of his underwear remind him of an elephant or a flea?
The pace is slow and we see far too much of a ballet that Thereza and Calvero appear in. It drags on even when neither is on stage. The film reaches a dramatic crescendo when Thereza suddenly cries to Calvero back stage that her legs do not work and she cannot go on. Calvero then slaps her, forcing her to move, proving that her legs do in fact work fine. She then goes on stage and we must see yet more of the ballet.
As a huge Buster Keaton fan, I anxiously waited for him to appear on screen. Although billed fourth, he only has a couple of scenes that he shares with Chaplin near the end. His first line, "I never thought we'd come to this." is directed to Chaplin as they both apply makeup before going on stage. A bit later they do a comic bit on stage that shows both still had their comic knack. The scene is the highlight of the movie as well as a silent film buff's wet dream.
Although it starts slow and often moves at a slow pace, Limelight ends on a brilliant note both comically and dramatically. Limelight is not the most entertaining film but the nostalgia factor is through the roof. It is easy to draw comparisons between Calvero, the aging clown, and Chaplin. The single best moment in the film is when Chaplin says, "There's something about working the streets I like. It's the tramp in me I suppose."
Reviewed on:
August 28th, 2015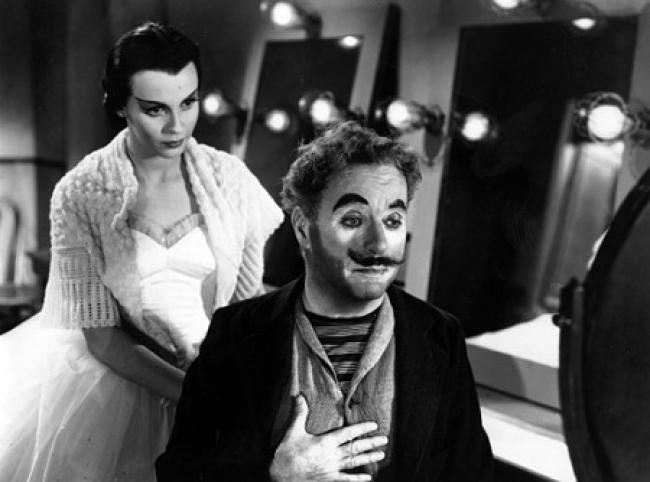 Claire Bloom and Charles Chaplin in Limelight.
The scene with Keaton and Chaplin is what this movie is probably best remembered for, but it has more to offer than just that. With this movie Chaplin proved that he was still an artistic force more than 20 years past his heyday. As Eric mentioned, although he would make 2 more movies, this would be his last major piece of work and his final film made in Hollywood, since during a European promotional tour the U.S. government barred him from returning under unfounded and pointless charges of communism.
Chaplin starred, directed, wrote, produced, composed and arranged the music, and even choreographed the dancing. In essence, he oversaw every detail of the film's production. As Eric noted, he won his one and only competitive Oscar as a composer for this film's score. However, he didn't win that award until 1972 which was when the film was finally shown in a Los Angeles theater and thus finally became eligible for an Oscar nomination.
This complete control of the film leads to its biggest weakness, which is its slow pace and overly long running time. I'm sure Chaplin was proud of his music and his choreography and was thus reluctant to trim scenes that featured them, but the ballet scenes could and should have been trimmed drastically. In fact, the entire movie could use a tighter edit. The pace just needs picking up a little.
What Chaplin brings to this movie is the thing that he always brought to his best work. He, better than almost any filmmaker ever, understood the connection between comedy and sadness. It's what set him apart from the other great silent movie comedians. They could all make audiences laugh, but Chaplin knew how to make you cry as well as laugh. He knew and understood the paradox of the sad clown. Calvero, who is clearly a stand-in for Chaplin himself, is the perfect representation of this. His tale is a tragedy, but told with a joke and a smile.
Chaplin delivers a surprisingly natural performance as Calvero. Only occasionally does his script and acting venture near over-the-top melodrama territory. Perhaps it shouldn't be so surprising. He did begin his career on the stage and so speaking to an audience wasn't something he was unfamiliar with. In fact, this story bookends his career nicely since he began performing on the same music hall stages that Calvero was supposed to have performed on. In some ways Calvero is a what-if version of Chaplin. He's who Chaplin might have become if he'd never gone to Hollywood.
A young Claire Bloom does a nice job as Thereza. Although Eric wrote that she and Calvero become a couple, that isn't strictly true. Calvero actually keeps her at a distance even after she declares her love for him, since he can see, as the audience does, that it's more a case of transference than a passionate romance. It's this knowledge that prompts him to do the honorable thing.
Seeing Keaton perform with Chaplin is, of course, a treat for fans of both comedians. Befittingly their scene together is a silent one, but I do wish it had been accompanied by music. Watching them perform their antics in dead silence makes you realize how much the musical accompaniment added to the silent comedies. Ultimately though, this scene is a mere curiosity in the bigger picture. Limelight stands on its own.
Reviewed on:
September 23rd, 2015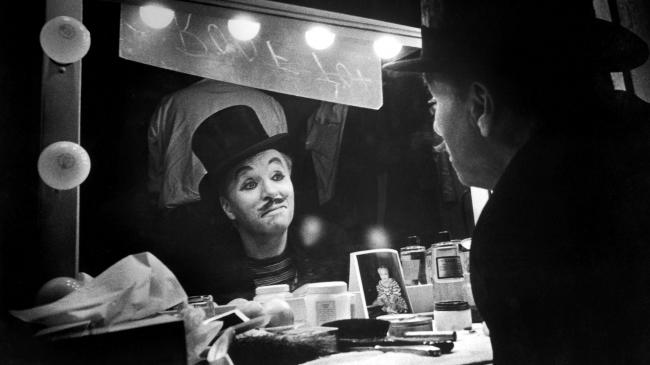 Charles Chaplin looking into a mirror, and into his past, while making Limelight.
This should have been Chaplin's swansong as a filmmaker since, as Scott noted, it's such a perfect bookend to his career. Like Eric wrote, Limelight is awash in nostalgia. It has an autobiographical storyline, it's set at the same time that his early movie career happened, it features several real-life members of Chaplin's family, as well as several fellow silent comics in small roles. It has been suggested that Calvero was based on Chaplin's father, who was likewise a London music hall comic who became a drunk when the laughs dried up. Although Chaplin denied this in his autobiography.
Eric mentioned the three young children in an early scene being Charlie's actual offspring. The one who gets the line about the landlady not being home is Geraldine Chaplin who would, of course, go on to her own long, successful career in film. Other Chaplin family members in the film were Charlie Jr. who played a clown and Chaplin's half brother Wheeler Drydan played the doctor who attends to Thereza. Sydney Chaplin gets the biggest role of any Chaplin family member, in his movie debut as the young composer in love with Thereza. In essence Charlie used his eldest son as a romantic stand-in for himself.
In addition to Buster Keaton (whose scene with Chaplin is too short and a bit underwhelming) Chaplin used Snub Pollard and Loyal Underwood, two of his early silent picture costars, as street musicians. The Little Tramp's most frequent leading lady, Edna Purviance, made her last screen appearance as an extra in the audience. Chaplin kept her on his payroll till the day she died.
I honestly didn't mind the languid pace, which suits the lugubrious nature of the story as well as Chaplin's old-fashioned cinematic style. And I found the ballet numbers to be whimsically distracting. To be fair the musical and comic interludes aren't really that long and they add a dream-like quality that Chaplin often used in his films. City Lights (1931) is far and away Chaplin's best mix of comedy and tragedy but Limelight isn't half bad at it either.
Ever the perfectionist, Chaplin spent over 2 years writing the screenplay. It has some nice dialogue. My favorite humorous line was when Calvero says to Thereza, "What can the stars do? Nothing. Just sit on their axis." The humor throughout the film is tinged with melancholy. This is Chaplin looking back. Like Calvero he'd reached the age where there were far more successes behind him than ahead of him – and he knew it. My favorite dramatic line by Calvero sums up Limelight's theme, when he says to the character played by Nigel Bruce, "That's all any of us are: amateurs. We don't live long enough to be anything else."
Photos © Copyright Celebrated Productions (1952)