Movie Review
Lilies of the Field
Perhaps the most extraordinary story of courage, conflict and devotion ever filmed.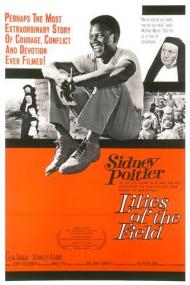 US Release Date: 10-01-1963
Directed by: Ralph Nelson
Starring
▸
▾
Sidney Poitier

,

as

Homer Smith
Lilia Skala

,

as

Mother Maria
Lisa Mann

,

as

Sister Gertrude
Isa Crino

,

as

Sister Agnes
Francesca Jarvis

,

as

Sister Albertine
Pamela Branch

,

as

Sister Elizabeth
Stanley Adams

,

as

Juan
Dan Frazer

as

Father Murphy


Reviewed on:
November 20th, 2008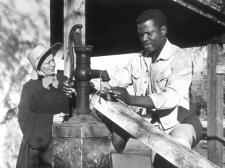 Lilia Skala and Sidney Poitier
Lilies of the Field is another classic film that I have always wanted to watch. Other than a clip, shown on an award show, of Poitier laughing with some nuns, "We all stand up! We all sit down." I had no clue what this movie was even about. I only knew it was the film that won Poitier the Academy Award.
Homer is a handy man traveling across the south west. When his car needs water, he stops at a lonely building in the desert. It is occupied by five German nuns, in which only the head nun speaks any English. Being in need of a job, Homer agrees to build them a chapel.
That really is the entire plot of this feel good movie. The entertainment value comes from watching the head nun manipulate Homer into doing everything. He, at first, agrees to build it for pay. The stubborn head nun has no intention of giving Homer any monetary payment. They talk and bicker most of the movie.
Made in 1963, this movie featured an interesting ethnic cast. A black male lead in a Mexican populated community. The nuns are all refugees from Germany. Only the priest and construction company owner are white Americans. Poitiers best line is when he light heartedly responds to a Mexican calling him a gringo, "Gringo? I don't know if that's a step up or a step down from some other things I've been called."
I kept waiting for that scene that would make me think, "Wow, that is why he won the Academy Award." But none ever came. Poitier never lets lose a dramatic rant or a sobering soliloquy. His greatest acting accomplishment here is that he seems so natural and charming the entire time. Homer is almost always upbeat. Other than his implied selfishness and pride, Homer is completely likable.
Much like the Obama presidency, I wonder if Sidney Poitier deserved the honor bestowed upon him because of his ability alone, or did skin color help pay the dues? Poitier does a fine enough job, but he is either moping or smiling his way through it all. He does everything that is required of him. It is just that he has very little to do. The Academy Award ceremony for this 1963 release was in 1964, the same year as The Civil Rights Act. Was Hollywood showing support for civil rights or did Sidney Poitier legitimately beat out Richard Harris, Rex Harrison, Paul Newman and Albert Finney for the Academy Award for best actor? Watch Lilies of the Field and decide for yourself.
Reviewed on:
December 13th, 2010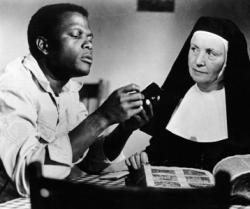 Sisney Poitier and Lilia Skala as Homer Smith and Mother Maria.
I'll just say that Sidney Poitier deserved this Oscar certainly as much as Humphrey Bogart did when he won for African Queen over Marlon Brando in Streetcar, or when John Wayne won for True Grit over Dustin Hoffman in Midnight Cowboy, or when Lee Marvin won for Cat Ballou over Rod Steiger in The Pawnbroker. Poitier, Bogart, Marvin and Wayne all beat out actors who gave arguably greater performances, certainly more dramatic ones anyway. But then many actors will tell you that comedy is the hardest thing of all to do well. I think it is a grave insult to the man to suggest that Sidney Poitier won an Oscar solely on the basis of his being a black man.
As for the movie it is a simple, feel-good comedy with bittersweet shadings. It was shot on location in Arizona in just 14 days.
Homer Smith's relationship with the nuns, particularly the head nun Mother Maria, is touching and funny. Take the scene where she informs Homer (he is on an odyssey) that he will drive her and the other nuns to mass in his car. He asks her what they did before he came. Mother Maria: "We used to walk. Now we have you." Homer: (pounding his fist on the table) "Dammit, you ain't got me!" Mother Maria: (making the sign of the cross) "Goodnight Schmidt."
Yes this is a comedy but it has a message about faith. Mother Maria is certain that Homer has come in answer to her prayers. That he is an angel sent by God to build a chapel in the wilderness. Although it never gets heavy handed this movie certainly exudes a pious tone. It even ends with the word Amen.
In my book Sidney Poitier earned his Academy Award as much as anyone else who ever received one.

Photos © Copyright United Artists (1963)