Movie Review
Like Mike
I want to be like Mike.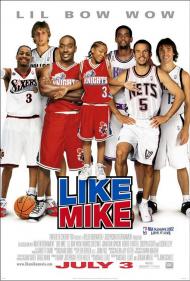 US Release Date: 07-03-2002
Directed by: John Schultz
Starring
▸
▾
Lil Bow Wow

,

as

Calvin Cambridge
Morris Chestnut

,

as

Tracey Reynolds
Jonathan Lipnicki

,

as

Murph
Crispin Glover

,

as

Stan Bittleman
Brenda Song

,

as

Reg Stevens
Jesse Plemons

,

as

Ox
Julius Ritter

as

Marlon

Reviewed on:
July 5th, 2002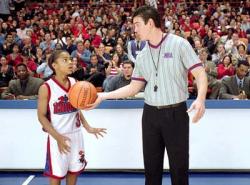 Lil Bow Wow in Like Mike.
Like Mike is a warmhearted and mildly amusing children's fantasy. Rapper turned actor Lil' Bow Wow does a credible job as orphan Calvin Cambridge, whose only dream is to have a family of his own. One fateful day he is given a pair of magical sneakers that were owned by Michael Jordan as a kid and before you can say triple double he is playing in the NBA.
The plot is fairly predictable. He first annoys and then eventually bonds with fellow NBA superstar Tracey Reynolds (played by Morris Chestnut). There is, of course, the orphan bully, the mean orphanage director, and the loyal best friend. This last character is played by Jonathan Lipnicki of Stuart Little fame.
At times the movie tries too hard and it crosses over into Disneyesque sweetness more than once. Still the story moves along quickly and the performances by the leads are all winning.
Children, especially boys, should identify with Calvin, and parents looking for an enjoyable and non-offensive movie this summer need look no farther. All but the terminally cynical should walk out of the theater with a lighthearted smile.

Reviewed on:
July 8th, 2002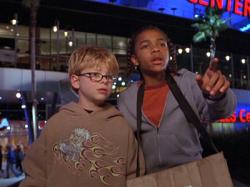 Jonathan Lipnicki and Lil Bow Wow in Like Mike.
A few year back a movie called Rookie Of The Year was made. It is about a boy who discovers he has an amazing fastball. Before you know it he is a star pitcher on a lousy major league team. He helps the team to the play offs and gets one of the players as a step dad. Like Mike is pretty much a remake of that movie only the sport this time is basketball.
It is a rated G heart warming film. A throw back to old Disney type movies. I mean, are there really any orphanages left in this country? I have never seen one.
Like Mike is full of Hollywood stereotypes. Has there ever been an orphanage director who actually liked his job and the kids. This one is played by Crispin Glover, the dad from Back To The Future. He uses the orphans to sell candy. One day, an orphan named Calvin sells a candy bar to the coach and gets free tickets to an NBA game. He gets chosen to go one on one with one of the players at half time. His magic shoes cause him to impress everyone and before you know it he is on the team.
Calvin shares a hotel room with a player and they soon form a bond. The movie follows a predictable Hollywood plot. Calvin soon wearies of the fame and just wants to be a kid again. The player adopts him and his best friend and all is well in fantasy land. I do mean fantasy land. In real life kids like Lil' Bow Wow do not tire of all the attention. And only in a movie can we feel all warm and fuzzy when a single dad adopts two kids. A single dad that is so irresponsible he takes sleeping pills instead of allergy medicine and lets a child drive his car. A dad that is so irresponsible that that he attempts to kick Calvin out of their hotel room so he can hump some chick he just met. But wait, this is a good dad. He let the boys throw paint all around the back yard.
Ahhh, nothing like a liberal Hollywood heart warming movie where any moron is a good parent.
Photos © Copyright Twentieth Century Fox (2002)