Movie Review
Life with Father
Here for all!! All the happiness of the play that ran longer, the laughs that were louder than any known before!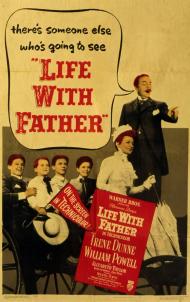 US Release Date: 09-13-1947
Directed by: Michael Curtiz
Starring
▸
▾
William Powell

,

as

Clarence Day, Sr.
Irene Dunne

,

as

Vinnie Day
Elizabeth Taylor

,

as

Mary Skinner
Edmund Gwenn

,

as

Rev. Dr. Lloyd
Zasu Pitts

,

as

Cousin Cora Cartwright
Jimmy Lydon

,

as

Clarence Day, Jr.
Emma Dunn

,

as

Margaret
Moroni Olsen

,

as

Dr. Humphries
Derek Scott

,

as

Harlan Day
Johnny Calkins

,

as

Whitney Benjamin Day
Martin Milner

,

as

John Day
Heather Wilde

,

as

Annie
Monte Blue

,

as

The Policeman
Mary Field

,

as

Nora
Queenie Leonard

,

as

Maggie
Clara Blandick

as

Miss Wiggins

Reviewed on:
December 19th, 2011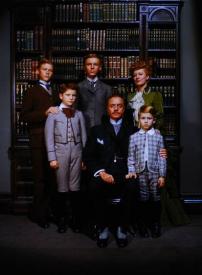 The Day family in Life with Father.
Based on the long running Broadway play that was itself based on the memoirs of Clarence Day, Life with Father is a wonderful, heartwarming story of a time long gone by. The play ran for 8 years and over 3,000 performances. It remains to this day the longest running non-musical play in Broadway history.
This Warner Brothers' production seems more like an MGM movie in look and feel. It was shot in Technicolor and recreates New York City circa 1883. It is kind of an urban version of Meet Me in St. Louis, only without the music. The fact that MGM lent stars William Powell and Elizabeth Taylor only adds to that sense. Michael Curtiz directed with his usual competence.
The story takes place over the course of a few weeks in the life of the Day family. Clarence Day Sr. is a successful broker on Wall Street and his family lives in high style on tony Madison Avenue. He and his wife Vinnie have four red-headed sons. The youngest is about five and the oldest is soon heading off to college. Due to the father's bombastic outbursts the Day family has a hard time keeping a maid. He thinks he runs his house with an iron fist but it is really Mrs. Day that keeps things operating smoothly.
There isn't much of a plot. Mrs. Day spends too much money and annoys her husband. A relative comes to visit with a teenaged girl in tow (Elizabeth Taylor at her most innocent). She begins a romance with the oldest son, Clarence Day Jr. His big problem is figuring out how to acquire a new suit for college. He is given a hand-me-down one of his fathers' and finds himself unable to do anything while wearing the suit that his father wouldn't do. To his mother's chagrin this includes kneeling down in church. One of the running gags is that every time mail arrives for the son, the father assumes it is for him and opens it. The second son gets in trouble selling some sort of phony medicine that makes his mother sick when he puts it in her tea.
The biggest plot device comes when Elizabeth Taylor's character innocently asks Mr. Day about his baptism and it is revealed that he never was. Mrs. Day then spends most of the movie trying to manipulate her husband into being baptized, while he firmly puts his foot down in refusal. I'll bet you can guess who wins this battle of wills.
The cast is excellent. William Powell gives the performance of his career as the outwardly stern but not so secretly kind-hearted father. Eric, he says a line that I know you would appreciate. In complete exasperation he asks, "Why did God make so many dumb fools and Democrats?" Irene Dunne is perfect as his elegant but slightly flighty wife. They have the following exchange about church. Father: "I don't go to church to be preached at as though I were some lost sheep." Vinnie: "Clare, you don't seem to understand what the Church is for." Father: "Vinnie, if there's one place the Church should leave alone, it's a man's soul!"
Elizabeth Taylor's role is small but she leaves a big impression. Her star wattage was already in evidence. Jimmy Lydon and Martin Milner are good as the two oldest sons; while Zasu Pitts and Edmund Gwenn round out the cast as Cousin Cora and Reverend Lloyd respectively. One interesting bit of trivia is that Mary Pickford planned on returning to the silver screen, after a 14 year absence, to play Vinnie.  She even made a screen test, but ultimately Curtiz decided to go with Irene Dunne.
Life with Father is a highly sentimental look at life in late 19th Century Manhattan as filtered through the Hollywood lens of the 1940s. The Day family leads a life of such innocence and luxury that it's hard to imagine anyone actually living as they do. This movie is a sweet reminder of days gone by and Life with Father.
 

Reviewed on:
July 14th, 2016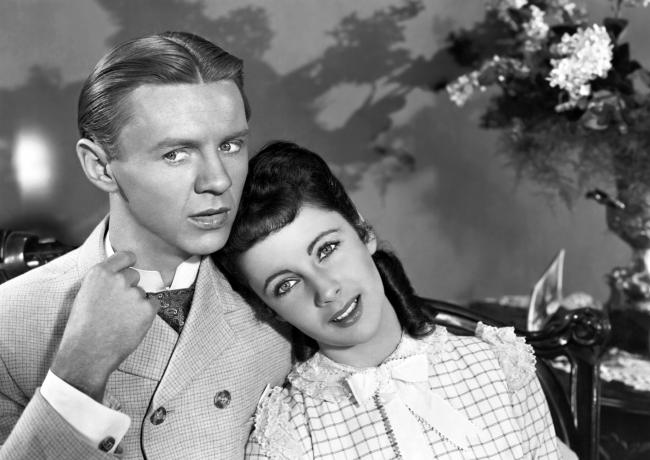 Jimmy Lydon and Elizabeth Taylor in Life with Father
Patrick, of course I love the line, "Why did God make so many dumb fools and Democrats?" It is something I will definitely be screaming this fall when I see Hillary Clinton get any amount of votes. Seriously, spend the slightest amount of time looking up anything in this woman's shady past and you would have to be a dumb fool to vote for her. She would not know the truth if it pinned her to a wall and slapped her across the face. Hey, you started this conversation Patrick.
Anyway, I enjoyed Life with Father and its old fashioned sentimental family innocence. I see my brother's point that father thinks he runs the house while mother actually does. However, I will take a more diplomatic approach. I think singularly, neither would thrive as a single parent. Father cannot see what is right in front of his face. He insults the maid and then asks ignorantly why she is crying. Mother schemes to get money from father, acting as if she has no clue how finances work. Father earns the money and controls it, as he should. Watch the scene where she insists he owes her $1.50. I am not sure if she thinks he is stupid or that she sincerely is. Either way, they each make up for the others shortcomings and together make a great pair of parents.

I also enjoyed the budding love story between Mary and Clarence Day Jr. As Patrick wrote, it is an innocent affair but the writers knew how to say so much more without being crude. Look at how they each tell the other that they are virgins. Mary asks a violin playing Jr. if he has ever performed a duet as she plays piano. He answers no and asks her the same question. She responds no with a little smile and everything is understood. My favorite moment that they share is when Mary sits flirtatiously on Jr.'s lap and he looks straight ahead and tells her to get up with all urgency. Hey, the body responds how the body responds.
At another point, Father has a conversation with Jr. about women, where all he tells him is that a man has to be firm with them and, "You just have to make them understand that what you are doing is for their good." A disappointed Jr. thought he was going to get more "details" about women but Father explains, "Clarence, there are some things gentlemen don't discuss! I told you all you need to know." Maybe he was stating more than Jr. thought when he used the word, "firm."

Life with Father is a pleasant watch about a loving family whose problems seem pathetically meager compared to anything any of the rest of our families have ever experienced. It will put a smile on your face and warm your heart to think that such families exist.

Photos © Copyright Warner Bros. Pictures (1947)