Movie Review
A Life Less Ordinary
A comedy for anyone who's ever been in danger...of falling in love.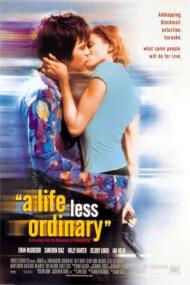 US Release Date: 10-24-1997
Directed by: Danny Boyle
Starring
▸
▾
Ewan McGregor

,

as

Robert Lewis
Cameron Diaz

,

as

Celine Naville
Delroy Lindo

,

as

Jackson
Dan Hedaya

,

as

Gabriel
Ian McNeice

,

as

Mayhew
Mel Winkler

,

as

Frank Naville
Stanley Tucci

,

as

Elliot Zweikel
Tony Shalhoub

,

as

Al
Ian Holm

,

as

Naville
Timothy Olyphant

as

Hiker

Reviewed on:
April 11th, 2005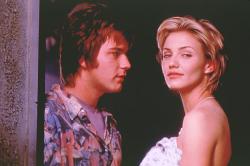 Ewan McGregor and Cameron Diaz in A Life Less Ordinary.
Romantic comedies contain the oldest plot device in movie history; boy meets girl, boy and girl have problem, boy and girl resolve problem. A Life less Ordinary takes that plot, and with tongue firmly planted in cheek, runs with it.
Robert gets fired from his janitorial job and ends up kidnaping the bosses bitchy daughter, Celine. Meanwhile, God is fed up with men and women having such problems with romance so two angels are sent to Earth to see that Robert and Celine fall in love and end up together.
Robert ends up being an incompetent kidnapper. "Kidnap For Beginners", Chapter One. Have you even asked for a ransom yet?" Celine sarcastically asks Robert. They end up joining sides and decide to try to milk some money from daddy together and then go their separate ways.
Most romantic comedies are cliche ridden. This is no exception. However, this movie makes fun of it's own cliches. Early in the movie Robert is describing the plot to a book he wants to write, "Of course it's obvious, guys, it's a trash novel." He tells them. In another scene Celine tells Robert, "I'd like to make a withdrawal." He replies, "I thought we agreed there'd be no cliches?" The best line belong to Tony Shaloub. After Robert tells him that Celine is not his type, Shaloub says, "The issue of whether or not she's your type is not one that you're likely to have to resolve in this world... or, indeed, the next, since she will be going to some heaven for glamorous pussy, and you will be cleaning the floor of a diner in hell."
Diaz and McGregor work well together and they generate some chemistry. The best scenes are the ones where they share the screen. They do a nice duet. Diaz and McGregor have both sung in several films now and can almost be consider musical stars.
The plot is a bit scattered and meanders around but you have to appreciate a movie that is able to poke fun at itself.
Photos © Copyright Twentieth Century Fox Film Corp. (1997)