Movie Review
Life as We Know It
A comedy about taking it one step at a time.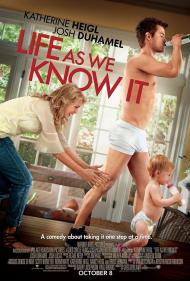 US Release Date: 10-08-2010
Directed by: Greg Berlanti
Starring
▸
▾
Katherine Heigl

,

as

Holly Berenson
Josh Duhamel

,

as

Eric Messer
Josh Lucas

,

as

Sam
Hayes MacArthur

,

as

Peter Novak
Christina Hendricks

,

as

Alison Novack
Britt Flatmo

,

as

Amy
Rob Huebel

,

as

Ted
Melissa McCarthy

,

as

DeeDee
DeRay Davis

,

as

Lonnie
Kumail Nanjiani

,

as

Simon
Andrew Daly

,

as

Scott
Bill Brochtrup

,

as

Gary
Will Sasso

as

Josh

Reviewed on:
November 4th, 2010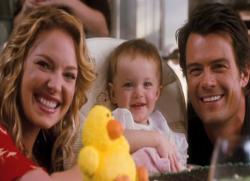 Being adorable is not enough to make a movie succeed.
Romantic/comedies are as predictable as any genre of film. We meet two people. We get to liking them both, and we see them get together. The fun is in the journey and not the destination, as long as the destination is a committed relationship.
Life as We Know It opens with a blind date between Holly and Eric, that goes wrong before it even gets started. He is a fly by the seat of his pants horn dog, who never met a beautiful woman he could not seduce. She is Katharine Heigl playing the same character she has played in all of her romantic comedies, sensible and slightly conservative.
Although they loath each other, they stay in contact as her best friend marries his. Upon the death of the best friends, they are named the guardians of their baby girl, Sophie. The stipulation is that they must live together and raise the baby in the deceased couple's nice house.
The typical arguments and issues arise over responsibilities and time management. The only thing they have firmly in common, at first, is that they both love Sophie. He continues to date, or more accurately put, lay other women, while she falls for Sophie's pediatrician.
From the first moment of the movie we know Holly and Eric will end up together. They get mad and disappointed with each other a few times, but they also help each other out. They make that perfect couple of opposites attracting each other.
Life as We Know It is humorous at times, but there are no laugh out loud moments. Holly gets drunk at the wrong time. The entire neighborhood, from the domineering wife next door to the gay couple down the street, seem to lust after Eric. This movie reeks of cute, but generates few genuine laughs.
My favorite moments are when Eric is alone with Sophie. A couple are slightly dark. He does not want Holly to miss Sophie's first steps so he pushes the baby down. In another scene he accidentally drops her. The part I related to the most was when he finds himself watching kids shows like The Wiggles.
After almost two hours, the ending finally arrives and it does not quite satisfy. It is a bit vague. My wife and I both wished it had ended more specifically. Of all the film genres, romantic/comedies should end concisely, with the couple married. Call me old fashioned, but living unwed together in a quasi committed relationship with an easy escape plan is not much of a conclusion to a love story.
Photos © Copyright Warner Bros. Pictures (2010)