Movie Review
A Liar's Autobiography: The Untrue Story of Monty Python's Graham Chapman
Still Dead, And Now in 3D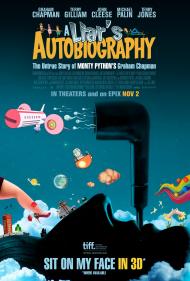 US Release Date: 11-02-2012
Directed by: Bill Jones, Jeff Simpson, Ben Timlett
Starring
▸
▾
Graham Chapman

,

as

Himself (voice)
John Cleese

,

as

Various (voice)
Terry Jones

,

as

Various (voice)
Michael Palin

,

as

Various (voice)
Terry Gilliam

,

as

Various (voice)
Carol Cleveland

,

as

Various (voice)
Philip Bulcock

,

as

David Sherlock (voice)
Cameron Diaz

as

Sigmund Freud (voice)


Reviewed on:
February 6th, 2013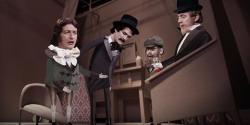 Graham Chapman forgetting his next line.
A Liar's Autobiography: The Untrue Story of Monty Python's Graham Chapman is just that. Narrated by Chapman himself, he tells us his story from being born during World War II to a book reading teenager and his relationship with his parents. We see him through his sexual discovery in college to meeting his long time partner, David. We see his fame as a comedian with Monty Python and his descent into drugs and alcohol.
With the exception of some archive film clips, the entire film is done in various forms of animation. The change in animation is sometimes off putting. With the exception of Eric Idle, the entire cast of Monty Python recorded lines for the film, playing themselves as well as other characters. John Cleese, whom Chapman became friends with in college is the most featured. Most scenes are filled with symbolic visuals in relation to Chapman's struggle to understand his sexuality and his alcoholism. The one aspect of his life that never even gets a mention is that Graham and David were fathers to an adopted son.
It starts with a live Python performance in New York in the 1970s, where Chapman forgot his lines. We then have a flashback to his life story in which he often tells a lie about his life and then one much closer to the truth. His imagination was present throughout his life and it seemed to be the safe place he retreated to when needed.
Chapman's humor is throughout. He narrates that when he was born during a German air raid, his parents, "...were outraged when I arrived because they'd been expecting a heterosexual black Jew with several rather amusing birth deformities as they needed the problems." At one point a college student murders his instructor because after answering a question about the vagina, the professor states that it is clear he has never seen one.
I am not well versed in Python lore, so I am not sure how much is real and how much Chapman exaggerated. He name drops often and we see many famous people in animated form. The film ends at a memorial for Chapman in which all the Python members attended. John Cleese delivers a heart felt as well as a hilarious eulogy. This film may not give certain details of Chapman's life, but as it is based on his and David's book, it certainly gives us an insight into his anxieties and creative mind.
Reviewed on:
February 7th, 2013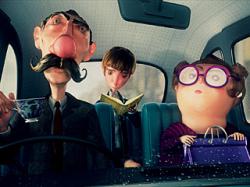 An animated Graham Chapman and family in A Liar's Autobiography.
Like the book that it is based upon, A Liar's Autobiography is a disappointment. It doesn't contain enough truth to be of interest to someone looking to learn about Graham Chapman and it's not funny enough to cover up that fact. On top of the structural problems, the film is presented, as Eric mentioned, in the form of varying animation styles. Some of them look good, while some do not, but the constantly changing styles adds nothing to the enjoyment of the film.
The script, despite only an apparent passing interest in telling Chapman's tale, does hit the highlights of his life. It mentions how he attended Oxford, where he joined the Footlights and met John Cleese, whom he formed a writing partnership with and with whom he continued to work with for many years. It covers his meeting of his longtime partner, David, and his subsequent coming out party. His alcoholism is also covered in some depth. It even mentions Chapman's most oft repeated anecdote when the Queen Mother told him that he must visit New Zealand and so he used that to convince his parents, who were financing his education, to allow him to go on tour with the Cambridge Footlights.
Despite the participation of the other Pythons, very little of the film talks about the details of Monty Python. There's one scene that sums up the personalities of Cleese and Jones while discussing the naming of the group, when such names as "Owl Stretching Time" and "Sex and Violence" were considered.
One scene in the film stood out to me because it's altered from the book. During Chapman's coming out party, Chapman wrote how shocked John Cleese was and also how he had to explain to Eric Idle that being gay meant that he really did have sex with men. Both Cleese and Idle have stated how inaccurate that portion of the story was. Cleese has said that he had been aware before Chapman told him and Idle has laughed at the idea that he didn't know what being gay meant, saying that "I did attend an all boy's English Private School, after all. How could I not know?" In this filmed version, Cleese is shown taking Chapman's gayness in stride, while instead of Eric Idle, it's The Who's Keith Moon that is shown not understanding what being gay means.
Given that Chapman died in 1989, a traditional tale of his life was never going to be made without another actor to play him. By using the recording of a reading of his autobiography, the filmmakers were able to include him in his own tale. For that reason, animation makes sense, although using so many different styles does not. It's more distracting than anything else. Perhaps more time should have been spent in constructing an entertaining film rather than trying to cram in so many different styles.
Reviewed on:
February 11th, 2013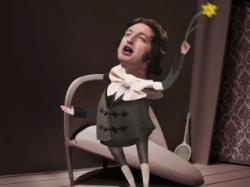 An animated Graham Chapman in A Liar's Autobiography: The Untrue Story of Monty Python's Graham Chapman.
I agree it was fitting to make this an animated film since it allowed Chapman to participate and it also, at times, makes a nice homage to the work Terry Gilliam did for all of the Monty Python feature films (including some of his trademark gross-out animation). The varying styles didn't really bother me. I thought most of them quite clever.
To be honest I didn't find the jokes as funny as I anticipated them being. Sure it is amusing in places. I liked how they depicted the initial meeting between Graham and David at the beach, with David rising from the sea like Venus on a clam shell. The inclusion of famous friends also adds some fun and a sense of historical perspective. Keith Moon and Marty Feldman are included. They were friends of Chapman's that, like him, both died tragically young.
The inclusion of archive footage gives the movie a bit of emotional heft. John Cleese delivering Chapman's eulogy during the end credits, with all the surviving Python members present, is a fitting way to conclude the movie. Even though Chapman's story is told in the silliest of fashions with much liberty taken with the truth, this ending provides a genuine sense of the loss his death caused the entire creative entity known as Monty Python.
Much of the Python humor comes through. One gag that pops up several times in their movies is used here in a scene Eric mentioned briefly. An awkward sex education instructor (or marriage counselor) shows up in both And Now for Something Completely Different and The Meaning of Life. It was clearly one of the recurring themes in their work and perhaps this movie gives a clue as to which Python member's life experience it derived from.
As a gay man I could relate to Chapman's coming out process. I laughed when a woman tells hims that he went from being in the closet to telling complete strangers -who didn't even ask- he was gay. Once that load is lifted from your shoulders it feels so freeing that I completely understand his urge to shout it from the rooftops, so to speak. A Liar's Autobiography: The Untrue Story of Monty Python's Graham Chapman is as unusual as the man it celebrates. It's an odd, quirky and quite silly little movie.
Photos © Copyright Brainstorm Media (2012)
Related Reviews