Movie Review
A Letter to Three Wives
All of them wondered which of them wandered!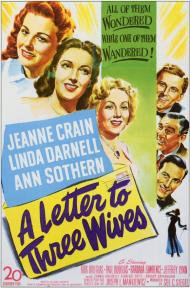 US Release Date: 01-20-1949
Directed by: Joseph L. Mankiewicz
Starring
▸
▾
Jeanne Crain

,

as

Deborah Bishop
Linda Darnell

,

as

Lora Mae Hollingsway
Ann Sothern

,

as

Rita Phipps
Kirk Douglas

,

as

George Phipps
Paul Douglas

,

as

Porter Hollingsway
Barbara Lawrence

,

as

Georgiana Finney
Jeffrey Lynn

,

as

Bradford Bishop
Connie Gilchrist

,

as

Mrs. Ruby Finney
Thelma Ritter

,

as

Sadie Dugan
Florence Bates

,

as

Mrs. Manleigh
Hobart Cavanaugh

,

as

Mr. Manleigh
Celeste Holm

,

as

Addie Ross (voice)
Mae Marsh

,

as

Miss Jenkins
Carl 'Alfalfa' Switzer

as

Leo, Second Messenger

Reviewed on:
September 19th, 2011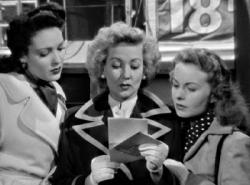 Linda Darnell, Ann Sothern and Jeanne Crain read A Letter to Three Wives.
A Letter to Three Wives was written and directed by Joseph L. Mankiewicz in 1949. He won Oscars in both categories for this charmingly witty comedy. He followed up this neat trick by repeating it the following year with the classic backstage drama All About Eve. Not a bad couple of years for the guy.
As the title suggests, A Letter to Three Wives tells the story of a trio of housewives living in the same small town who, on the morning of a local boating excursion and picnic, all receive a copy of the same letter delivered by bike messenger. It was written by a close friend of the three and it states that she has just run off with one of their husbands. This being the pre-cell phone era these women have no way of knowing which husband is missing until that evening. So they naturally spend the day looking back on key moments in their relationships in order to perhaps discover which of them has just lost their spouse.
Celeste Holm provides the voice of Addie Ross. She narrates the story but is never actually shown. Television's Desperate Housewives clearly owes a debt to this movie, especially the similar use of voice-over narration.
Linda Darnell is a poor girl from the wrong side of the tracks (in the movies funniest scene whenever a train passes by her mother's house it causes the entire house to shake to its foundation, alarming guests while the residents remain unnaturally calm). She married her wealthy boss (Paul Douglas). Has he left with Addie because he thinks his wife is a gold digger?
Jeanne Crain plays a young woman from "away". She married a successful local man (Jeffrey Lynn) and arrived in town feeling inadequate to socializing with the country club set. Has her Brad left her for the more sophisticated Addie?
Ann Sothern is married to Kirk Douglas. She's a successful radio writer while her husband is a public school English teacher. She makes more money than he does and he loathes his wife's job. "The purpose of radio writing, as far as I can see, is to prove to the masses that a deodorant can bring happiness... a mouth wash guarantee success and a laxative attract romance." Has he left town with Addie Ross?
Of course I'm not going to say which husband it is. All is revealed and neatly resolved by the end credits. The supporting cast includes the always hilarious Thelma Ritter and those with sharp eyes may spot former silent star Mae Marsh as well as Carl 'Alfafa' Switzer in brief cameos.
Although not as well remembered as the iconic All About Eve, A Letter to Three Wives features the same witty dialogue but with a more light-hearted tone. It comically tackles the subject of married life in all its glories and pitfalls and features a talented ensemble cast.

Reviewed on:
July 13th, 2013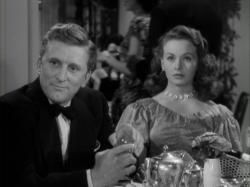 Kirk Douglas and Jeanne Crain in A Letter to Three Wives
I agree with Patrick that this is a well written script. A Letter to Three Wives features three of the most well rounded female characters to be found in film. Through flashbacks we get to know and like all three of them. All three women are goal oriented and insecure.
Deborah clearly she has some gumption as she was in the U.S. Navy. However, put her in an intimate cocktail party setting and she feels out of her league. She loves her husband but is unsure of how she fits into his life.
Rita is a caring person who concerns herself with Deborah fitting in at the party.  She kisses the ass of those who may advance her career, upsetting her husband. He is a very easy going guy who does not like seeing his wife put on airs.
Lora Mae's story is as old as time. Her plan to get ahead was simply based on marrying for money. She plays Porter like a fiddle. The best part is that he knows it, but since he likes the tune, he lets her play on.
The one woman we never get to know is the enigmatic Addie Ross. She has connections to all three husbands. She has given them all gifts and most wives would raise an eyebrow over how each husband thinks so highly of her.
Where I disagree completely with Patrick, is that A Letter to Three Wives is by no means a, "…charmingly witty comedy." Sure, Thelma Ritter provides some lighter moments, "Soups on." And the vibrating home is hilarious but this is first and foremost a drama. Three women spending the day pondering their relationships with their husbands and wondering if they will be home when they get there is hardly a laughing matter and is never played as such.
Patrick accurately compared this to Desperate Housewives. A Letter to Three Wives is a soap opera, pure and simple. Three women spend lots of time talking and reminiscing but none ever say what they truly want to. At one point, Deborah says to Rita and Lora Mae, "Why is it that sooner or later no matter what we talk about... we wind up talking about Addie Ross?" In a voice over, Addie Ross answers, "Maybe it's because if you girls didn't talk about me you wouldn't talk at all."
Reviewed on:
July 30th, 2016
Paul Douglas and Linda Darnell in A Letter to Three Wives.
Although Mankiewicz won the Oscar for Best Adapted Screenplay for this film, he didn't write it alone. As was common during the classic studio system, the script was written on an assembly line. It began life as a short story in Cosmopolitan magazine by John Klempner. He later expanded it into a novel entitled, A Letter to Five Wives. After Fox bought the movie rights, Melville Baker and Dorothy Bennett wrote the first draft of the screenplay, adding the narration by Addie Ross and reducing the number of couples down to four. Mankiewicz then took over writing duties and threw out much of what had already been written, and went through 3 drafts on his own. Producer Sol Siegel then assigned Vera Caspary to do a treatment, and came up with the idea of having the wives go on the river excursion so as to be away from all forms of communication for the day. After Mankiewicz was assigned to direct he went back to work on the script, but it was studio head Darryl F. Zanuck who insisted that the number of couples be reduced to three. So, while Mankiewicz's double-duty, back-to-back Oscar wins is impressive, the writing Oscar should surely have been shared around more democratically.
I wouldn't say I disagree completely with Patrick about this being a "charmingly witty comedy" because there is quite a bit of charming and witty comedy in it. The vibrating home is the broadest joke, but there's plenty of humor scattered throughout the film. The Phipps's dinner party with her pushy boss contains some funny lines (and an interesting side note is that the line Patrick quoted about the purpose of radio writing, was cut from the movie when it first aired on television because apparently the sponsors of the era didn't like it) and any scene with Thelma Ritter or Linda Darnell's mother is good for a laugh. However, as Eric rightly pointed out, this is mostly a dramatic soap opera, but a well written and very well acted one. In today's parlance it would probably be referred to as a dramady.

Of all the couples, I found Lora Mae and Porter to be the most interesting. Eric said the story of her as a gold digger was as old as time, but rarely has the version of the story been told in this way. While at first it seems that she is just out for his money, she is allowed to develop as a character so we see that there is more to her than that. The failure of her parent's marriage has obviously lead her to harden her heart. Her poor background has given her nothing else to leverage herself ahead with apart from her beauty. She uses that to attract a rich man, but it's obvious to see that she's looking for more than just money. She wants love and security as well. It's a part beautifully played by Linda Darnell. The studio liked her and Paul Douglas so well together that they reteamed them later that year in Everybody Does It, in which Douglas quips, upon seeing a cat nursing her kittens, "A litter from three wives."
To be honest, I found this movie a bit slow going at first. I'm not normally a fan of soap opera and I never watched a single episode of Desperate Housewives. However, the further along the movie went, and the more fully developed these women became, the more I was slowly drawn into their story, until by the climax I was as invested in finding out which of the husbands had absconded as any of the characters in the film. And for that, Mankiewicz, and everyone else who worked on the script, deserves a great deal of credit.

Photos © Copyright Twentieth Century Fox Film Corporation (1949)