Movie Review
Let's Make Love
Marilyn's heart belongs to Daddy!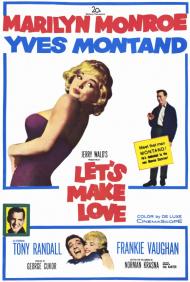 US Release Date: 09-08-1960
Directed by: George Cukor
Starring
▸
▾
Marilyn Monroe

,

as

Amanda Dell
Yves Montand

,

as

Jean-Marc Clement
Tony Randall

,

as

Alexander Coffman
Frankie Vaughan

,

as

Tony Danton
Wilfrid Hyde-White

,

as

John Wales
David Burns

,

as

Oliver Burton
Milton Berle

,

as

Himself
Bing Crosby

,

as

Himself
Gene Kelly

as

Himself


Reviewed on:
September 8th, 2001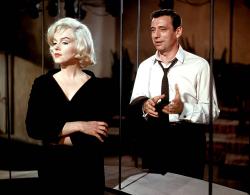 Marilyn Monroe and Yves Montand in Let's Make Love.
Let's Make Love is Marilyn Monroe's most provocative movie title. It is not her most provocative film. Although she is easily the bigger star, it is Yves Montand who unfortunately gets far more screen time.
Yves plays a rich, French playboy living in New York. He gets wind of an off Broadway show that is going to make fun of him and other celebrities. Elvis Presley is one of the other celebrities and this movie features one of the first ever Elvis impersonators. Montand secretly visits the show's auditions to find out how badly they intend to make him look. He gets distracted, however, by Marilyn Monroe singing 'My Heart Belongs to Daddy.' Not only does he not attempt to close the show, he ends up in it. Mistaken for an impersonator, the shows director casts him as himself. To be near Monroe, and prove to his assistant, Tony Randall, that he can get a girl without using his wealth, he stays with the show.
This movie is great on ideas. That set up alone is comically brilliant. Later in the movie, Yves wants to impress Monroe with his talent. In cameos, he has Gene Kelly teaching him to dance, Bing Crosby teaching him to sing, and Milton Berle trying to get him to be funny.
The problem with this film, is that there is too much of Montand and not enough of Monroe. Monroe doing a scene with Gene Kelly, Bing Crosby and Milton Berle would have been classic. Instead we have lots and lots of scenes of the horrifically dull Montand. Let me put it this way. His big scene which is supposed to genuinely funny is done in mime! This guy couldn't be any duller if he tried.
This is Monroe's second to last completed film. In this point in her career she is almost a caricature of herself. She has the look down to perfection. Her sexy wink and smile work well at the end of 'My Heart Belongs to Daddy'. However, she was over weight at this point. The movie producers realized this and include an insulting scene to justify Montand's attraction to her. The beginning of the movie has a sequence that explains Montand's family tree. It explains how they got their money and how they always had a passion for balloons. It then shows pictures of women with big ballooning skirts. When Monroe first meets Montand she says 'Your French!' then turns and reaches for something, revealing her large ass in tights. Montand leers at her and responds 'Very much so.'
This movie desperately needs to be remade. It is a genuinely great idea for a comedy. It is just too bad that Monroe couldn't have been teamed with a more charismatic leading man. Or better yet, Monroe should have played the Montand part. That would have been both original and unique. Of course this was 1960, and women in film rarely played the sexual aggressor. Too bad though.
Reviewed on:
July 17th, 2011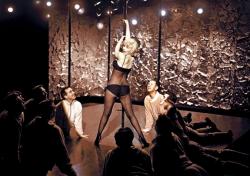 Marilyn Monroe in Let's Make Love.
Apparently the size of Monroe's part was increased when her then husband Arthur Miller reworked the script. I have to wonder just how small her part was before he did that because it's still pretty insignificant in the finished product. In terms of screentime, it's 75/25 in favor of Montand. And given, as you mentioned Eric, he's the worst part of the movie and as about as exciting as a box of rocks, that's the real tragedy here. Cary Grant, Gregory Peck, Charlton Heston, Rock Hudson, and Yul Brynner all reportedly turned down the male lead and so it went to Montand who had previously appeared in a production of Miller's play The Crucible. Although I'm not sure about Heston or Peck, Hudson or Grant could have done wonders with this role.
Eric, you do get some funny ideas when watching movies some times. I don't think they're insulting Monroe at all when Montand leers at her ass. I think they're genuinely presenting it as something leerworthy and I agree with them. Yes, compared to actresses working today, she is heavy, but I would still call her voluptuous instead of fat. She does however look tired and as though her heart really isn't in the proceedings. I can't say I blame her. When you think of how big a star she was at the time, for her to be playing such a small, supporting part, you can't help but think how insulted she must have been. Reportedly she was having an affair with Montand during filming and their lack of chemistry doesn't speak well of him.
I never really gave it much thought before, but what the hell is up with the song, "My Heart Belongs to Daddy"? In the song her name is Lolita and her heart belongs to Daddy? What is it, the Pedophile Society's theme song?
Not only did Montand lack chemistry with Monroe, I actively didn't want her to end up with him. I never believed she was in love with him. I wanted her to end up with Frankie Vaughn's character, with whom she did actually seem to have a spark.
There are a few funny moments. Crosby and Kelly both get good cameos, but Berle's is surprisingly unfunny and the routine he supposedly teaches Montand isn't funny at all. Of the main cast, Tony Randall gets a few good lines. Monroe is good in the musical numbers, but isn't given much of a chance to be funny.
I agree with you Eric that there are some comedic possibilities here, but not so much that it's crying out to be remade or anything.
Reviewed on:
July 25th, 2011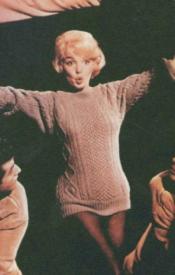 Marilyn Monroe in Let's Make Love.
I pretty much agree with both of you. Let's Make Love is a disappointment due almost entirely to the dull, bland presence of Montand. He may have been a decent actor when speaking in his native French but in English he sounds ridiculous, lacks comic timing and is rather difficult to understand. He has no chemistry with Monroe just as he would generate none with Barbra Streisand ten years later in On a Clear Day You Can See Forever.
Monroe, on the other hand, is a complete joy to watch whenever she graces the screen. As Eric said, by this time in her career her dumb blonde persona was nearly a caricature of itself. In fact Marilyn could easily be one of the celebrities being satirized in the Off Broadway play she is starring in, in the movie. It is historically interesting seeing her onstage with an Elvis impersonator since she and Presley have gone on to become the two biggest American icons of the 1950s.
Her rendition of "My Heart Belongs to Daddy" sizzles. Amanda Dell is a typical Monroe character – trying to better herself by attending night school – but with a bohemian Greenwich Village spin. Granted she is a bit thicker around the middle than in her earlier films but still exudes sexuality. Voluptuous is definitely the right word to describe her figure.
The cameos are fun and make a great time capsule. The routine Milton Berle tries to teach Montand is incredibly corny by today's standards. He is funny mincing around as a woman though and causing Montand to ask incredulously, "And fourteen million Americans call you uncle?"
Let's Make Love was a big box office hit in 1960 although it hasn't aged well. I would have loved seeing Monroe reunite with Cary Grant for this movie. Something tells me it would be better remembered today and much, much funnier if Grant had signed on. He would play a very similar role opposite Doris Day in That Touch of Mink two years later.
Let's Make Love is worth watching for Monroe alone. Just be prepared to sit through a lot of boring scenes with Yves Montand looking uncomfortable.

Photos © Copyright 20th Century Fox (1960)