Movie Review
Let's Make It Legal
Who cares if it's legal as long as it's tempting, virile, tantilizing, smooth, wow!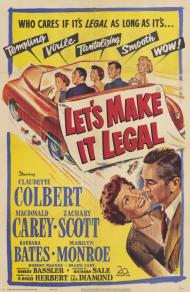 US Release Date: 10-31-1951
Directed by: Richard Sale
Starring
▸
▾
Claudette Colbert

,

as

Miriam Halsworth
Macdonald Carey

,

as

Hugh Halsworth
Zachary Scott

,

as

Victor Macfarland
Barbara Bates

,

as

Barbara Denham
Robert Wagner

,

as

Jerry Denham
Marilyn Monroe

,

as

Joyce Mannering
Frank Cady

,

as

Ferguson
Kathleen Freeman

as

Reporter

Reviewed on:
February 24th, 2011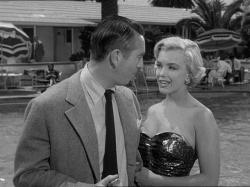 Macdonald Carey and Marilyn Monroe in Let's Make it Legal
Often in Marilyn Monroe's early career she was either playing a gold digger or a flirt willing to sleep her way to the top. Her characters most common profession was a model. Here she plays all of the above. She is however, only in about four scenes. This movie belongs to Claudette Colbert in the autumn of her movie career. She would go on to make many television appearances but only a few more films.
Miriam and Hugh Halsworth's divorce is about to be finalized. Miriam still lives in their home with their grown daughter Barbara, her son-in-law, Jerry and their baby girl. Hugh has moved out and is staying in the hotel he manages where Jerry works for him. Hugh stops by the house often to take care of his rose bushes. The truth is that he is still in love with Miriam.
Victor, an old friend of Hugh's and Miriam's from high school, arrives back in town. Victor is a former athlete turned millionaire senator, with a reputation of being a lady killer. He always had an eye for Miriam and is happy to find out about the divorce.
Monroe's first scene has her flirting with Hugh by the hotel pool. She is in a bathing suit, of course. Victor will be staying at the hotel and Hugh asks Monroe if she would like to meet him. She smiles and says in her mock innocent voice, "Who wouldn't want to meet a man who has millions, who isn't even bald?"
Let's Make it Legal is a fairly obscure little film only remembered because of Monroe, but it does have some truly funny lines. After Monroe sees Miriam, she remarks to Hugh, "I hope I look half as good when I'm a grandmother." Without missing a beat, Hugh says, "Oh, I'm sure you will." Miriam divorced Hugh because of his gambling. During an argument, Miriam says, "What's the use? You'll never stop gambling." Hugh responds, "Do you want to bet?"
At only 77 minutes, Let's Make it Legal develops its characters in ways some movies twice as long never do. Jerry and Barbara are supporting characters, yet they are very three dimensional. Barbara is a lazy wife, enjoying her mother being around to take care of the baby. It drives Jerry crazy and he eagerly encourages Miriam to date Victor in hopes it will get Barbara to move away with him. He needs to get Barbara away from her parents. The movie even hints that their sex life is not active. In one scene Barbara says from her separate bed that she wonders what her mother and Victor are doing out so late. Jerry responds from his bed, "She's probably necking somewhere with Victor." "That's not nice." Barbara scolds, but Jerry continues, "Maybe not, but it sure use to be fun, remember?"
Three writers are credited here. One of them is I.A.L. Diamond. He worked on the story, or screenplays of many great comedies, including Some Like it Hot, Irma La Duce and Cactus Flower. Let's Make it Legal deserves to be remembered for more than just being an early Marilyn Monroe film. It is a witty little romantic comedy and a nice slice of early 1950s middle class America.
Photos © Copyright Twentieth Century Fox Film Corporation (1951)