Movie Review
Les Miserables
Fight. Dream. Hope. Love.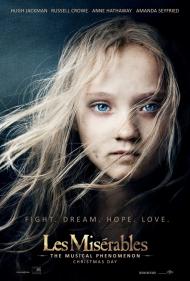 US Release Date: 12-25-2012
Directed by: Tom Hooper
Starring
▸
▾
Hugh Jackman

,

as

Jean Valjean
Russell Crowe

,

as

Javert
Anne Hathaway

,

as

Fantine
Amanda Seyfried

,

as

Cosette
Sacha Baron Cohen

,

as

Thenardier
Helena Bonham Carter

,

as

Madame Thenardier
Eddie Redmayne

,

as

Marius
Samantha Barks

,

as

Eponine
Aaron Tveit

,

as

Enjolras
Daniel Huttlestone

,

as

Gavroche
Colm Wilkinson

,

as

Bishop
Stephen Tate

,

as

Fauchelevent
Michael Jibson

,

as

Foreman
Tim Downie

as

Brevet

Reviewed on:
December 25th, 2012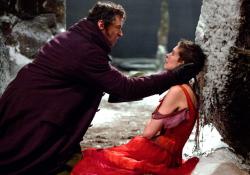 Hugh Jackman and Anne Hathaway in Les Miserable.
Musical theater fans, as a rule, aren't a very diverse bunch. According to broadwayleague.com, Broadway audiences are rich, white and 70% female. The demographics don't record how many of the remaining 30% are gay men, but it's probably a fairly large portion and of those that aren't, plenty are men who were dragged in by their wives or girlfriends. Myself, I'm of that rarest segment of the audience, a straight man who voluntarily attends musicals on his own. With that in mind, Les Miserables is going to have a challenge finding an audience. When you learn that it's a nearly three hour, sung-through, tear jerker, then that audience becomes even smaller. For fans of the genre though, it has plenty to offer, including a few sure to be Oscar nominated performances.
Based on the novel by Victor Hugo, it tells the story of Jean Valjean (Jackman), a former prisoner who spent 19 years in prison after stealing a loaf of bread to feed his starving nephew in early 19th century France. With the help of a kindly Bishop (played by Colm Wilkinson who originated the role of Valjean in the original London production), Valjean abandons his parole and starts a new life, with a new name and becomes a successful businessman and the Mayor of a small town. Inspector Javert (Crowe) still pursues the fugitive Valjean, whose true identity is eventually discovered, but not before he becomes entangled with the tragic fate of Fantine (Hathaway) and her illegitimate daughter, Cossette (Seyfried). All of their destinies become bound together and are swept into the streets of Paris during the June revolution of 1832.
The themes of the film are heavy and melodramatic. They are about redemption, freedom and love. There are several deaths and very sad songs. It's operatic in its tragedy, with Fantine being the most tragic. Hathaway's rendition of one of the film's most famous songs, "I Dreamed a Dream", is likely to win her the Best Supporting Actress Oscar as well as moisten the eyes of any in the audience with a heart to feel with. "On My Own", is another of the sad song highlights, sung well here by Samantha Barks.
Sacha Baron Cohen and Helena Bonham Carter, provide the film's only comic relief as the slimy innkeeper and his wife who perform the musical's most famous and most terminally catchy number, "Master of the House."
Jackman does good work as Valjean, but Russell Crowe fares less well as Javert. He looks and acts well enough, but just doesn't have the voice to carry the part and his final destiny is weakened because of it.
One of director Tom Hooper's best decisions was to have the actors sing live during filming rather than lip-syncing to a prerecorded soundtrack. It gives the actors a chance to truly act in the moment rather than simply worry about miming properly to their own recording.
The musical comedy found great success in Hollywood from the 1930s and into the 1960s. The musical epic tragedy, like Les Miserables, filled with sung-through dialogue and giant spectacle that became popular on Broadway and in the West End during the 1980s has never really taken off in the same way. Phantom of the Opera, Evita, Rent and Sweeney Todd have all been turned into films, with lukewarm success, despite their long life on stage. It remains to be seen how Les Miserables will fare.
They're definitely an acquired taste, but if you enjoy this kind of musical, as I do, you'll love Les Miserables. If you don't, you'll probably find it too long and depressing. I definitely think it's going to be the kind of movie that you either love or hate, with very little opinion in between.

Reviewed on:
January 2nd, 2013
Anne Hathaway's moving performance as Fantine in Les Miserables
Scott mentioned the themes of redemption, freedom and love, but he missed the most important one. Les Miserables is first and foremost a story of sacrifice. The priest sacrifices for Jean Valjean. Fantine sacrifices, immensely, for her daughter whom Jean Valjean also sacrifices for when he saves Marius. There is also the man he lifts the wagon off of. Eponine sacrifices for Marius. This does not even include all the French citizens who sacrifice their lives for the revolution.
I agree completely with Scott, that Hathaway's rendition of, "I Dreamed a Dream", should win her the Best Supporting Actress Oscar, and yes, it moistened my eyes. As Scott wrote, the actors sang live during filming and there is very little, if any, editing during the songs. If Jennifer Hudson could win an Oscar for lip-syncing to a song in a highly edited performance, then Hathaway should be a shoo-in.
Whereas Hathaway stops the show, to use a Broadway term, her song comes far too early in the movie. As it was the only song I knew in the soundtrack, it left me with little to look forward to. I definitely found Les Miserables far too long and depressing. The role of Javert should have been trimmed. The story is Jean Valjean's and Fantine's, not his, and like Scott, his singing left me wanting. Fortunately, Fantine makes a last minute re-appearance but it is after several songs too many by Crowe. Les Miserables is an epic musical and if you are able to allow the songs to envelope you, the pay off is quite emotional. If you cannot, you are in for a long watch.
Reviewed on:
January 14th, 2013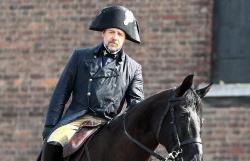 Russell Crowe in (unfortunately) Les Miserables.
Victor Hugo's original novel has been reproduced many times in many different mediums. There have been at least a dozen movie versions dating back to 1909. These have been produced in America, France and Italy. Orson Welles broadcast a radio adaptation in 1937. There was even a Japanese anime TV adaptation made in 2007. This movie is, of course, based on the hugely popular theatrical musical version by Alain Boublil and Claude-Michel Schönberg that began on the Paris stage in 1980, was translated into English and debuted on London's West End in 1985, and finally became a Broadway phenomenon in 1987.
Now I'm a homosexual that loves show-tunes as much as the next gay does, but I thoroughly disliked this long depressing movie. First of all I have never been much of a fan of tragically dramatic Broadway musicals. I prefer musicals of the lightweight comedic variety. Therefore I have to confess that I have always avoided this show like the plague. In fact, I didn't know a single song from it before watching this movie.
Neither am I a fan of musicals (like this one) where nearly all the dialogue is sung in an apparent attempt to emulate proper operas. It makes the dialogue sound contrived and frankly I get tired of all the incessant singing after a while. I prefer musicals where you look forward to the songs during the non-singing sections of the show.
Now I realize that this is a matter of my own personal tastes and shouldn't necessarily reflect on my opinion of just how well-made this particular movie is. It is visually stunning, especially during the climactic battle scenes. Early 19th Century France is vividly recreated and the costumes and set design are gorgeous.
The acting is also impressive. I concur that Anne Hathaway stops the show with her rendition of "I Dreamed a Dream". It is the best performance of the best song in the score. My one criticism is that at times her dramatic license takes away from the melody, but that is a minor quibble. She breaks your heart in this scene.
Hugh Jackman, and nearly everyone else in the cast, is up to the task of portraying their characters in song. With the notable exception of Russell Crowe. During last night's Golden Globes ceremony, Sacha Baron Cohen, while introducing the movie, mentioned that Crowe had four months of singing lessons prior to filming. He then sarcastically quipped that it, "Was money well spent."
I get that he was doing a Marlon Brando in Guys and Dolls by singing, but he is not up to the task. I really dislike it when an actor or actress that cannot sing is given an important singing role in a musical, that should have gone to someone with actual singing talent, just because of their famous name. Such is clearly the case here.
Les Misérables is an epic musical that was beautifully filmed and features some very talented actors. I can appreciate it for what it is but at the same time none of this was enough to overcome my sheer boredom caused by 2½ hours of relentless tragedy in song.
Photos © Copyright Universal Pictures (2012)