Movie Review
Female Agents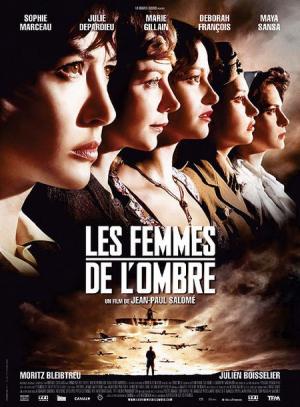 France Release Date: 03-05-2008
Directed by: Jean-Paul Salomé
Starring
▸
▾
Sophie Marceau

,

as

Louise Desfontaines
Julie Depardieu

,

as

Jeanne Faussier
Marie Gillain

,

as

Suzy Desprez
Déborah François

,

as

Gaëlle Lemenech
Moritz Bleibtreu

,

as

Karl Heindrich
Maya Sansa

,

as

Maria Luzzato
Julien Boisselier

,

as

Pierre Desfontaines
Vincent Rottiers

,

as

Eddy
Volker Bruch

,

as

Lieutenant Becker
Robin Renucci

,

as

Melchior
Xavier Beauvois

,

as

Claude Granville
Colin David Reese

,

as

Colonel Maurice Buckmaster
Jurgen Mash

,

as

Gerd Von Rundstedt
Conrad Cecil

,

as

Le géologue anglais
Alexandre Jazede

,

as

René Bourienne
David Capelle

,

as

Bernard Quesnot
Wolfgang Pissors

as

Médecin train

Reviewed on:
February 15th, 2016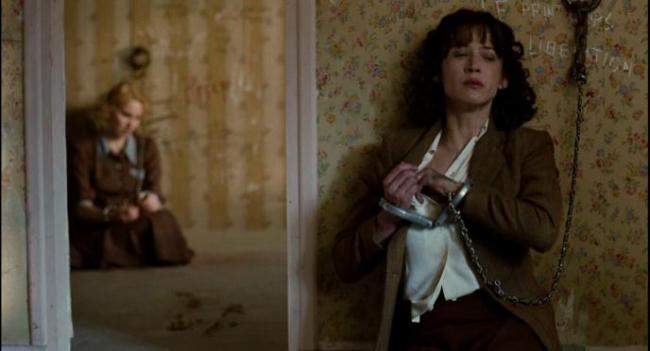 Gaëlle Lemenech and Sophie Marceau in Female Agents
Female Agents (Les femmes de l'ombre) was based not so much on actual real events but inspired by the real women who contributed to the fight against Nazi occupation. The idea for the movie was inspired by real life decorated SOE agent Lisé de Baissac. This movie, however fictitious, is an action packed film filled with tense moments and unexpected turns. Like any good war movie, do not get attached to any character in particular as no one comes out of this unscathed.
After her French resistance husband is killed, Louise Desfontaines (Sophie Marceau), flees the country and ends up in London where she is reunited with her brother, Pierre, who is likewise a French Resistance member. He now works for the Winston Churchill initiated spy and sabotage agency known as Special Operations Executive (SOE). It is May, 1944 and if you know your history, you know the world's largest armada ever assembled is about to weigh anchor and change the course of history. One problem has arisen in the form of a British Geologist that was in Normandy to check on the beach conditions. He was caught in an allied bombing but due to being in a Nazi uniform was taken to a German hospital.
Louise is given the mission to recruit three French women living in London, to form an all female commando squad to rescue him. Along with Pierre, they will parachute into occupied France, go undercover and extricate the British agent before his identity is discovered and the plans to land the allied forces on the beaches of Normandy is discovered. Yes, the fate of the world rests in these ladies hands.
From the very first scene, where Louise witnesses her husband's death, we know that she can handle a gun and kill. She and Pierre force Suzy Desprez (Marie Gallian), a former cabaret dancer, to join them. They next get Gaëlle Lemenech (Deborah Francais), an adorable explosives expert. The third member is former prostitute Jeanne Faussier (Julie Depardieu) who is in prison for killing her pimp. Her sentence will be erased if she joins. After arriving in France, they are joined by another woman, Maria Luzzato (Maya Sansa), an Italian Jew.
Bullets fly and minutes tick away as the women go about their mission with cold nerves. Just when they think all is set and they will be returned to the safety of England, Pierre drops a bomb on the ladies. They have a second mission to assassinate Colonel Karl Heindrich. He is the Nazi SS commander in charge of the French coastal defensive. Before the women can object, things get more frustrated when Pierre gets captured. The girls now must travel incognito to Paris, in pursuit of their comrade as well as their target.

The girls then learn why Suzy was chosen, as she was Heindrich's former fiance. Heindrich has meanwhile been pining for Suzy. He has even hired a man to find her. He brings Heindrich women who match her description. There are lots of emotions at play here.
As a World War II buff, I was an easy sell for this type of film. I was caught up in it from start to finish. Do not just take my word for it though,check Female Agents (Les femmes de l'ombre) out!
Photos © Copyright Les Chauves-Souris (2008)