Movie Review
The Lemon Drop Kid
It Doesn't Cost A Dime To Dream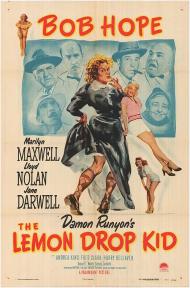 US Release Date: 04-02-1951
Directed by: Sidney Lanfield
Starring
▸
▾
Bob Hope

,

as

Sidney Milburn aka The Lemon Drop Kid
Marilyn Maxwell

,

as

'Brainey' Baxter
Lloyd Nolan

,

as

Oxford Charlie
Jane Darwell

,

as

Nellie Thursday
Andrea King

,

as

Stella
Fred Clark

,

as

Moose Moran
Jay C. Flippen

,

as

Straight Flush Tony
William Frawley

,

as

Gloomy Willie
Harry Bellaver

,

as

Sam the Surgeon
Sid Melton

,

as

Little Louie
Ida Moore

as

the Bird Lady


Reviewed on:
December 6th, 2014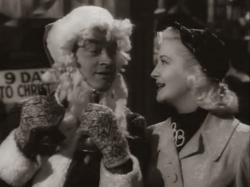 Bob Hope and Marilyn Maxwell in The Lemon Drop Kid
The extremely likable Bob Hope stars as Sidney Milburn, who is known by his friends, and enemies, as "The Lemon Drop Kid." He is named after his favorite candy, which he is never without. The movie opens at a horse racing track in Florida. Sidney talks an attractive girl into changing her $2,000 bet to another horse. That horse ends up losing while her first choice wins. She was placing the bet for her gangster boyfriend, Moose Moran, who is none too happy to find out Sidney cost him $10,000 in winnings.
Moose threatens to hurt Sidney unless he can pay him the $10,000. Sidney promises he can raise the money with his connections in New York City. Moose tells Sidney he will be in New York at Christmas to see his wife, kids and sell an abandoned illegal casino. He warns Sidney that he has until Christmas Eve to meet him at the casino or be killed. As Christmas is three weeks away, Sidney returns to a snowy New York City where he tries to get money from old friends.
With the exception of ten bucks he swindles out of his former but still infatuated girlfriend, Brainey Baxter (Marilyn Maxwell) no one is able to help him. Sidney gets so desperate, he pretends to be a street corner, bell ringing Santa Claus, collecting donations. It gets him arrested for panhandling without a license.
Sidney finally comes up with a plan to raise the money. He turns Moose's closed casino into an old folk's home for "old dolls" to obtain a charity license. With the help of his old friend Nellie, whose husband is in jail for safe cracking, they collect some old homeless women and talk some questionable men into being street corner Santa's who think they are collecting money for the homeless shelter. Yeah, you can see where this is all going but things get worse before they get better.
Sidney's plan works so well, bringing in $2,000 in the first four days, that it attracts the attention of some criminals. They abduct Brainey, the old women and steal Sidney's collected money. Nellie, Brainey and the old folks discover Sidney was just scamming them all. Christmas Eve arrives and Sidney is alone and empty handed.
Hope spends much of the film in a Santa Claus costume and in the hilarious climax he is in drag, pretending to be an old woman. He steals women's clothing from a mannequin in what can be seen as a sexually suggestive scene. I laughed when he visited a large wrestler, in mid match, to talk him into being one of his Santas. To inspire his Santas, Sidney tells them, "Put your heart into your work just like it was one of your shady deals."
The highlight of the entire film is the song Silver Bells, sung by Hope and Maxwell. It begins when they come across William Frawley, as one of the bell ringing Santa's, singing, "Silver bells, silver bells… lets put some dough in the kitty…" Hope and Maxwell then take over and sing it as they walk through a snow covered city. Actually it is Paramount Studio's New York set but it works brilliantly none-the-less. If that scene does not put you in the Christmas mood, nothing will.
The Lemon Drop Kid is not as funny as some of Hope's other films but with its message of redemption and charity it still makes for a great Holiday watch. Too bad it was not filmed in color. Those silver bells could have really shined.
Reviewed on:
December 23rd, 2015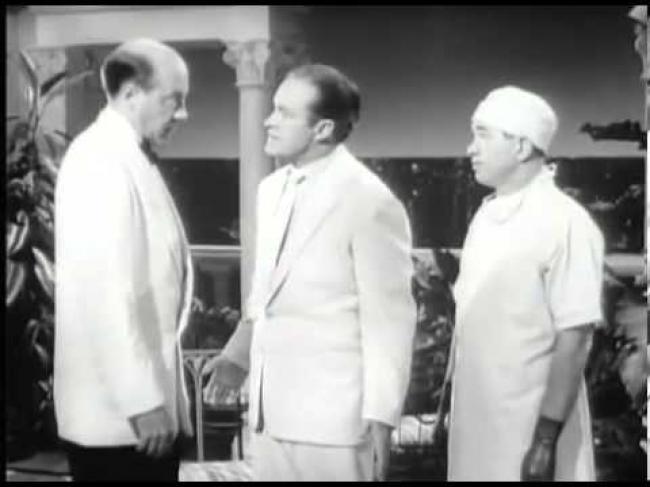 Fred Clark and Bob Hope in The Lemon Drop Kid.
The Silver Bells scene is definitely the highlight of the movie, and sure, it would have looked good in Technicolor, but the black and white just adds to the nostalgia. The song was actually written for the film, although Hope's friend Bing Crosby beat them to the punch by releasing a recording of it before the film opened. According to TCM, the song was originally shot quite simply with Hope and the other Santa Clauses lined up as a choir. Hope thought it lacked punch, so he brought in joke writer Frank Tashlin to rewrite the scene. Against original director Sidney Lanfield's wishes, Tashlin directed the new and final version of the song and the moment is a classic one as Hope and Maxwell stroll down the snowy city street. Hope turned it into his signature Christmas song and would continue to sing it on every one of his Christmas specials.
Although Hope is funny, I'm not his biggest fan. He always seems in on the joke and he too often breaks the 4th wall. However, here he's quite good and fairly restrained. He only steps out of character once, in the film's final moments when after a cow interrupts him by mooing loudly, he says, "Quiet, Crosby!" And although he doesn't immediately seem like the leading man type that Marilyn Maxwell would fall for, according to Hollywood rumor, the two of them were conducting an ongoing affair in real life that would last for years. She was hired for the part at Hope's insistence. To be fair to her though, she handles the songs and playing the straight man to Hope's comic equally well.
The story is based on a Damon Runyon short story and as usual in a movie based on his work, it is filled with colorful characters and they're matched by the colorful cast of character actors playing them. You may not know all the names, but you'll recognize the faces when you see Fred Clark, Lloyd Nolan, and Fred Mertz himself, William Frawley. The sweet old lady, Nellie Thursday, is played by Jane Darwell, who appeared in over 100 movies during her half-century career. Her most famous part was as the mother in 1940's The Grapes of Wrath. Even the more unknown members of the cast provide some laughs, like the wrestler Eric mentioned and the other little old ladies.
Sure, the happy ending is never in doubt, but this breezy little feel good story is so charming that it hardly matters. You know Hope will come out on top, but it's fun seeing how he will wiggle out of his fate. The humor gets a bit broad, such as when Hope drags it up, and some of the jokes go on a bit too long, like the revolving crap tables/beds, but overall enough of them work to make it worth the watch. It's not quite a classic Christmas movie, but it is an enjoyable one with at least one classic Christmas scene during that Silver Bells number.
Reviewed on:
December 24th, 2015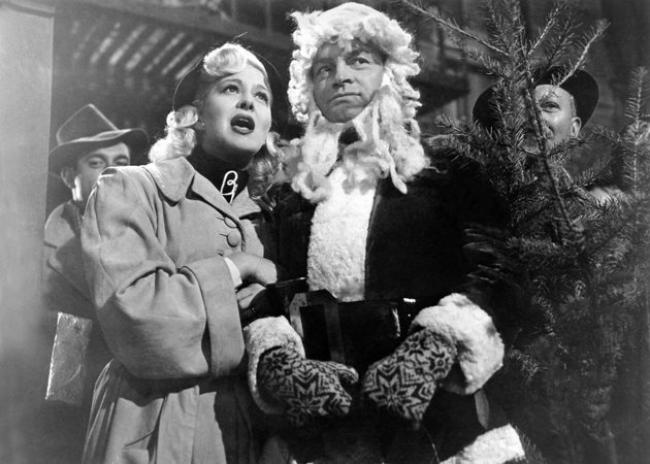 Marilyn Maxwell and Bob Hope in The Lemon Drop Kid.
This is one of Bob Hope's most likable movies. The Damon Runyon story has plenty of heart (ok-corn) and it's peopled with a colorful collection of characters. In addition to the many wiseguys in his stories, there was usually a kindly old broad – or doll to use Runyon's vernacular. In Lady for a Day there was Apple Annie and here we have Jane Darwell as Nellie Thursday. She provides the impetus for Sidney's journey from callous thief to honest citizen. Sure it's all hokey but it's hokey fun.
As both of my brothers mentioned, "Silver Bells" is the highlight of the movie. As far as I know this was the first Christmas song whose lyrics celebrated the modern urban Christmas scene. It has since become a Christmas staple covered by many, many artists. This original version holds up quite nicely. If you weren't in a festive mood already, you will be by the time the song ends.
The movie as a whole doesn't compare to this one scene, especially when it attempts a bit of drama late in the movie. Bob Hope never took anything seriously in any of his movies, so how can the audience? Of course he was a comic rather than an actor and his forte was rattling off brilliant zingers. He gets a few good ones here. Scott mentioned his Bing Crosby crack, but he also pokes fun at one of his biggest new television rivals. When Gloomy Willie (Frawley) asks Sidney what a cow is doing in the house, Sidney replies, "Milton Berle is on tonight."
The Lemon Drop Kid has Bob Hope at his peak, a very appealing Marilyn Maxwell as his love interest, a memorable supporting cast, a story from Damon Runyon and one classic Christmas scene. Sure, not all of the humor works and the story is formulaic, but the cast, led by old slope-nosed Hope, overcomes most of these flaws.
Photos © Copyright Paramount Studios (1951)