Movie Review
The Legend of Tarzan
Human. Nature.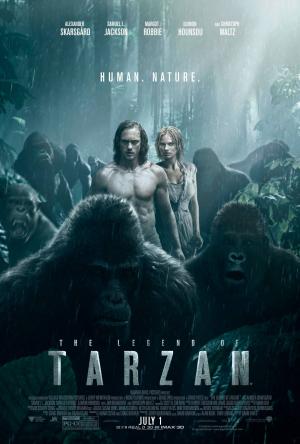 US Release Date: 07-01-2016
Directed by: David Yates
Starring
▸
▾
Alexander Skarsgård

,

as

John Clayton / Tarzan
Samuel L. Jackson

,

as

George Washington Williams
Margot Robbie

,

as

Jane Clayton
Christoph Waltz

,

as

Leon Rom
Djimon Hounsou

,

as

Chief Mbonga
Sidney Ralitsoele

,

as

Wasimbu
Osy Ikhile

,

as

Kwete
Mens-Sana Tamakloe

,

as

Kolo
Rory J. Saper

,

as

Young Tarzan (18 Years)
Christian Stevens

,

as

Young Tarzan (5 Years)
Antony Acheampong

,

as

Kanam
Edward Apeagyei

,

as

Kimanga
Ashley Byam

,

as

Kasai
Casper Crump

,

as

Major Kerckhover
Jim Broadbent

,

as

Prime Minister
Christopher Benjamin

,

as

Lord Knutsford
Ben Chaplin

as

Captain Moulle

Reviewed on:
July 1st, 2016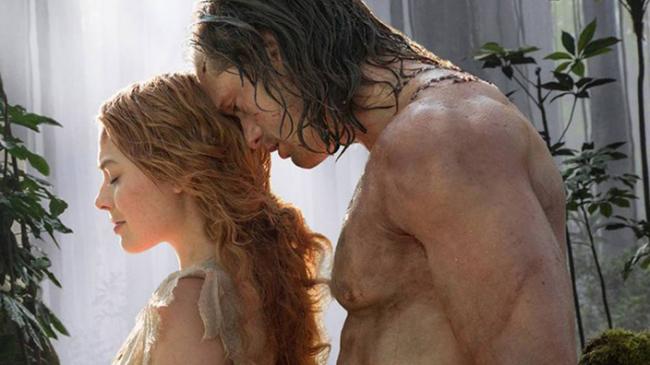 Margot Robbie and Alexander Skarsgård in The Legend of Tarzan.
According to IMDB, this is the 84th theatrical film to feature the character of Tarzan. That's dwarfed by the over 300 films to feature Dracula, but still, he's certainly one of the most frequently used characters by Hollywood. Having been used so many times before, you'd think that it would take some extreme justification to drag the character out of mothballs one more time, but after watching this movie I can't say that The Legend of Tarzan provides that justification. Despite the power of CGI, Alexander Skarsgård's washboard abs, and the updating of Jane to try and make her more than just a damsel in distress, this movie ultimately doesn't offer anything more, and in some ways it offers less, than those Tarzan films of the 1930s and '40s.
One thing the film does right, is the method of telling Tarzan's origin. It is interwoven with the main plot, which begins with Tarzan already an adult living in London as Lord Greystoke. He is drawn back to the Belgian Congo by an emissary of the United States, played by Samuel L. Jackson, who suspects that the ruling colonists are enslaving the natives. Tarzan, with Jane refusing to stay behind, heads back to Africa to investigate. What he doesn't know, is that he is walking into a trap set by an old enemy. Along Tarzan's journey, certain events trigger memories of his past and we see briefly the death of his human parents and his raising by apes. It's a nice way of dealing with his origin, without letting the film get bogged down by it, since, let's face it, his story is so familiar. Many a superhero movie could learn from this method (especially after the umpteenth reboot).
The best thing Skarsgård has going for him is that he looks the part. His 6'4" muscle bound physique and long, flowing hair embodies the character and is one of the few actors to play him who seems almost capable of Tarzan's superhuman feats of strength. Of course, he is aided by CGI and it's all too obvious when Tarzan is swinging through the jungle exactly when the CGI takes over. Unfortunately, Skarsgård's Tarzan has all the personality of a tree and his performance is equally as wooden. His English accent comes and goes so much that I wonder why he even bothered to attempt one. We hear the famous Tarzan yell twice in the film, but both times Tarzan is off camera when it happens. Perhaps showing Tarzan performing it would have meant Skarsgård would have had to put an expression on his face, something he seems to avoid.
Speaking of the CGI, the technology has come a long way, but you'd never know it by the effects in this film. The animals, which all appear to be computer generated, never feel real, or as if they have any weight to them.There's a scene where a blue butterfly lands on Jane's shoulder, but the animation fails to even line up with Margot Robbie's eyeline making the effect laughable and the character myopic. It was always obvious in the Tarzan films from the 1930s when film footage of a wild animal was inserted, but at least it was film footage of a real animal. 80+ years later we shouldn't still be talking about how unrealistic the animal scenes look.
The supporting human cast fares better. Samuel L. Jackson's character is the one fresh element to the story and he provides some much needed comic relief and a sense of fun that the rest of the movie is sorely missing. Margot Robbie makes a good Jane, but despite a feisty attitude and a refusal to scream, still ends up needing rescuing by Tarzan. Christoph Waltz is fine as the villain, but by now we have seen him play this character many times.
I'm sure this won't be the last time we see Tarzan in a film. Hopefully though, the next time the character is rebooted the writers will have something more original to say with him.


Reviewed on:
July 5th, 2016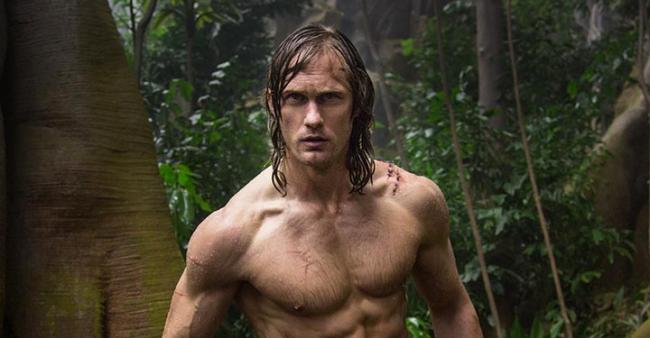 Alexander Skarsgård strikes a pose as Tarzan, in The Legend of Tarzan
Yeah, the writing is definitely the main problem here. We first meet Tarzan and Jane in London mingling with some children. It is intended as foreshadowing to the fact that we later learn that Jane has had a miscarriage. It is a near meaningless plot point that has nothing to do with the rest of the film. Better writing would have shown us Jane talking to some English friends that, not so privately, think little of her barbaric husband. We should have also been shown Tarzan struggling to get along in the civilized world. Thus, when a reason for them to return to Africa arises, they would have both eagerly wanted to go.
We are shown such details as Tarzan's deformed knuckles that, he explains to the children, happened because he walked on them when raised by gorillas. However, he is never shown doing that, be it during his return to Africa or in a flash back, so why even mention it? If they were going for realism, why did Skarsgard shave his body hair? Was that a fad in darkest Africa or Victorian England? How big of a coincidence is it that Tarzan, Williams and some natives arrive exactly when the jungle train is passing through? Do the gorillas carry a train schedule with them? Why does Tarzan send a huge stampede of bison into a town where he knows Jane to be? Is he not concerned for her safety? What about all the innocent towns people?

The story lacks any sense of urgency. Jane gets abducted and Tarzan must race across the country to save her. Well, "race" is not exactly an accurate description. While in pursuit of Jane, Tarzan takes a stroll across the plains, discussing Ostriches with Williams. He stops to fight a gorilla that he was raised with. He visits with some elephants. Seriously! Was he actually concerned about Jane or not? We should have seen him running across those plains and riding on the elephants, all with the idea of getting to Jane. We are given a scene of them making love and of their romantic first meeting. Tarzan loves Jane but he acts very lackadaisical about rescuing her. If he does not seemed too concerned about it, why should the audience?
Scott complained about the CGI animals and they are fairly bad. The blue butterfly is obviously fake as are the scenes where a green screen was used. I nearly laughed at the scene where the pack of gorillas jumped into the middle of some natives attacking Tarzan. The natives are intended to point their spears at the gorillas but a couple of them seem to be pointing them at thin air. They would have been better off using men in a gorilla costumes. The only time the CGI looked decent was with the closeup of the gorilla looking at an infant Tarzan.
Then we have the politics. Scott mentioned the imperialism going on and the issue of enslaving the locals to work in the diamond mines. There is also Williams talking about the American Civil War and what he helped do to the American Indians. Tarzan films have long contained subtle environmental messages but the political pontificating, prophesying apartheid, all became too much. In fact, this film has very little to offer in the area of fun. Scott thought of Jackson as the comic relief but it is far too little to make any impact. The opening scene, if written how I would have preferred, could have provided some laughs with some snobby rich Brits making fun of the uncouth Jane and Tarzan.

With less action than expected, a lack of fun and horrible special affects, The Legend of Tarzan is a disappointment.

Photos © Copyright Warner Bros. (2016)
Related Reviews